Booking meetings with interested prospects is every salesperson's primary goal. When you get someone on a call to learn about their pain points, you can help them decide if your product or service is a good fit for them.
But, getting to that meeting in the first place requires lots of manual work:
Replying to emails
Checking your calendar
Asking your prospect when they're available
Setting up the meeting on your calendar or CRM system
Checking with your prospect if it worked for them
In a nutshell? Manual meeting scheduling is time-consuming, and the time you spend on it could be better spent on other revenue-generating tasks like preparing new sales campaigns or having conversations with sales leads.
In this guide, we'll show you how you can automate your meeting scheduling and avoid spending your days on manual, repetitive tasks, freeing you up to focus on high-impact, high-leverage work.
Let's dive in.
Benefits of automating your meeting scheduling
1. No back-and-forth email chains
When a prospect replies to your cold email, you need to move quickly. If you need to spend hours on back-and-forth emails to confirm when your prospect is free and arrange a time that works for both of you, it's easy to lose momentum. You'll risk your prospect becoming disinterested.
If you can automate your sales meeting scheduling with a tool like SavvyCal, it eliminates the need for those endless back-and-forth emails.
When prospects show interest, you can quickly schedule a meeting without needing to worry about time zones, availability, or meeting clashes.
2. Never miss a detail in your meeting invites
When you automate your meeting booking process you'll have a repeatable and predictable process.
After you've set up your system for booking meetings you can use it again and again, without needing to worry about it not working, and without having to spend precious time checking all of your meeting details are correct before sending your prospect an invite.
It's easy to miss a detail in your invites if you're doing it manually, such as forgetting to adjust for the prospects' time zone, or even forgetting the link to your Zoom or Whereby meeting room.
When the process is automated, you can be confident sending your invite and knowing your prospect will have all the details they need to book a meeting with you.
3. Save time on repetitive tasks
Time is your greatest resource. If you can save time on repetitive tasks, you can spend more of it on high-leverage activities like personalizing your cold emails, engaging with prospects who reply, and talking with potential customers on sales calls.
If you automate your meeting scheduling process, you can avoid having to:
Double-check time-zones before suggesting times
Review your different calendars before scheduling a meeting
Resolve calendar conflicts when there's a double-booking
Any good meeting scheduling tool will let you seamlessly do these things and more. You can be spending more time on generating sales, and less time on making sure your processes are running smoothly.
When can you ask prospects to book a meeting?
You can't ask prospects to book a meeting with you in your first outreach email. It's overly pushy, and it requires a high commitment level from your prospect before they're even sure if they trust you, or are interested in what you're selling.
As well as that, including a meeting link in your outreach emails can impact your email deliverability and make your emails more likely to be sent to the spam folder by Gmail and Outlook.
Instead, wait until your prospects reply positively to your opening email.
Some people might send you their own calendar link, in which case, you should use it.
Others will confirm their interest in meeting, and then it's on you to send them your scheduling link and move things forward.
Common automation issues you may run into during your sales process
1. Overfilling your calendar by not limiting bookings
Automation will make your sales process more efficient in every area. That means you can send more emails, book more meetings, and ultimately, close more customers.
Sales automation software out there makes it easy:
But, if you scale up your sales process too quickly and are sending hundreds of emails per week to cold prospects, your calendar is going to get filled up quickly.
If the process is completely automated, you risk having too many bookings for you to handle effectively. In the majority of cases, having 10 high-quality meetings per week is better than scrambling to deliver 30 excellent pitches.
In the latter situation, you're going to be tired, busy, and struggle to provide each prospect with a personalized, white-glove experience.
To avoid this, set a booking limit on your scheduling tool (e.g. SavvyCal frequency limits), capping the number of meetings your prospects can book per day or week.
This will spread your meeting volume out, giving you more time to plan for upcoming meetings and follow-up after the meetings.
2. Automation can put the burden on your prospects
Automation can make your life easier, but it's not worth it if it leads to a bad experience for your prospects.
Take meeting scheduling, for example. In most cases, you'll send over a calendar link and your prospect will have a list of times available to choose from. The problem? They now need to check their calendar to see what works.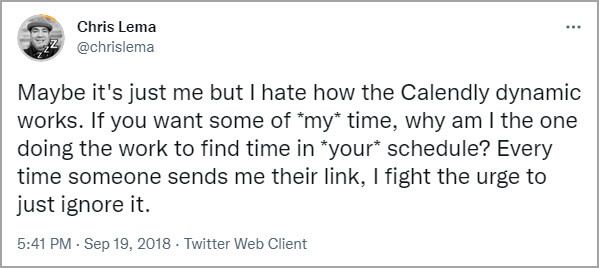 In this case, automation is putting the burden of booking the meeting on your prospect, which isn't a good first impression.
To avoid this bad experience, find a scheduling tool that works for both you and your prospect.
For example, using SavvyCal, recipients can overlay their calendar on top of yours to easily find mutual availability.
This means you get the benefit of automating your meeting scheduling without the downside of it being a difficult experience for your prospect.
3. Can lead to schedule clashes with other team members schedules
If your job doesn't only entail sales work, then you've got other things on your calendar. Meetings with team members, 1:1s, slots that you've blocked off for personal reasons, and so on.
If you don't have a way to let your scheduling software know about these clashes, it can lead to problems.
When a sales prospect books a meeting at the same time you've scheduled another meeting, it's going to cause you unnecessary hassle in your business.
To avoid this, look for a meeting scheduling tool that can integrate with multiple calendars and check availability against each one.
It'll ensure you don't let prospects book meetings at times that don't work for you, avoiding any unnecessary friction in the booking process.
In SavvyCal, you can get around this problem by using the Optimize for Evenness option in the Round Robin settings.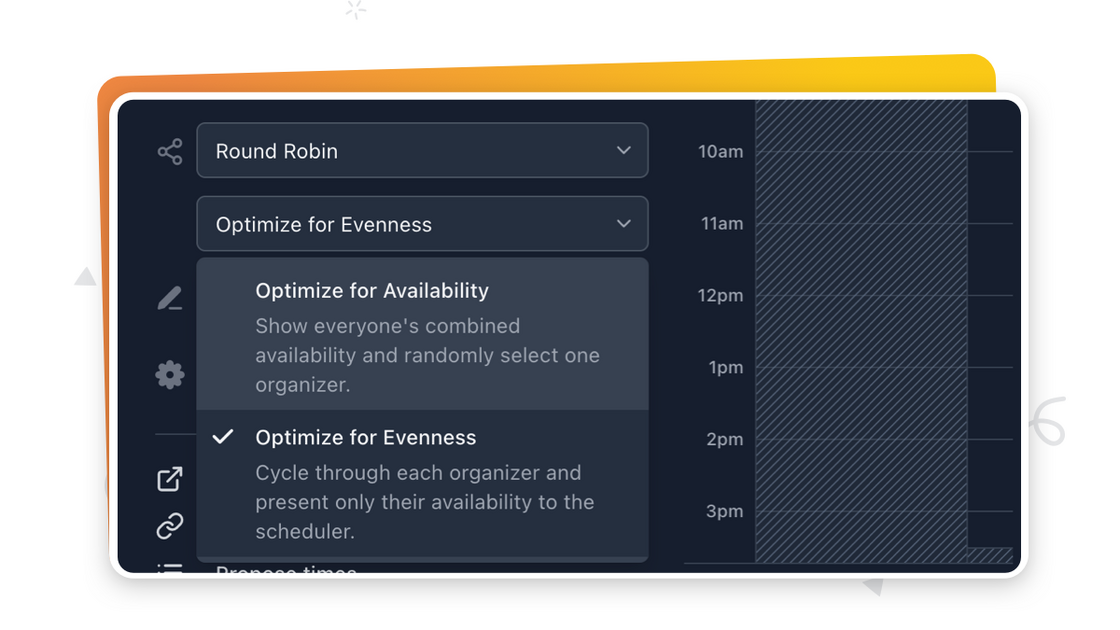 SavvyCal will spread out your meetings evenly between every salesperson on your team to avoid any single person being swamped with all-day sales calls.
No need to hand over meetings between team members or risk creating schedule clashes for people.
4. Last-minute bookings throwing off your day
Last-minute meeting bookings can throw off your schedule and workflow. If a prospect has your calendar invite and decides to book a meeting for a time only minutes away, you won't have time to prepare and risk making a bad impression.
If you rely on meeting links to automate your scheduling workflow, this is going to be a risk.
To avoid this, you could update your calendar to include designated times that you're able to accept sales meetings. It's best to always set a minimum buffer in your scheduling tool so you give yourself 3-12 hour notice before a new meeting is booked.
Your prospects will still feel like they have plenty of choices, but you always know that meetings can happen during those designated hours and will always be prepared.
How to automate your meeting booking process
1. Engage with cold prospects on autopilot using cold email
Cold email is a direct line to your target prospects. Assuming your email is personalized and unique to the recipient, most people will be happy to read it — even if they're a busy founder, CEO, or head of department.
You can use a tool like QuickMail to send your emails at scale, and follow-up automatically if you don't get a response.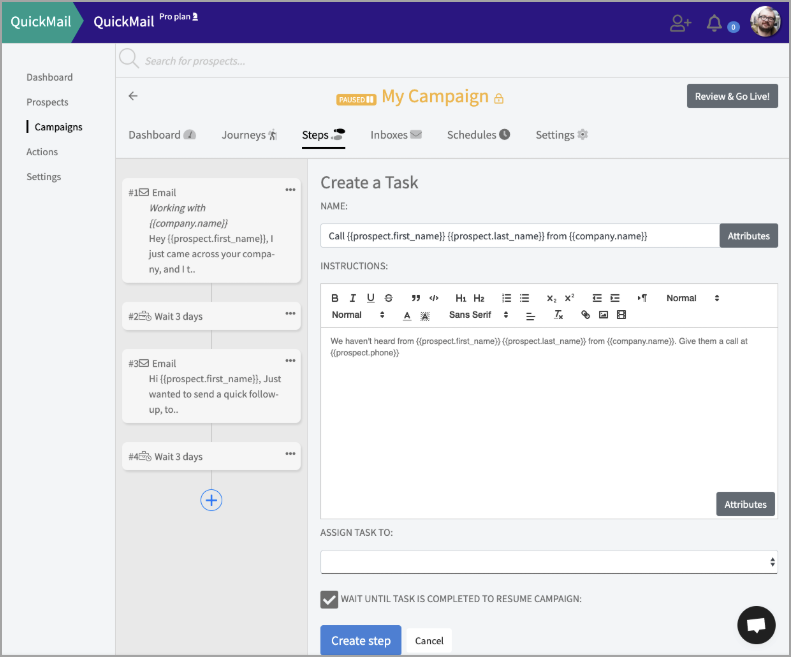 By using a cold email outreach software you can create email sequences where you can craft each email in the sequence, and schedule the follow-ups.
Considering 55% of replies to cold emails come from a follow-up, sending them is an essential part of your cold outreach campaign.
To improve your chances of landing in your prospect's inbox, leave out your scheduling link for now. Instead, use a call-to-action that's designed to start a conversation.
2. Wait for the positive replies to come in
If your value proposition and email copy resonate with your prospect, they'll be happy to engage and start a conversation. For most cold email campaigns, 10-20% reply rate is what you can expect.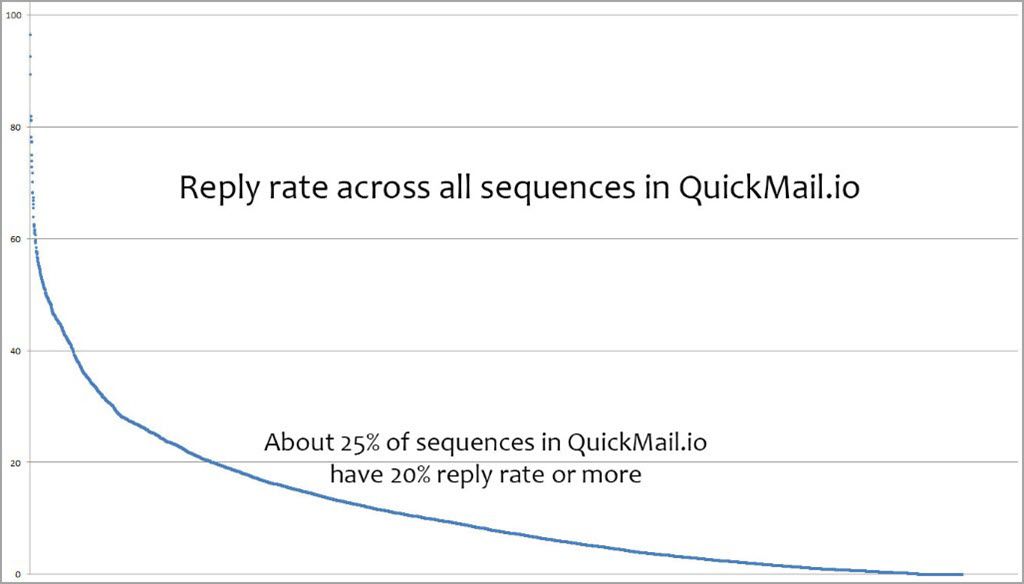 When you get your response, it's on you to quickly get back to your prospect and guide them through the next steps.
Some prospects will have questions, and others will want to jump on a call. But, as we mentioned, you don't want to start a cycle of back-and-forth emails trying to find a time slot that works for both of you. You need a more streamlined system.
To make sure you never miss a reply, you can link your cold email tool with Zapier and have notifications sent to you in Slack, or whatever tools you spend most of your workday using.
When your prospect agrees to a meeting, you can send them your meeting invite.
You've seen this a thousand times before:
Your prospect tells you a time that works for them. You check your calendar, and there's a clash. You go back, apologize, and let them know it doesn't work for you. Then, you suggest two to three more times. If you're lucky, one of those works for them. If not, back to the drawing board to find more time slots to suggest.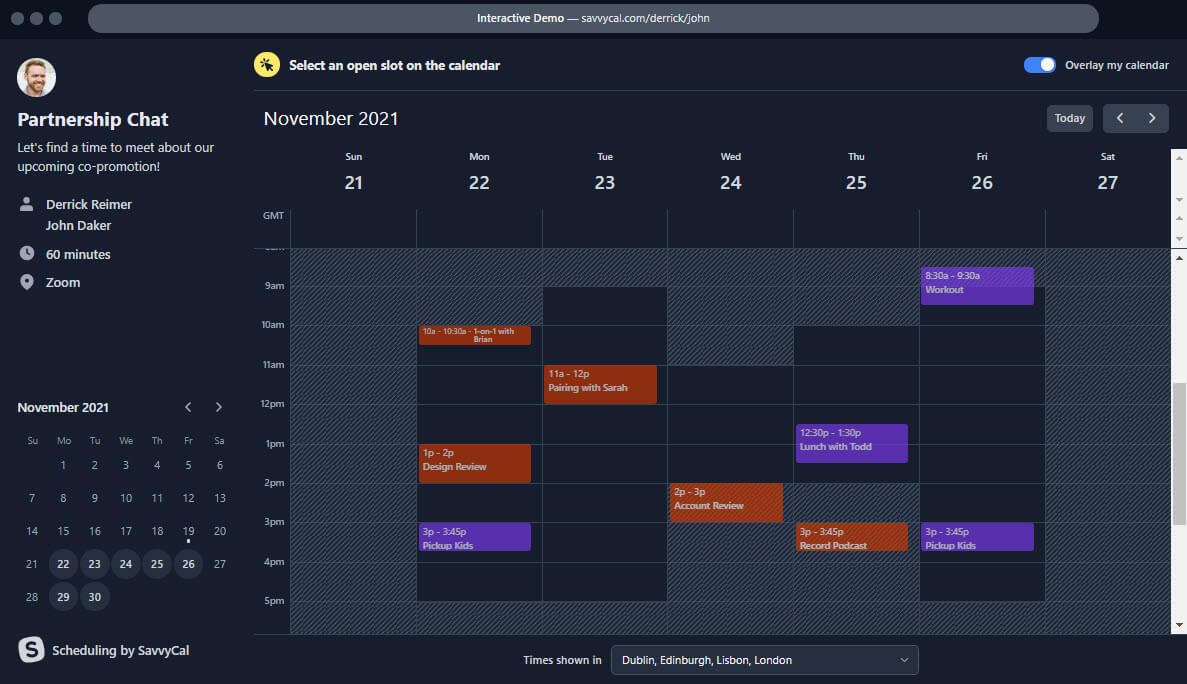 If you use an automated system, you can avoid this altogether. If you send your prospect a calendar link that only includes the times you're available and even lets them overlay their calendar, it'll be simple to find a time that works for both of you.
Alternatively, if you don't want to send a link for fear of coming off as pushy, you can send your prospect 2-3 time slots that you have available, giving them the flexibility to choose, but without asking them to go to your link.
SavvyCal has the ability to generate a snippet of text with proposed times based on availability in your scheduling link.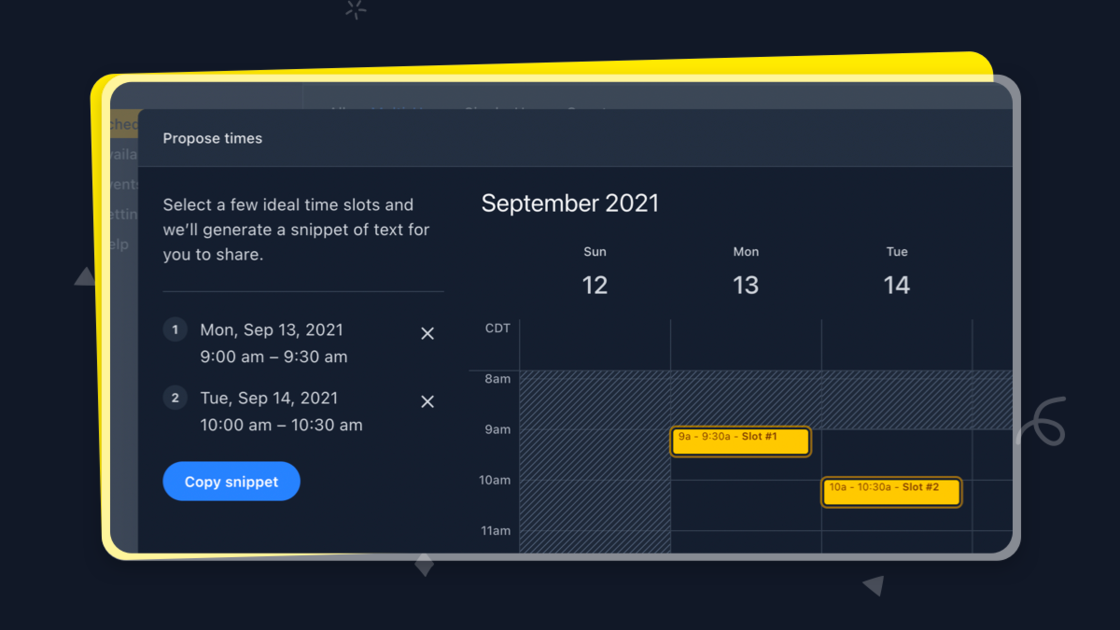 When they confirm the meeting, your meeting will be automatically added to their calendar, with all of the relevant information they need to jump on a call.
Don't let automation compromise your personalization
We love automation — if you can save time on repetitive sales tasks and free yourself up to work on other important projects or have meaningful conversations with more prospects, it's a win.
But, it's vital that you always remember to provide your prospects with a personalized experience, even if that means cutting back on your automation or building new systems to ensure every touchpoint is personalized.
If you get it right, your sales experience will help you land more meetings, and you'll leave every prospect feeling like they've received white-glove treatment.