In the market for scheduling software? Then you've probably heard of Calendly.
While it wasn't the first scheduling software created, Calendly is the market leader in the space and has raised $350 million in VC funding.
And it's popular for a good reason. It's free and easy to use. The hub for scheduling meetings includes collaboration features for teams, robust admin control, and seamless integrations with Stripe, Google, Microsoft, Zapier, Zoom, and more.
However, when you have to position your product to be the next unicorn to appease your investors, your product has to adapt and become more generic. When you try to appeal to everyone, you introduce more complexity, and the UX can suffer.
For example, the experience of sharing your scheduling link in Calendly is impersonal and can create some awkward power dynamics. Not to mention, some of the best ways to mitigate this awkwardness aren't possible in Calendly, like being able to connect multiple calendars and choose which event routes to which one or personalizing links on the fly.
Fortunately, Calendly isn't the only scheduling app available. In this post, we're taking a closer look at 6 Calendly alternatives.
1. SavvyCal
You didn't think we'd write this post and not include our own product, right? 😉
The reality is Calendly was a true pioneer in this space. They are still a great option if you are looking for a free scheduling solution or are looking for a generic solution for your team.
As a small, scrappy, and mostly bootstrapped company, here are just a few of the ways that SavvyCal is different (and dare we say better) than Calendly.
Provide a scheduling experience that doesn't feel weird or awkward for the recipient. The recipient shouldn't have to jump through any hoops to book a meeting with you or overlay their calendar.
Create personalized scheduling links in seconds.
Create and send meeting polls
Take back control of your calendar with global availability presets, time blocks, limit scheduling frequency, ranked availability, and the ability to customizable availability on the fly.
We ship new features fast 🚀
While Calendly has a free tier, most people outgrow the basic plan features and find themselves quickly in need of a more expensive plan. Their pricing page (and plans) are like the online equivalent of an all-you-can-eat buffet. That's to say, you have to scroll forever, and you still might not know what features are included in your plan.
Our pricing model, on the other hand, is simple and easy to understand with two plans. Both of which have unlimited links, unlimited calendars, and unlimited events. We also offer a free 7-day trial.
Don't just take our word for it – here is what several former Calendly users had to say after switching to SavvyCal.
2. Google Calendar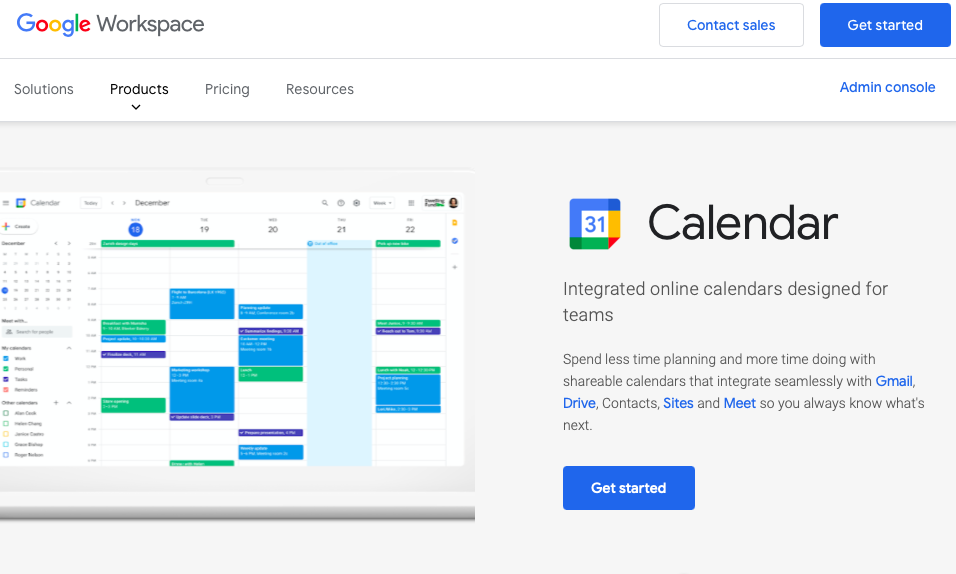 Google offers everything from documents and spreadsheets to photo and file storage. It shouldn't be a surprise to anyone that there's a native meeting functionality within Google Calendar.
Google Calendar is free for personal use. However, the business version comes with Google Workspace. This is a paid solution with prices ranging from $6 to $18 per user each month.
Pros of Google Calendar
Google Calendar is free, easy to use, and seamlessly integrates with other Google Workspace products.
You can set up events and get reminders about upcoming meetings.
The events can be made as one-time or recurring meetings.
You can create multiple Google calendars and share your schedule with others.
Like other Google products, it has a user-friendly mobile interface.
Cons of Google Calendar
Unlike other scheduling apps, Google Calendar isn't a true productivity solution.
It doesn't include a booking page.
There is no way to send automated reminders to your recipients.
The experience is clunky if you want to make it easy for people outside of your workspace/organization to see your calendar and book meetings with you.
3. HubSpot Meetings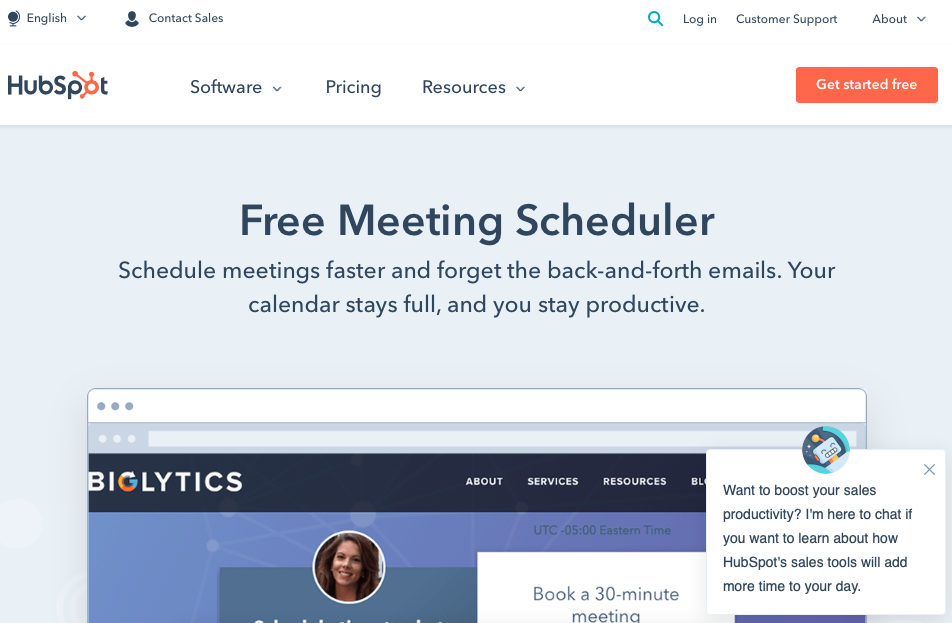 HubSpot offers a free Meeting Scheduler as part of its HubSpot CRM product. The scheduler works with Google Calendar, Office 365 Calendar, and of course, HubSpot CRM.
Like its CRM product, this meeting scheduler is designed for sales teams that are already using HubSpot CRM.
HubSpot Meetings is free to use. However, if you want to use HubSpot's more advanced features, you're looking at a higher price tag. There are different plans and bundles available, but expect prices to start at $45 for the basic starter plan up to $4,000 a month for select enterprise options.
Pros of HubSpot Meetings
HubSpot Meetings works great if you are a sales rep or on a small sales team just looking to schedule calls and demos.
You can spin up group meeting links for multiple attendees.
Your appointment booking link can be sent to prospects so they can easily schedule a time with you.
You can make your calendar visible to prospects by embedding it into your website without coding.
Cons of HubSpot Meetings
The biggest downside to HubSpot Meetings is the cost. The free version is limited. Once you outgrow it, the costs add up quickly. For example, if you want to set up sophisticated routing workflows, sequences or need more advanced reporting, you can expect to pay up.
Plus, while HubSpot does offer support for free users, the high volume of free users means longer wait times.
4. Acuity Scheduling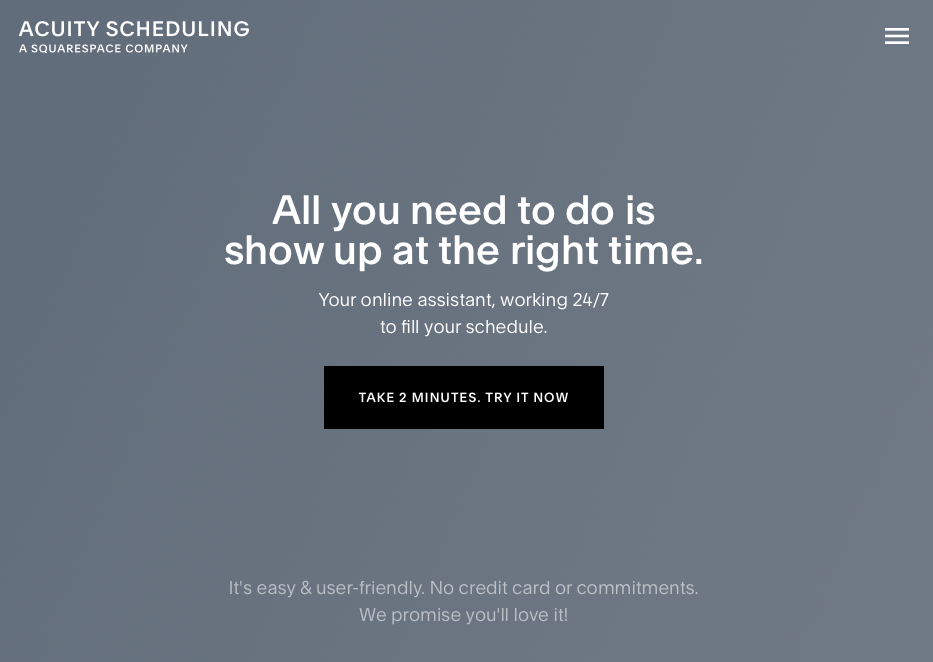 Founded in 2006, Acuity Scheduling was one of the OGs in this space. They were one of the pioneers of this concept of being able to create and share scheduling links.
However, since they were acquired by Squarespace in early 2019, their product has stayed relatively the same.
These days, the product is really designed for creative freelancers and solopreneurs, like designers and photographers. They offer a 7-day, no-strings-attached free trial of the platform. After that, plans begin at $14 per month and go up to $45 per month for more advanced features.
Pros of Acuity Scheduling
Like the Squarespace dashboard, Acuity Scheduling is designed to be an intuitive and easy-to-use scheduling solution.
With the software, you can organize and sync all of your calendars and client information.
They make it easy to sell memberships, subscriptions, and recurring packages right from your calendar link.
The app offers a ton of integrations with different accounting, email marketing, and CRM systems.
Cons of Acuity Scheduling
The app can also be challenging to use when multiple calendars are involved.
Their team functionality is limited.
Like Calendly, the software can get expensive as different features are added or if you need to add additional team members.
The velocity of new features rolling out has dropped off since they were acquired by Squarespace.
5. Doodle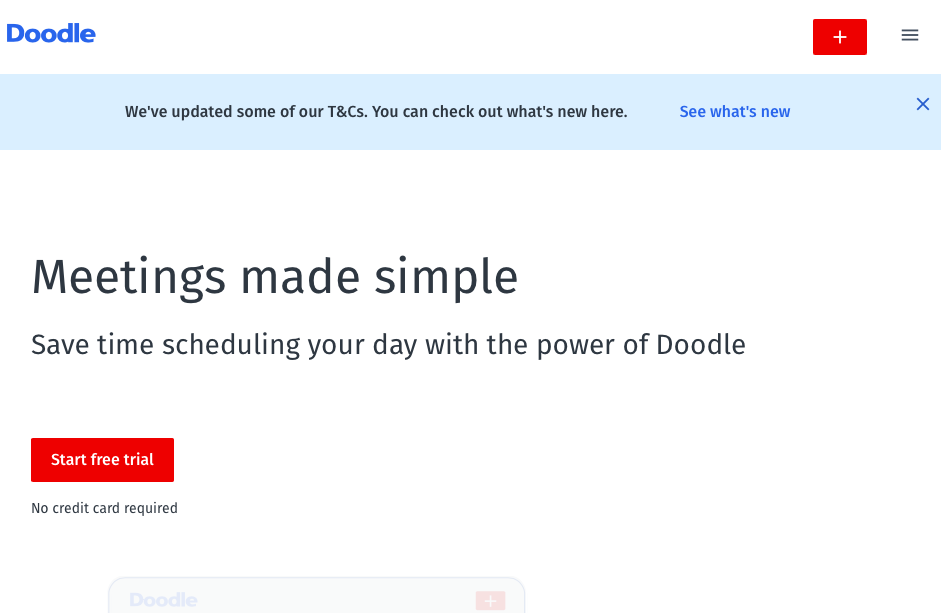 Doodle is another freemium, cloud-based meeting tool. Their premium plans offer additional features like the ability to add your logo and brand colors, the option to sync with Slack, additional integrations, like Zoom and Zapier, and ongoing training and support.
A 14-day trial is available for new users of Doodle. You can also use their free group poll feature. Paid plans cost between $6.95 to $8.95 a month.
Pros of Doodle
Doodle does one thing really well—group polls. If you need to collect all of the available times where a large group of people can meet, then it works great.
Cons of Doodle
Everything else about Doodle is subpar. They are the classic example of a SaaS app that tries to be everything to everyone and ends up with a "meh" experience.
The UX is overly simplistic to the point of looking dated.
Not to mention, if you use the free Doodle poll feature, you can expect to be bombarded with ads.
6. Calendar.com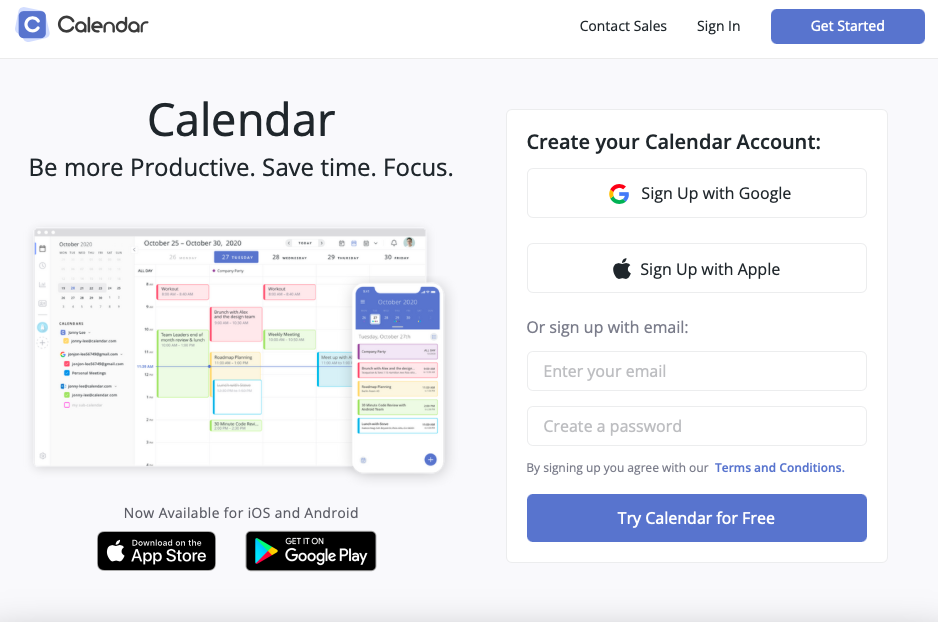 Calendar.com claims to be more than just your average scheduling software. It also functions as a productivity tool by helping you save time and focus on what matters most.
Teams and individuals in any industry can benefit from using Calendar.com if you are looking for a simple and straightforward scheduling solution without many bells and whistles.
The basic, personal use plan is always free. Paid plans cost between $6 - $8 per user each month. The plan is billed annually, but you'll need to remember that the charges are per user and not per account.
Pros of Calendar.com
If you only need it for personal use, then a free option is available.
Paid options include features like unlimited workspace members, live phone support, and white labeling on personal scheduling pages.
Cons of Calendar.com
The free version of Calendar.com isn't suitable for businesses. You'll need more robust features that come with premium plans.
The basic plan only allows you to connect one calendar.
Even with paid plans, the maximum number of calendars you can connect to is ten. However, both the free and premium plan features are limited without bells or whistles.
The platform does not currently send automated text reminders, though email reminders are available.
The verdict
The best way to find out which Calendly alternative is right for you is to test the ones on this list that fit your criteria — whether that's budget, available integrations, or any other important factor. Gauge how intuitive the scheduling process feels—both for you and your recipients — and see if the features are a good fit for you.
You want a solution that will fit seamlessly into your unique work routine. Because ultimately, the best scheduling app is the one you'll use.