Learn more about Doodle, the scheduling tool that aims to make organizing meetings easier. Find out how Doodle uses polls to organize and schedule meetings.
No, we're not talking about tiny creative drawings. In this guide, we'll discuss Doodle, a digital calendar tool that promises to make organizing meetings simple and hassle-free.
Learn everything you need to know about how to use Doodle effectively: setup, integration, scheduling, pricing and more:
What is Doodle?
Doodle is a scheduling tool that uses a polling format to help you organize meetings with others. You can set up meeting details, include as many time options as you want, and invite others to respond — all in one email, with no back-and-forth messages.
Curious about how it works? Here's how Doodle approached scheduling.
How log in to Doodle
To log in to your Doodle calendar, either head to the web login page or pull up the app.
You'll have the option of creating an account and signing in with your Google account, Microsoft account, or Facebook account. Or, you can choose to set usernames and passwords for single sign-on events.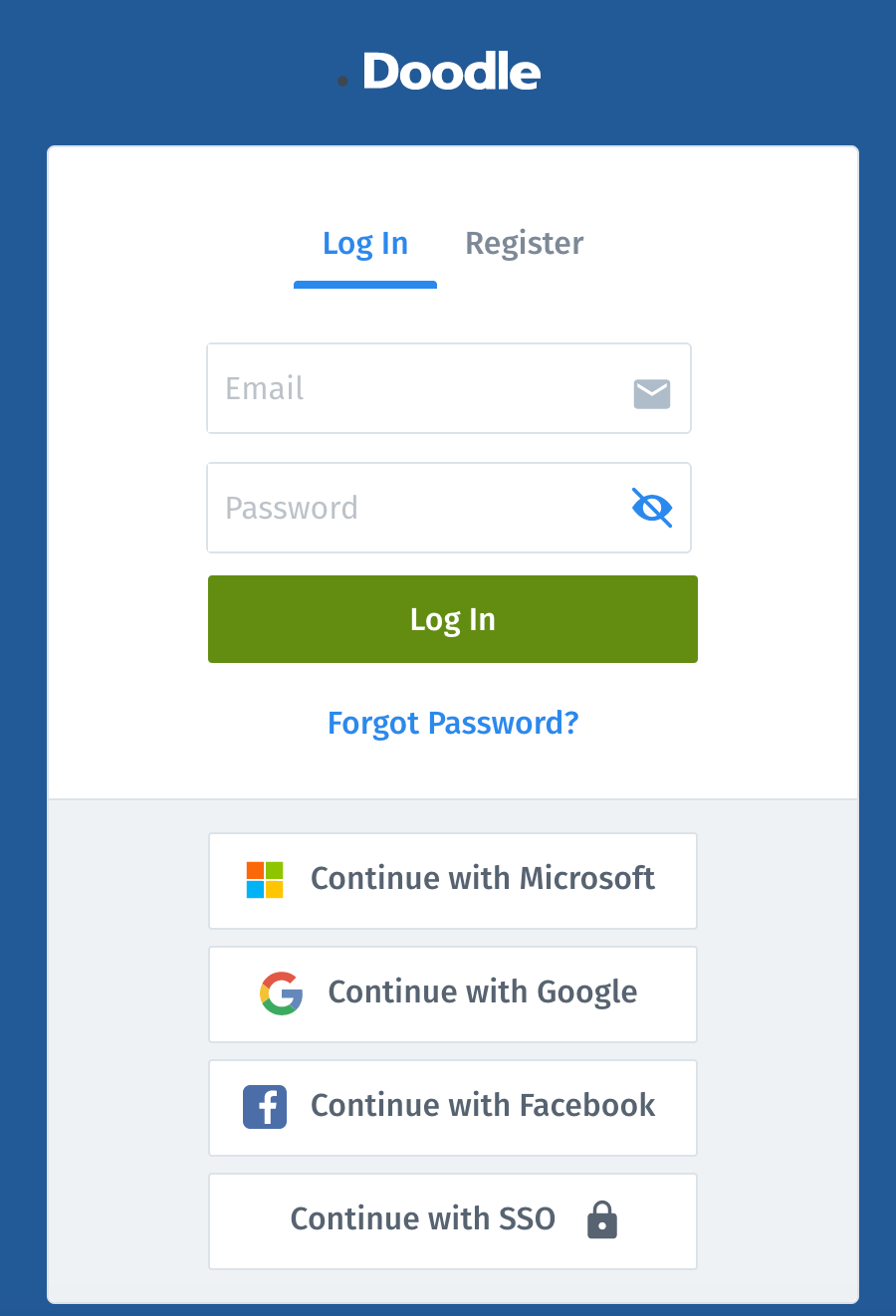 If you signed up with your Google, Microsoft, or Facebook account, the app should log you in automatically (as long as you're already signed into the selected app). For those with single sign-on access, enter your email and password as normal.
How to set up a Doodle poll
Doodle uses polls to schedule meetings. To start scheduling a meeting, click + Create a Doodle (the red button in the upper right hand corner on your computer).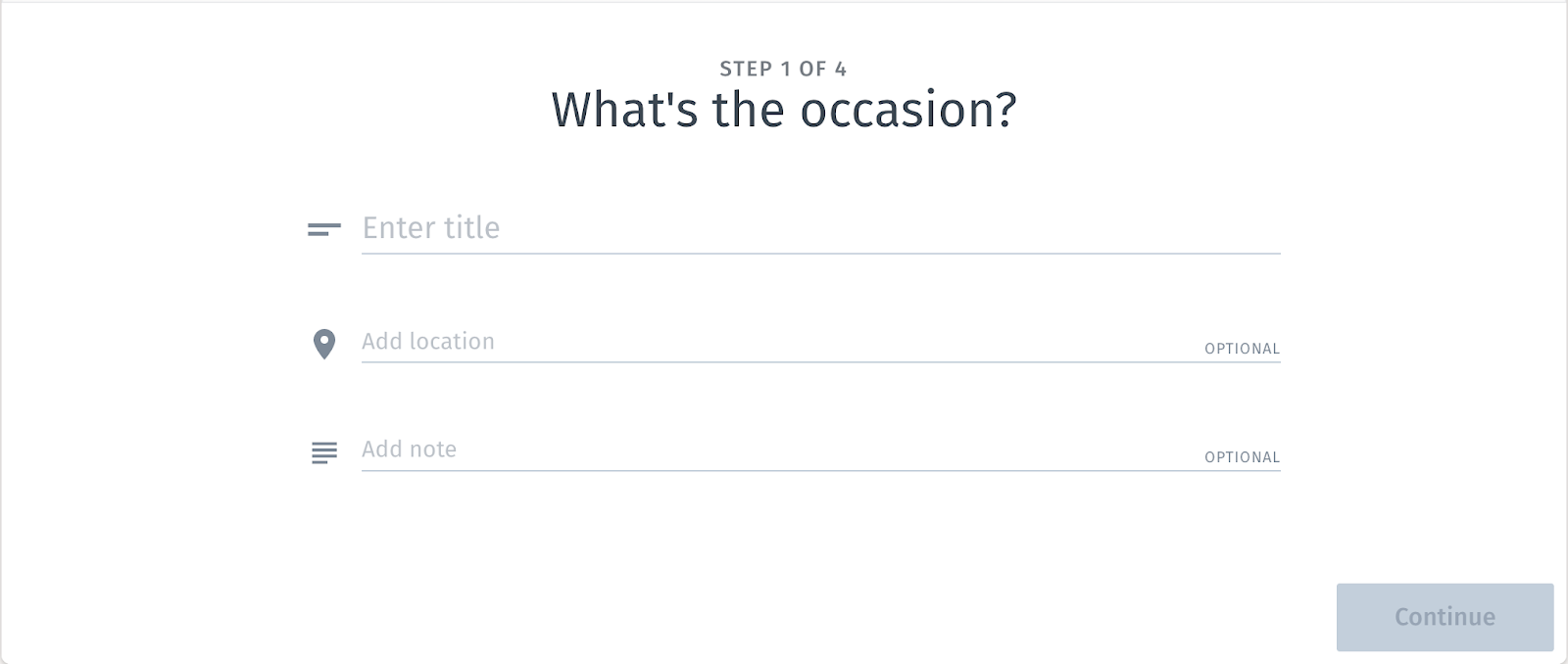 A new window will load, and from there you'll be able to enter the title of the meeting, location, and add notes that you'd like meeting participants to see.
In the next window, select the dates and times that work best for you. You can give participants two, three or several options, depending on your availability. You can also use the "Notes" option to gather a list of suggestions and schedule the event based on poll results.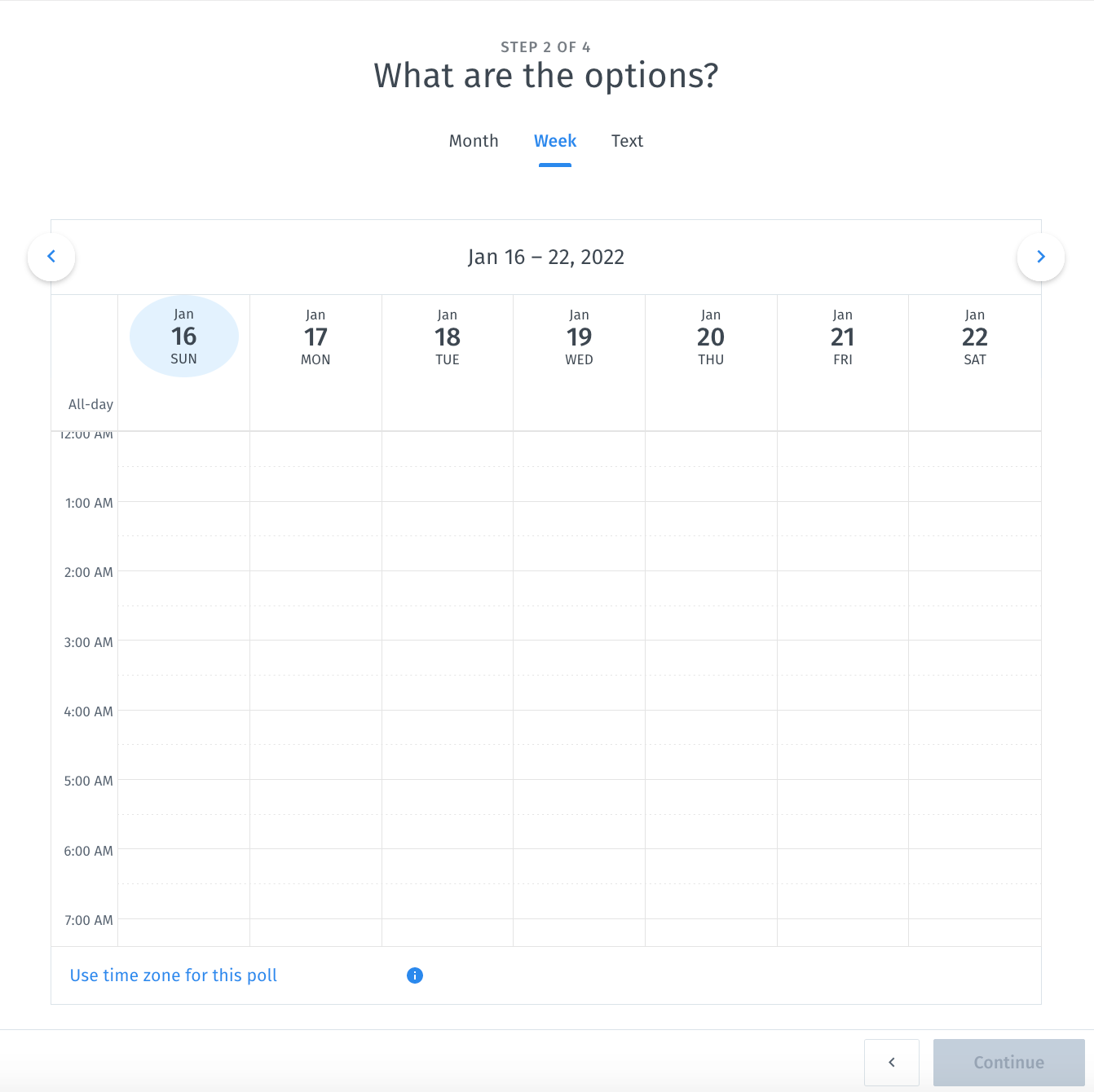 If you have the Team or Enterprise plan, you can offer a weekly or monthly view of key member's calendars so participants can see everyone's availability.
The third step will give you even more options. You can use this step to select other poll options, such as deadlines and email, phone, and address requests. Keep in mind that some of the features are only available to Premium members.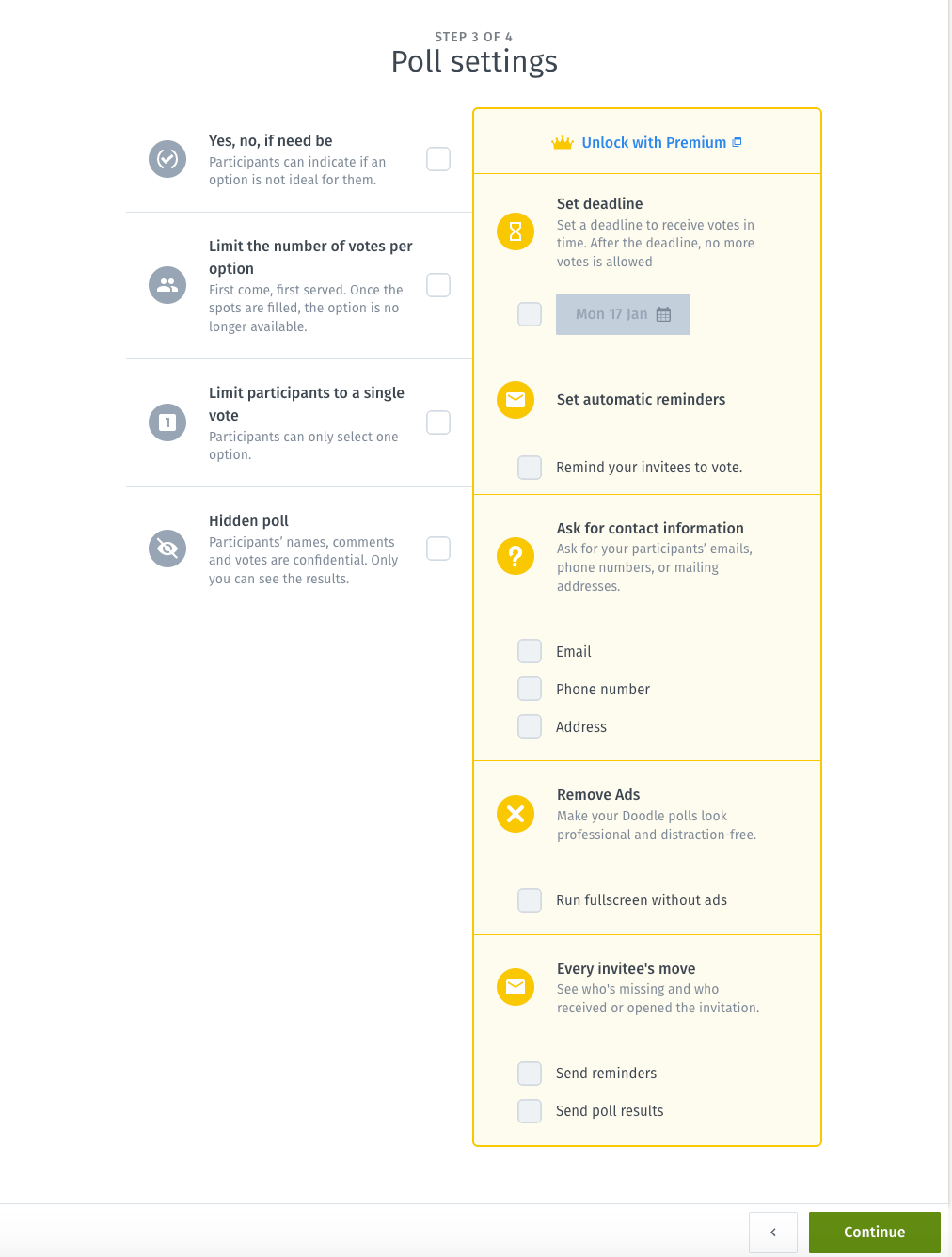 After you've made your selections, you're ready to start sending invites. You can send the poll link via the Doodle app or via email. If you've already integrated your address book into the app, you can add participants automatically.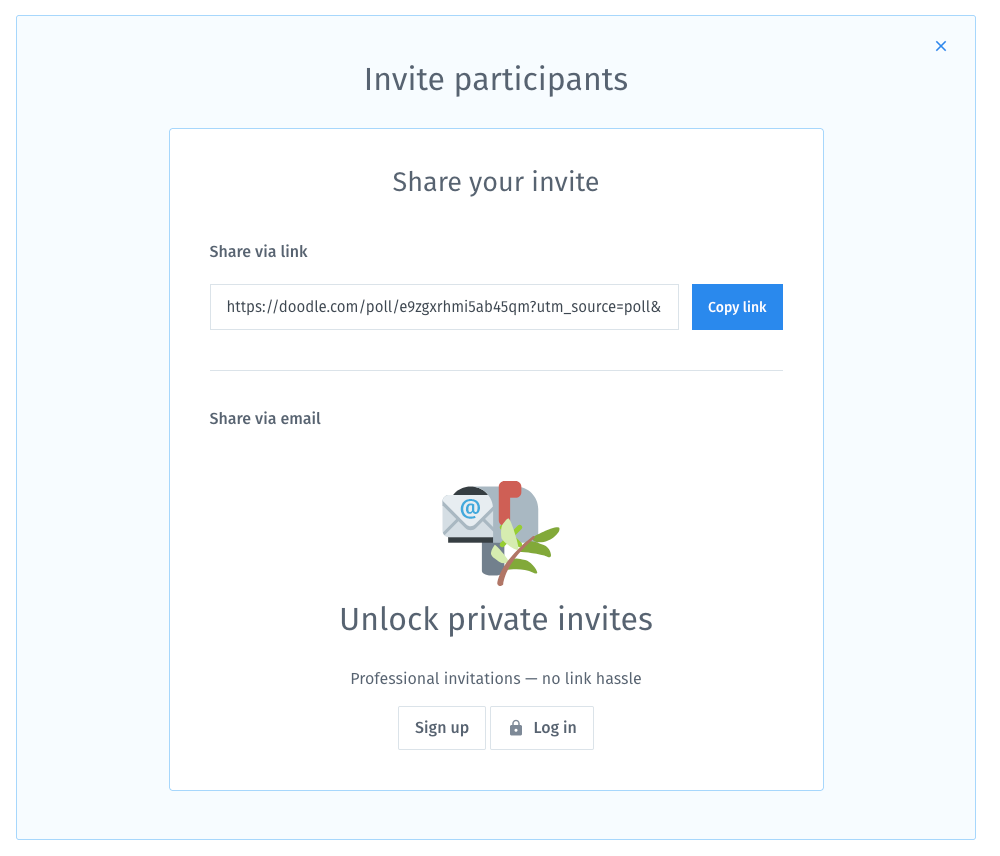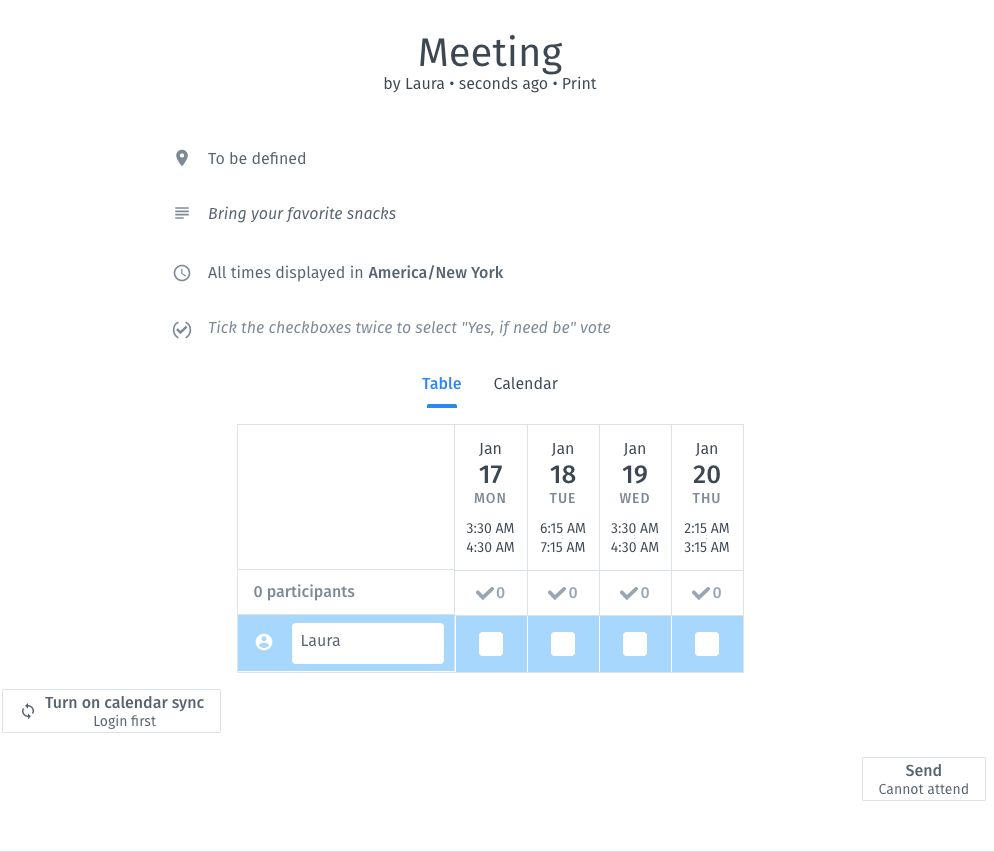 That's it. That's how you set up a basic Doodle poll — simple and no-fuss as promised. Now let's take a look at some of the poll options you're given:
How do I set a poll deadline?
Setting a poll deadline is easy — just select the relevant checkbox when setting up your poll and choose the desired deadline by clicking on the date.
If you've added a deadline to your poll, you and all the invitees will receive notifications about the approaching deadline.
How can I delete a poll?
Once you create a Doodle pool, the app will send you an admin link. You can use this link to manage all aspects of the poll, including deleting it. To delete the poll, navigate to the "more" menu at the top of the page, then click delete. The poll will just disappear.
If you forget to delete a poll and continue to ignore it, Doodle will delete the poll for you.
Doodle FAQs
What's the difference between "Schedule Event" and "Make a choice?"
"Schedule Event" allows you to select between a limited number of dates and times. To schedule events, you must also select a certain time zone and a time span.
"Make a choice" gives you choices of several dates and times. And you can use your poll to add additional options on everything from menus, movies, travel destinations, etc.
How to use Doodle with Slack
You can connect your Slack account by clicking Add To Slack in your Doodle account. Once you integrate the two, you can use Slack's controls to manage your Doodle events. For instance, if you create a Doodle to-do in the Slack message box, the list will pop up in your Doodle polls.
When viewing your Doodle polls through either platform, you'll see both polls you created and polls you've been invited to. You can also manage the poll's details (such as the time, dates, and location) through your Slack notes.
If you need help, type Doodle help into the message box in Slack to access advice and tutorials regarding how to use Doodle.
How to use Doodle with Zapier, Trello, and Zoom
If you use Trello as a content management system and you create a board with a set deadline, whether or not that deadline is met will reflect on your Doodle polls. When the Trello card is moved to the "Finished" queue, the poll closes on Doodle.
Zapier also allows you to link your Doodle account with Zoom so that you can set up video sessions upon closing a Doodle poll. Though you cannot take notes or host the meetings through Zapier, you can perform most of the meeting planning through the Doodle integration with Zapier.
How do I set up users for Premium and Enterprise?
To set up new users in your Doodle account:
Go to "Account Settings"
Find the "Premium Doodle" tab
Go to "User management"
Enter the email address or email domain of the desired participant.
Each person you add will receive an email asking them to activate their new accounts. They'll need to create a username and password.
How do you delete a Doodle account?
To delete your Doodle account:
Go to "Account Settings"
Confirm your password
Click Yes, delete.
Your account should now be deleted. But if you have a Premium or Enterprise account, you might want to reach out to Doodle's support to ensure you are no longer charged for services. Otherwise, you could continue to get billed for the account.
Doodle pricing
Along with its free (ad-supported) version, Doodle offers three premium plans:
Pro
Of the three premium options, Pro costs the least: $6.95 per month. Annually, it comes out to a little over $80 per year.
This plan is for one user, has zero ads, the ability to sync meetings to calendars, meeting invite tracking, multiple integrations, and a booking page. It also includes a custom logo and branding, and Doodle 1-on-1 meetings.
Team
Doodle's Team package is $8.95 per user, per month — up to five users. Team plan holders get everything that's included in the Pro package plus an admin console.
Enterprise
Doodle's Enterprise option is customized, so the cost will vary.
With this package, you enjoy all the features of the Team plan, plus custom billing & legal terms, a dedicated success manager, priority support, guaranteed response time, single sign-on (SSO), and more.

Regardless of which plan you're interested in, you get a free 14-day trial (no credit card required).
Is there a better option than Doodle?
Doodle has some great capabilities, but it's not for everyone — and in many instances, there's an easier way to schedule meetings.
SavvyCal allows others to overlay their calendar over yours so mutual availability is easy to find and select. And SavvyCal offers features like availability presets, single-use links, multiple meeting durations, and booking limits.
Find out what SavvyCal can do for you, or get started for free.