Many people gravitate towards public speaking for the wrong reasons. They think it is the easy way to build their personal brand, market their business, get paid to travel, and/or create an additional revenue stream.
While public speaking can do all of those things, it is also a ton of work. And, most public speakers speak for free or if they are lucky enough get their travel reimbursed. Only a select few keynote speakers are making $10,000 or more per speaking engagement.
You can't exactly cold pitch your way to getting lucrative speaking engagements at corporate events and conferences. (Unless of course, you like wasting a lot of time and energy!)
Take it from someone who has been on both sides. I've organized and worked directly with speakers at a handful of conferences, as well as spoken at a few conferences.
In this post, I'm going to spill my secrets for how to land speaking gigs in a more time-efficient manner.
Get clear on why you want to speak
Public speaking is a lot of work. You aren't going to go from a nobody who has never spoken at a conference before to making $20k+ per speaking gig in a matter of months.  So, it is helpful to know and have a convincing "why."
For some it might be to build their personal brand and get an audience. Others might be looking to market and sell their services or products. And, for some, it is to get an extra revenue stream.
If you know what your goal is and have realistic expectations, you'll be more likely to put in the work.
Listen to a lot of talks from speakers that you admire
One of the best ways to fast track your progress is to listen, learn, and study talks from your favorite public speakers. Watch their talks multiple times and take notes not just on their content, but also their stage presence, delivery, hand gestures used, how often they move around the stage, etc.
Some of my favorite talks to listen and learn from are these talks from Derek Sivers, Brene Brown, and Tina Roth Eisenberg. But, if you aren't sure where to check out, browse through a few TED talks.
Come up with 3-5 talk ideas
Most people start out by building a list of events that they would love to speak at as well as finding the names and contact details for the conference organizers.
A better idea is to start brainstorming topics you can talk about.
The key is to come up with talk topics where you have a lot of experience and it would be interesting for others at the event.
Pro Tip: The best talks are ones where you are a practitioner who has actually done the thing you are talking about instead of preaching or theorizing.  Save the motivational speeches for the most experienced public speakers. 😉
Prepare an outline for each talk idea
Once you have 3-5 potential talk ideas, it is time to create a rough outline. This will help you gather your thoughts on the topic and start to find anything angles and/or stories you can share.
After all, the stories you include are what will resonate.
One way to test out your concepts is to give a presentation about it at your company's lunch and learn or to talk about it on a podcast or two. If it is resonating in those scenarios, then there is a good chance it will resonate at an event or conference.
Build your event list
Now, it is time to build your list of places you want to speak at.  The number of conferences and events you add to your list will depend on your public speaking goals.
However, whether you are targeting 3 conferences or 30+, you want to make sure that the talk topics / outlines you created align with the conference positioning.

A great starting point to find events is Eventbrite, Meetup.com, and your own network.
As you are putting together your list, make sure to segment it out based on the likelihood you can snag a speaking spot. For instance, landing a speaking spot at a small event at your local library where you know the event organizer personally is way more likely to happen than snagging one of the 5 keynote spots at the premier conference in your industry that 10,000 people attend each year.
Slide into event organizers' DMs
Your first few gigs will likely be unpaid. So, you want to find a way to stack the deck in your favor and reduce time spent on unproductive tasks.
If there are any events on your list where you know the event organizer or have a mutual friend in common, use that to your advantage.
If you have to pitch blind, start by trying to have some conversations with them on social media first. Twitter, in particular, can be a great icebreaker. Once you've been chatting for a while, then send them a friendly DM.
Here is an example of a template you can modify.
Hey <<first name>>,
I'm obsessed with what you've built with <<insert event name>> and think my knowledge on <<insert your niche>> might be interesting for your attendees. I'd love to run a few potential talk ideas by you. Would you be open to hearing them?
Email your pitch
Depending on the event, you may go straight to an email pitch.
Here is a common example of a pitch that you shouldn't use.

This pitch is generic, doesn't share what value the speaker could bring to the event, and puts extra work on the event organizer to figure that out. Because of that, this pitch is likely to be ignored.
Now, let's compare this to a much better real-life example for how to pitch your speaker talk via email.
This example is specific, shares exactly what the talk will be about, and shows that the speaker did their homework about the event.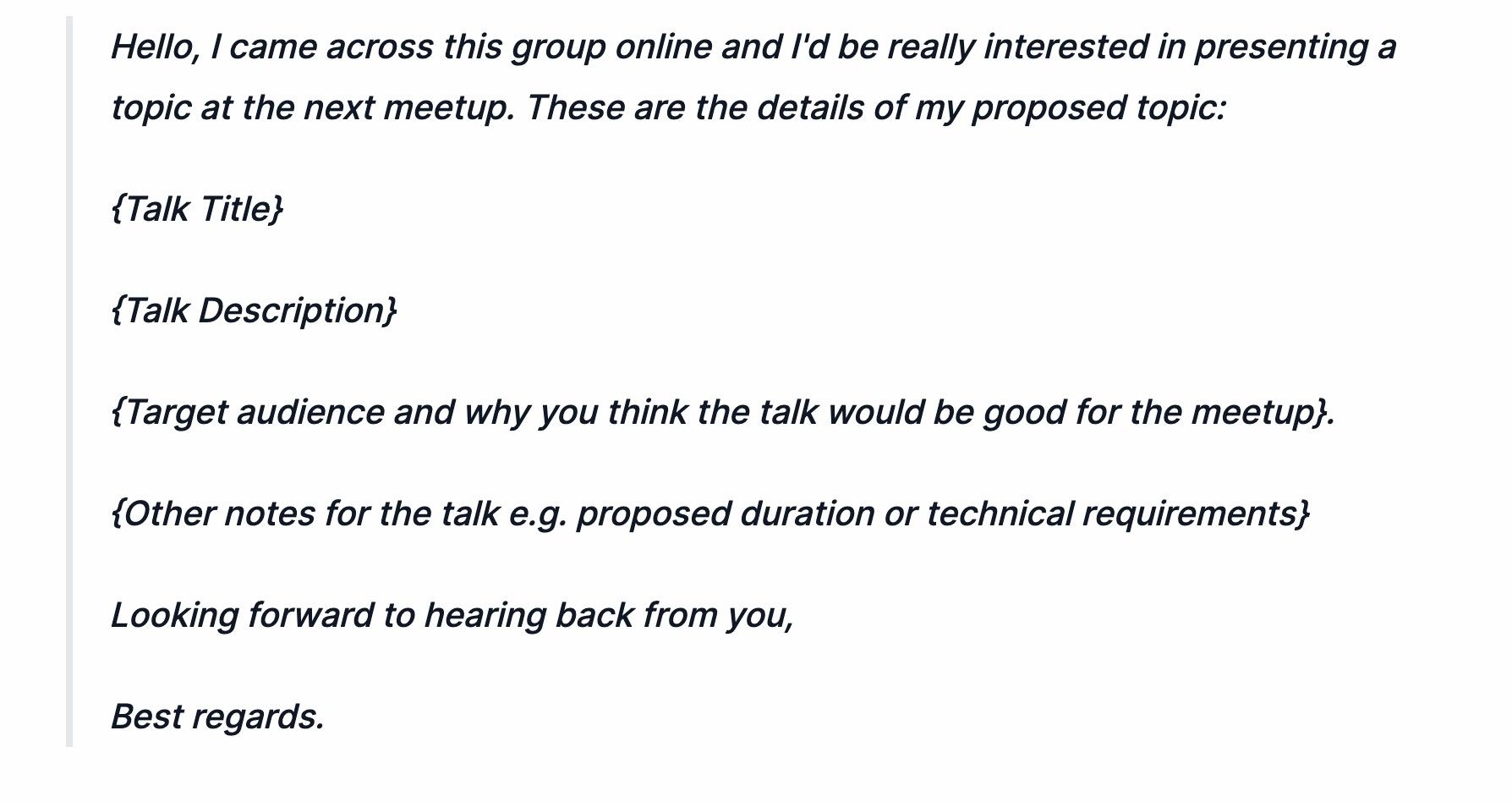 One way to take this pitch a step further is to record a short teaser of your talk using a tool like Loom or ZipMessage.

Or, create a custom landing page with your speaking pitch, a video, and some testimonials that speak to your expertise.
Turn your outline into a speaker proposal
While your best chance for landing your first few speaking gigs will be from friends or friends or friends, you may still need to fill out a speaker application to some conferences where you don't have any "ins'' with the event organizer. In these instances, it is helpful to write a short session proposal that you can send to the event organizer along with your application or email.
According to professional public speaker, Tamsen Webster, the best speaking proposals include the following 5 elements:
Idea: State the main point / idea of your talk
Problem: Describe the problem it solves
Action: What do you want attendees to learn from this talk
Key Concepts: the 3-5 key takeaways that anyone will get after listening to your talk
Credentials: What makes you qualified to speak on this topic?
Be prepared
Once you land your first speaking gig, this is when the hard work really starts. The key to getting more gigs is to do a great job, so that you have a demo video and a testimonial you can use.
As a general rule of thumb, you should spend an hour preparing for every minute you are on stage. That means a ~15 minute presentation is equal to about 2 full business days of prep time.
Schedule a dry run with the event organizer
It is one thing to practice in front of the mirror, your dog, or your significant other, it is another thing to practice in front of someone in your industry.  While it might be scary, doing a practice run-through of your talk with the event organizer or someone on the organizing team can go a long way in improving your confidence and getting valuable feedback that increases the chance you knock this talk out of the park.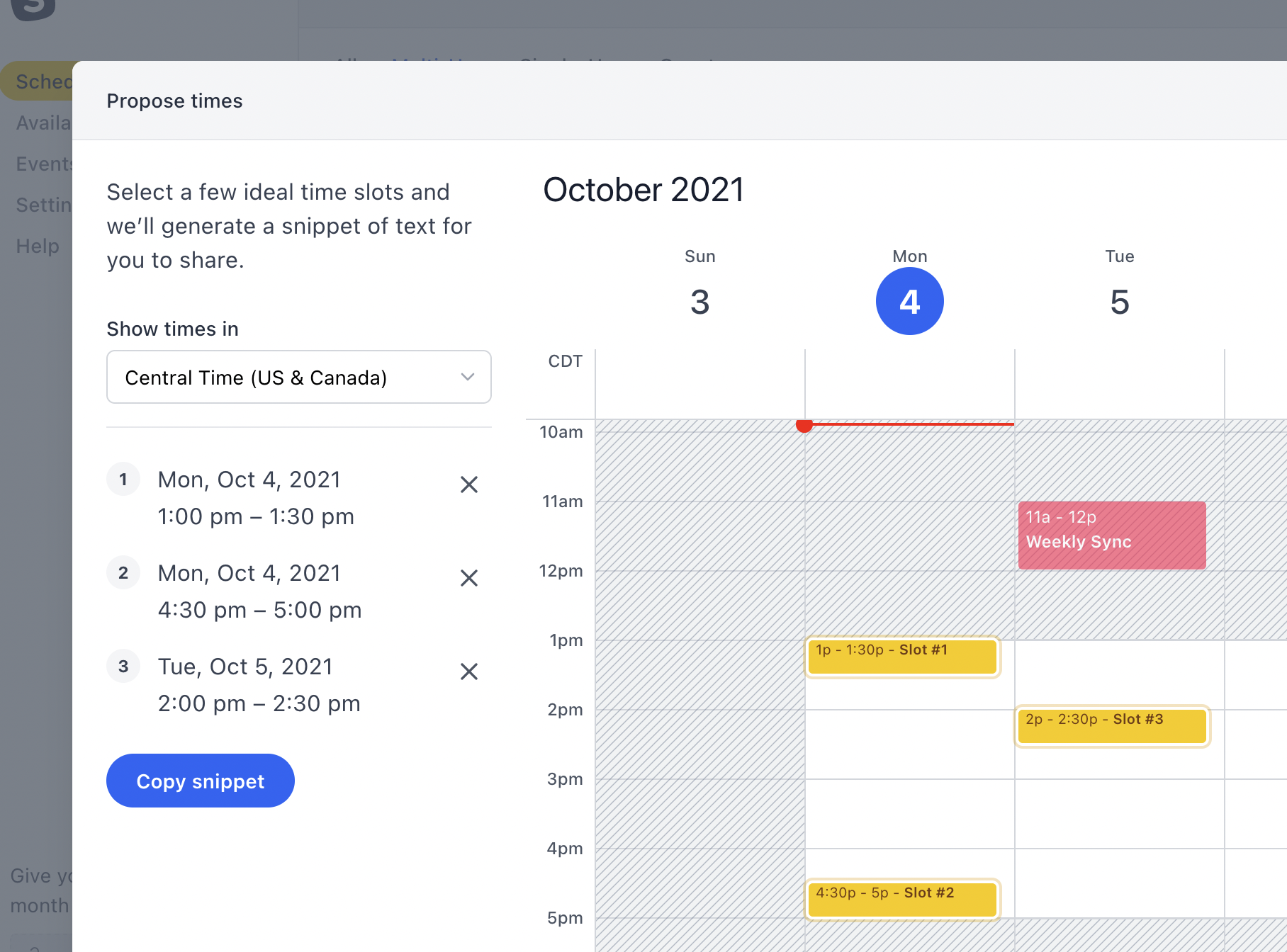 Pro Tip: Given all of the tasks competing for an event organizer's time leading up to the event, anything you can do to make their job easier will go a long way. For example, sending a personalized scheduling link using a tool like SavvyCal makes it faster to schedule a call / meeting and eliminates all of the back and forth emails.
Follow up after your talk
Most new speakers spend all of the time thinking about how they are going to land speaking gigs and they forget about arguably the most important part. That's the follow-up after the event.
Whether your goal was to build your personal brand, get more brand awareness for your company, or to land more speaking gigs in the future, send a thank you email to the event organizer. This is also a great time to ask for feedback and/or a video testimonial.
In addition, follow up with any attendees who reached out to you after your talk. If anyone mentioned wanting to chat after the event, send a quick message with your SavvyCal scheduling link to jump on a call while the event and conversation is still fresh.
Follow these tips to book more speaking engagements
In sum, most people think that the real work lies in finding a bunch of events and then bulk pitching a bunch of meeting planners and conference organizers. While that might work for a few folks, a much more strategic approach is to start with 3-5 potential talk ideas. Build out the key outline for each one, and then find events that align with these talks.