Most people misunderstand the meaning of inbox zero.
Mistakenly, they emphasize the often elusive status of "zero unread messages." Rather than using it as a system to protect their priorities and create boundaries that support their best work.
As the OG of inbox zero, Merlin Mann, says:
It's about how to reclaim your email, your atten­tion, and your life. That "zero?" It's not how many mes­sages are in your inbox–it's how much of your own brain is in that inbox. Especially when you don't want it to be. That's it.
Inbox zero is about taking control of where you spend your attention.
The goal is a clear mind (not an empty message feed). And that sense of clarity and control — produced by some minor changes to your systems and habits — can transform your working life.
Savvy email management is effective energy management
There is no doubt that creating a deliberate system for managing your email — that relieves the anxiety and reduces the staggering overwhelm — is a monumental step in the right direction for being more intentional with your day.
And in today's epic roundup of tips, tricks, and tools to try — we hope to nudge you toward creating healthier email habits that can free up your time, help you focus on the important stuff, and manage the chaos and communication in your everyday life.
Here's what you'll find in this cheat sheet:
The Shift: 10 tips for transforming how you think about inbox zero
The Purge: 10 cleanup tasks to get your email under control
The Level-Up: 10 time-saving email management systems to leverage
Plus:
10 tools to try to make inbox zero more achievable (with less effort)
10 Gmail-specific tips for managing your inbox better
10 work management apps to eliminate email overload
And we end it with:
10 mistakes to avoid when aiming for inbox zero
Be the sender you want to hear from — 10 ideas to crank up your email game
12 things more important than inbox zero for managing your time, energy, and attention
The Shift: 10 tips for transforming how you think about inbox zero
Why should I care about inbox zero? Many people get lost in the busyness of their incoming email. And that distraction can wreak havoc on how accomplished you feel each day. Protecting your energy and putting your time and attention where it's needed the most — is something worth striving for.
Remember that the satisfaction of inbox zero is fleeting. People write back. So even if you clear everything out, it's inevitable that the emails will stack up again. Explicit systems and deliberate practices designed to help you manage your attention are a better investment than furiously working through email every day just to hit "zero."
You can set boundaries that make sense for you and the way you like to work. Gaining more control over your communication and setting expectations for the people you're in contact with will serve you well.
Not everything in your inbox is critical — therefore, it doesn't need your immediate attention.
Using your inbox as a to-do list can cause you to lose focus and lean toward busy work. We'll talk about some systems to help combat that shortly.
Train yourself to open your inbox with purpose — rather than by reflex.
Getting lost in "processing" makes you unproductive (despite feeling like you're doing work.)
Know what's in your email yet still act on your priorities — remember, inbox zero is not about getting to the number zero; it's about clarity, control and focus.
It's okay to mark something unread after you've read it. But there's likely a better system you can adopt to avoid letting that email take up unnecessary brain space.
Email back and forth isn't always bad. Not everything needs to be systemized and automated for you to be more productive. Sometimes email really is the best option to communicate. And you shouldn't feel pressured to install productivity hacks where they're not needed.
The Purge: 10 cleanup tasks to get your email under control
Unsubscribe from the unnecessary. Go through your last week of emails and unsubscribe from anything that no longer serves you.
Turn off notifications across all your devices. It's an easy step to help you resist the temptation to check your email before you need to.
Set up a folder for important things you need to reference later. Call it "keep for later" and file in the stuff you don't want to lose as you work through some of the other more advanced inbox zero tactics.
Reflect on your previous week and count the hours you spent inside your inbox. Understanding the time cost will help you calculate the impact of how you currently work. And give you a point of reference to measure your improvement.
Write out your ideal "email management strategy." For example, check twice a day, no emails before noon, $20 a month budget for tools, never reply on the same day (unless it's urgent). Treat this as a draft, not a rigid mandate.
Set a budget if you plan on using tools to help you manage your inbox. We'll share some of our faves shortly, but getting clear on how much you're willing to spend (if anything) before diving into software research helps with the decision-making later.
Make a list of the tools you use that often send you copies of emails you don't need (like your bookkeeping app sending you a copy of a sent invoice). This prep work will make it easier to set up filters in the future. Record the sending address.
Create an "outstanding" folder. Whether it's a parcel, tickets, a proposal, or some work you're waiting on, you can file the email here so that it's out of the way and out of your head.
Get familiar with the search function. I don't want to organize my email — so I prefer to know how to search my email app. Here's a helpful list of search queries for Gmail users.
Create a CC folder so you can divert anything that's not explicitly sent to you — and check that folder less regularly.
The Level-Up: 10 time-saving email management systems to leverage
The Yesterbox system. Tony Hsieh is the CEO of Zappos, and this is a system he uses exclusively for his email management. Essentially — despite knowing that emails are coming in today, he only handles emails from yesterday. This system gives you a fixed amount of emails to answer, with a clear idea of "what done looks like." Once yesterday's emails are processed — you're free to focus elsewhere. (read more about it here.)
Triage First: What's important, what's not, what can wait? Pareto's principle works with email too. Here are some thoughts from Celestine Chua of Personal Excellence on how to 80/20 your inbox.
My 20% emails are the ones that give me the next breakthrough in my work. They can be media requests, interview spots, networking opportunities, business leads, speaking opportunities, and other things that lead to my 20% business goals. My 20% emails also include people who have invested into my work, such as my 1-1 coaching clients, speaking engagements and readers who bought my courses and products. Last but not least, correspondences with my good friends also fall here. Everything else goes into the 80% mail.
Create separate email addresses for specific groups of people. To gain more control over who has access to your attention, you can create multiple email accounts and only hand out the address to those you want to hear from. That way, you can check specific inboxes knowing what you'll likely find in there. For example, have an email just for family and friends (and don't use it to sign up for anything!).
Create rules to filter your emails. Employ your email app to automatically handle messages that don't need to sit in your actionable inbox. Here's a list of filters to help you begin.
Block time on your calendar for important emails that will take energy and bandwidth to respond to. Assigning specific days for this can be helpful, so you still have days where your focus is away from your inbox.
Have a "Reply by XX Day" folder. Set this up for the days of the week you've set aside to deal with your important emails. If you schedule email management on Tuesday and Thursday, you can have a folder for each day and allocate anything you receive on other days to their respective locations.
Discover your optimal email times. For instance — I have a toddler and limited deep work times — so I tend to run through my email in the morning (blasphemy, I know!) But it works, and it means when I get the chance to get down to focused work — I'm not worried about my intray.
Use your signature to signal your preferences, set boundaries, and offer alternative contact options. You can outline your preferred contact times and work hours, link to FAQs on your website, and train people when to expect to hear from you.
Make a "read" folder. It might seem like overkill or an unnecessary step, but for some people — deliberate filing is a helpful step to finalize something. Once you've read something, file it in the "read" folder!
Train yourself to follow the one-click rule — once you open an email, work on handling it then and there with the following options: reply, forward, delete, or archive/file. For emails that require further action, use the forward option to send to your chosen task management system.
10 Gmail-specific tips for managing your inbox better
Use email aliases for easy filtering. Add a + to the end of your email handle and append whatever you like to create a sub email account (e.g. claire+newsletters@gmail.com.) You can then use it to sign up for marketing stuff, which you can filter automatically using that alias.
Mute conversations you don't need to be in on.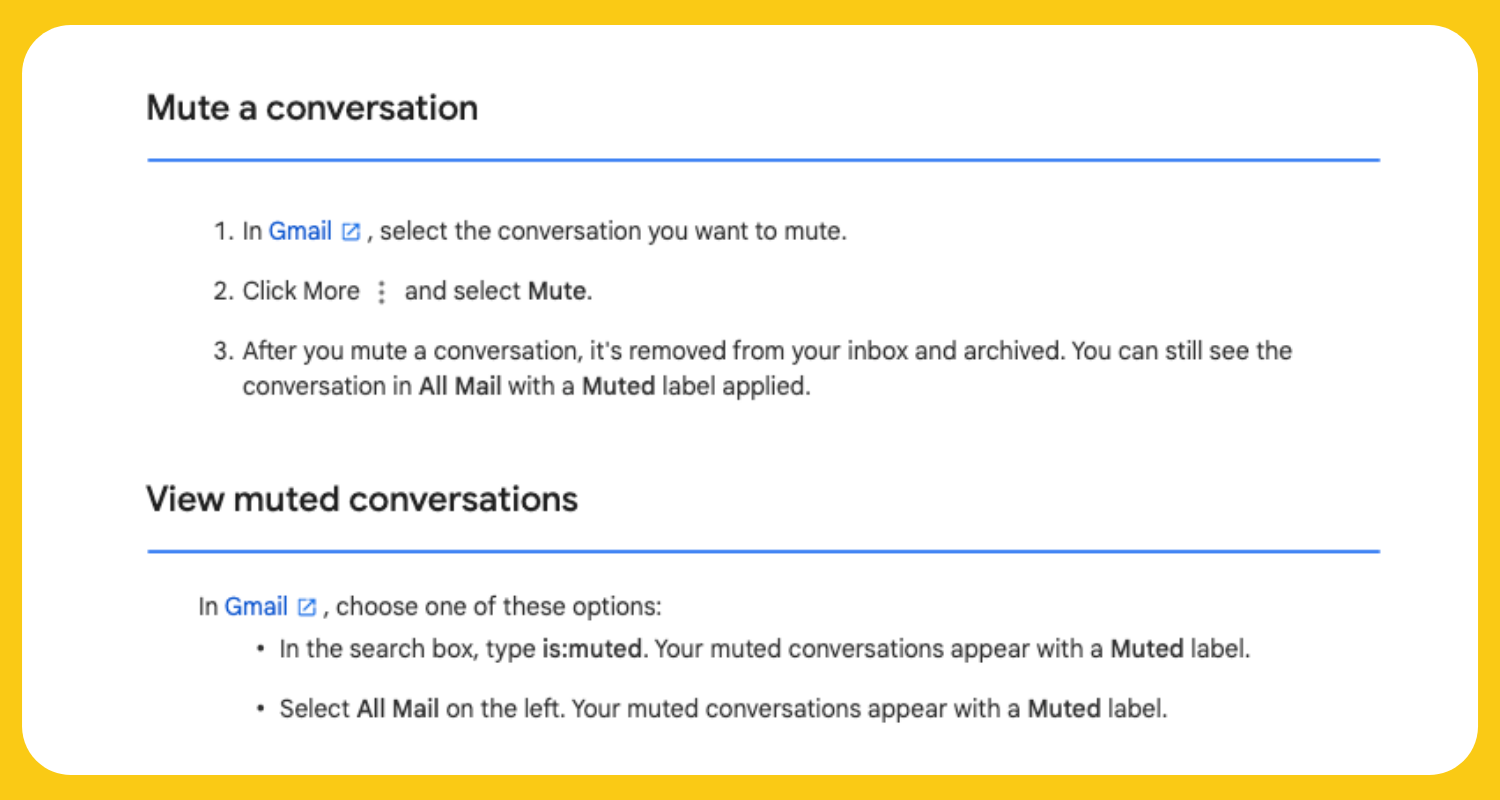 3. Try a bulk delete for super old stuff. While "delete all" is a lousy strategy for hitting inbox zero, you can delete any emails that came in before a specific time if you have a severe backlog. _For example, if you want to delete all emails you received before Jan. 1, 2020, you can search before:2020/01/1. Then check all the boxes, and hit delete. _
4. Hit snooze to vanquish emails until a specified time and date.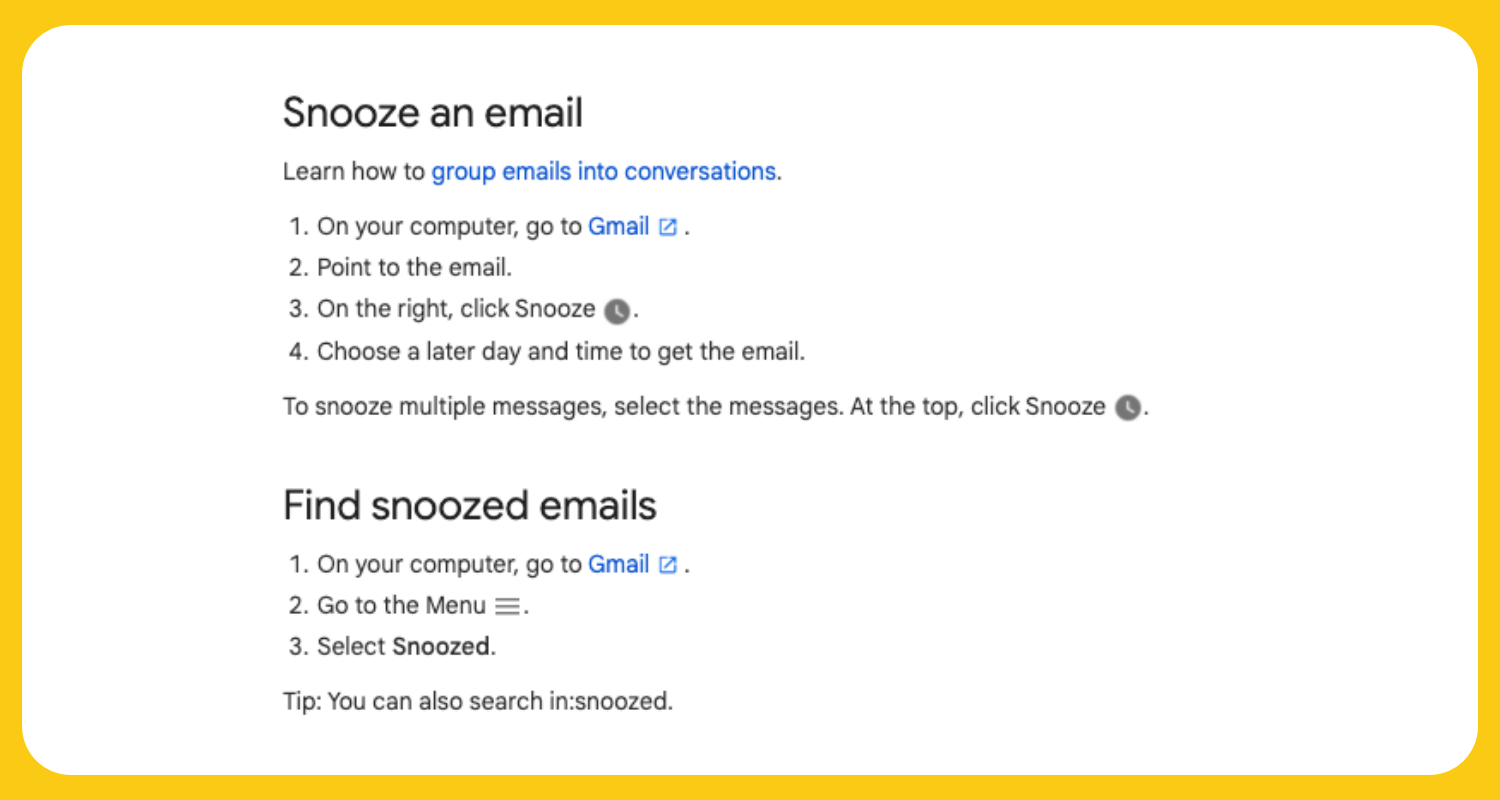 5. Use templates to save time with responses you send regularly. Enable the templates option first. Then you can create and insert them into your messages quickly.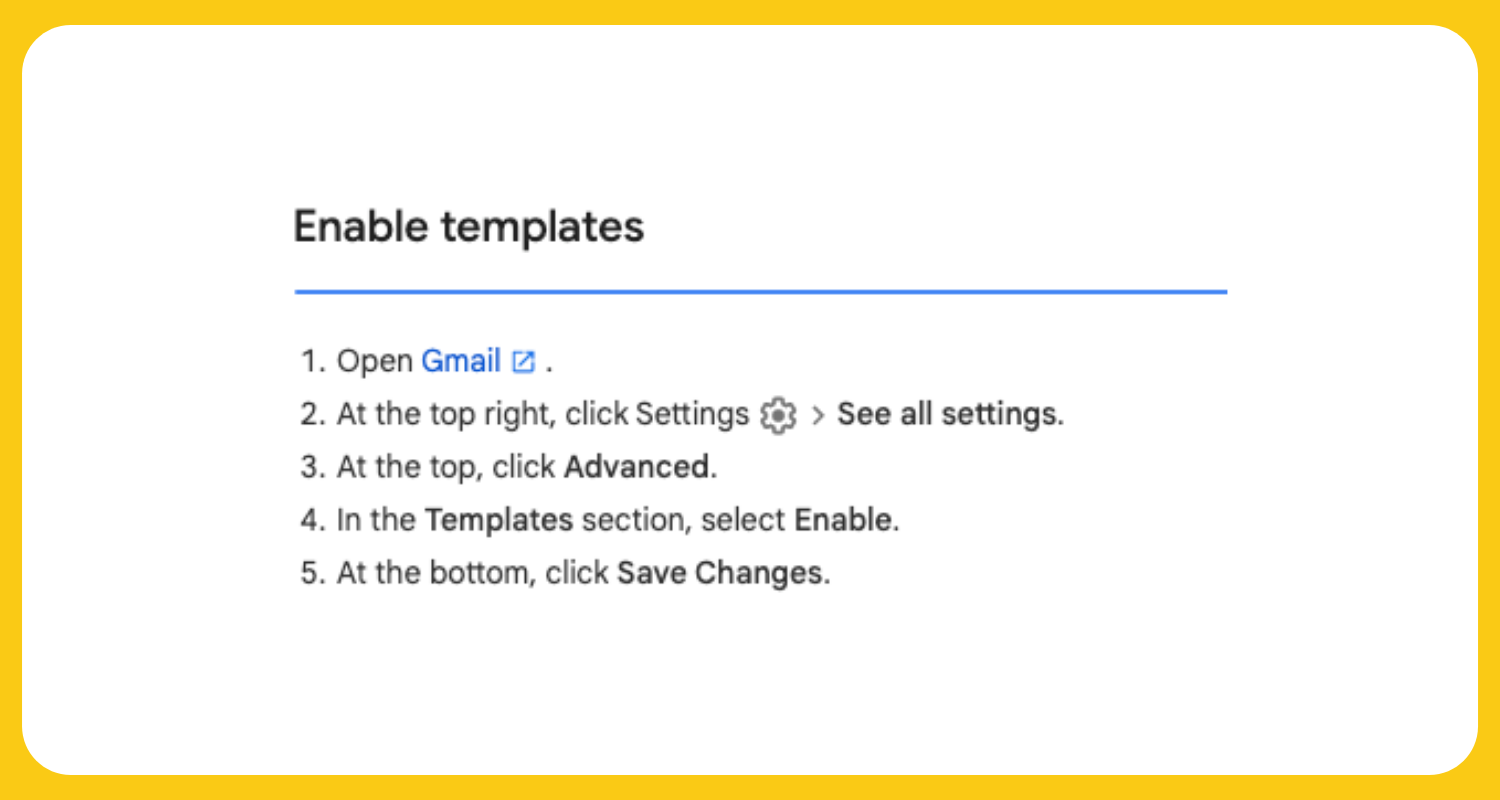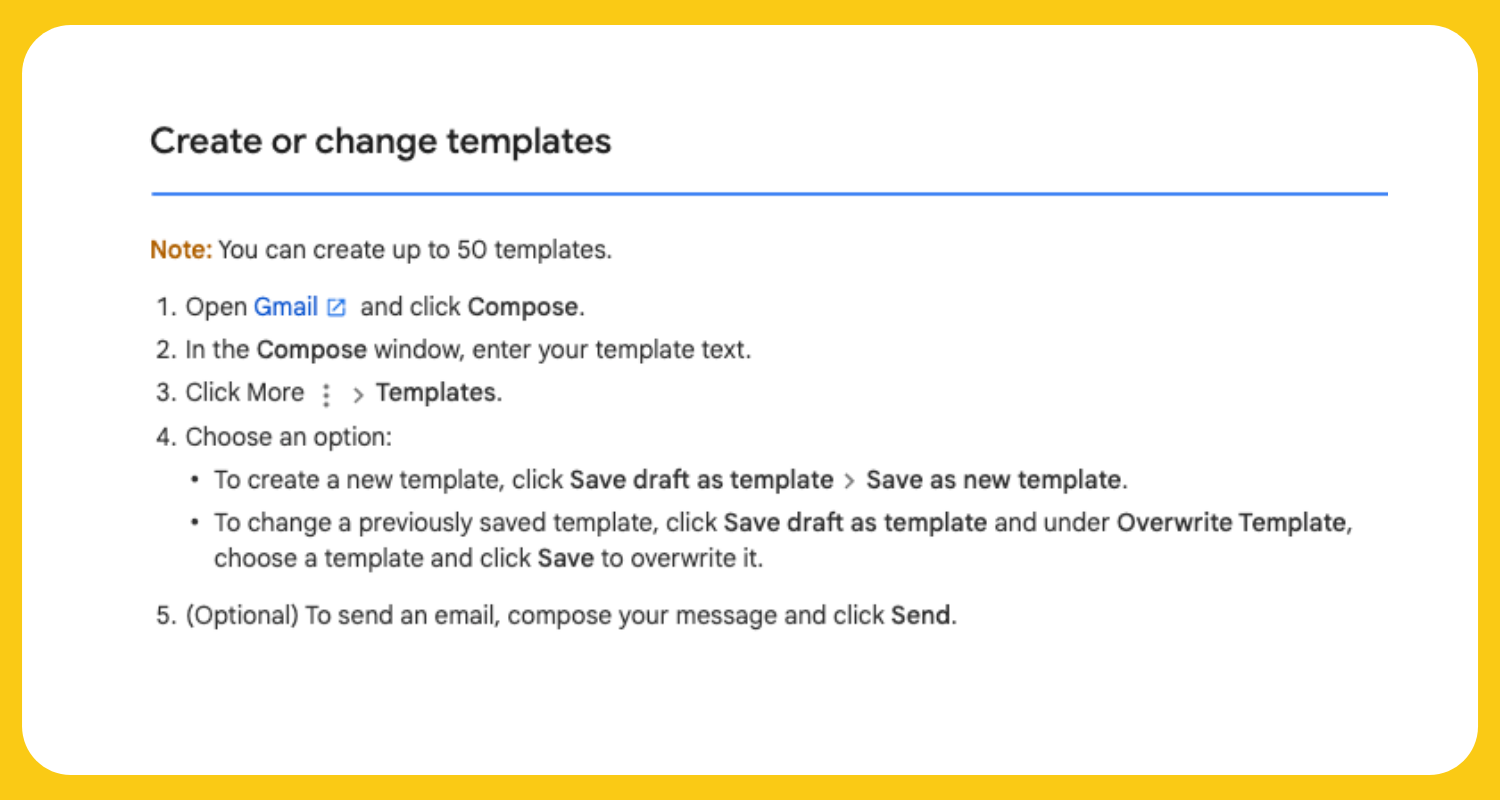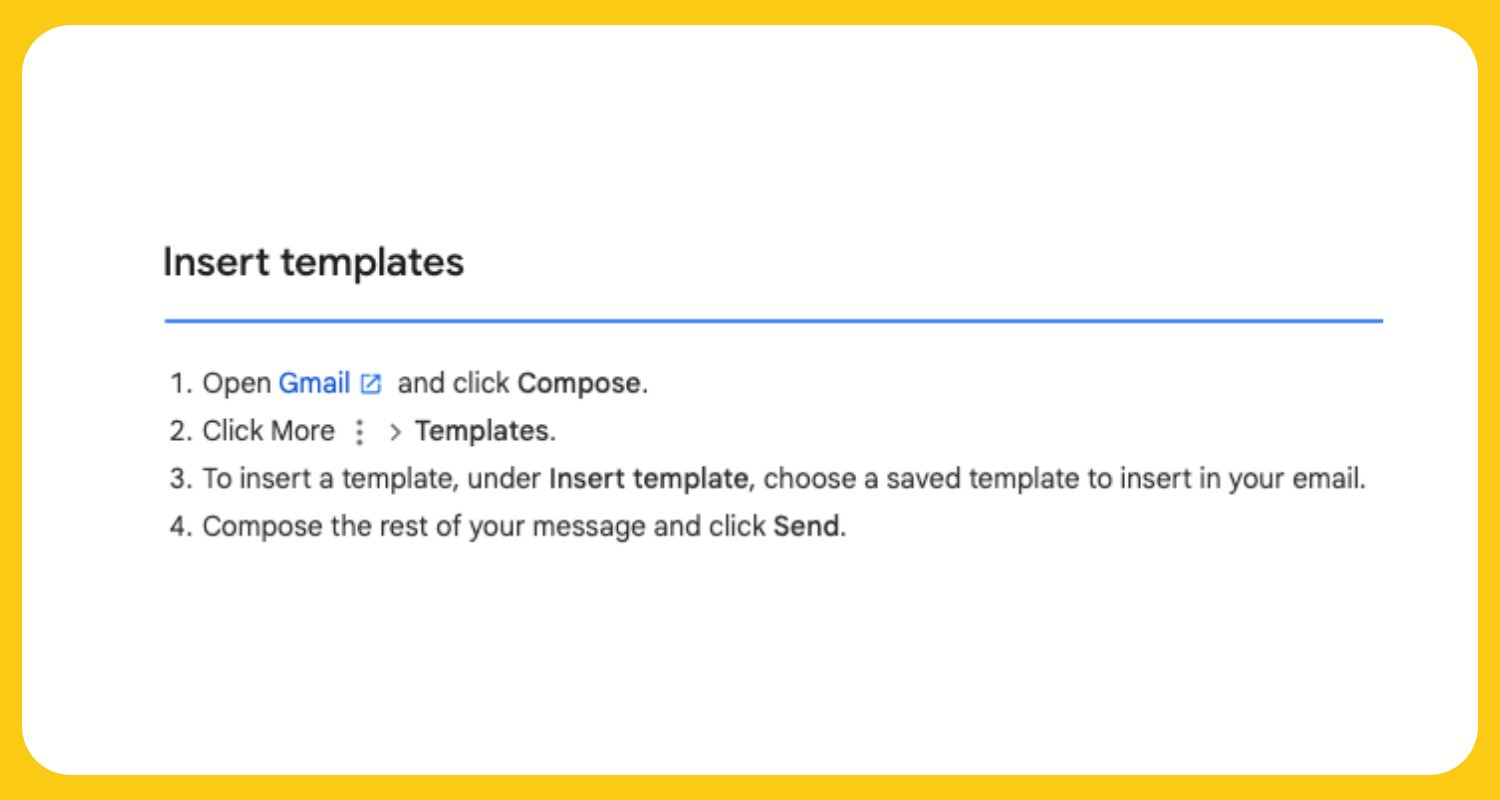 6. Create bookmarks for easy access to specific search queries, folders, or areas of your inbox that you want quick access to.
7. Schedule emails to protect your boundaries. If you're worried that a client will start harassing you on weekends if they know you like to work on Saturday night, schedule that work-related email for more work-friendly hours. Learn about the best time to send a business email.
8. Get comfortable with keyboard shortcuts. Turn them on first (see pic below)! Then check out some of the options here to familiarise yourself.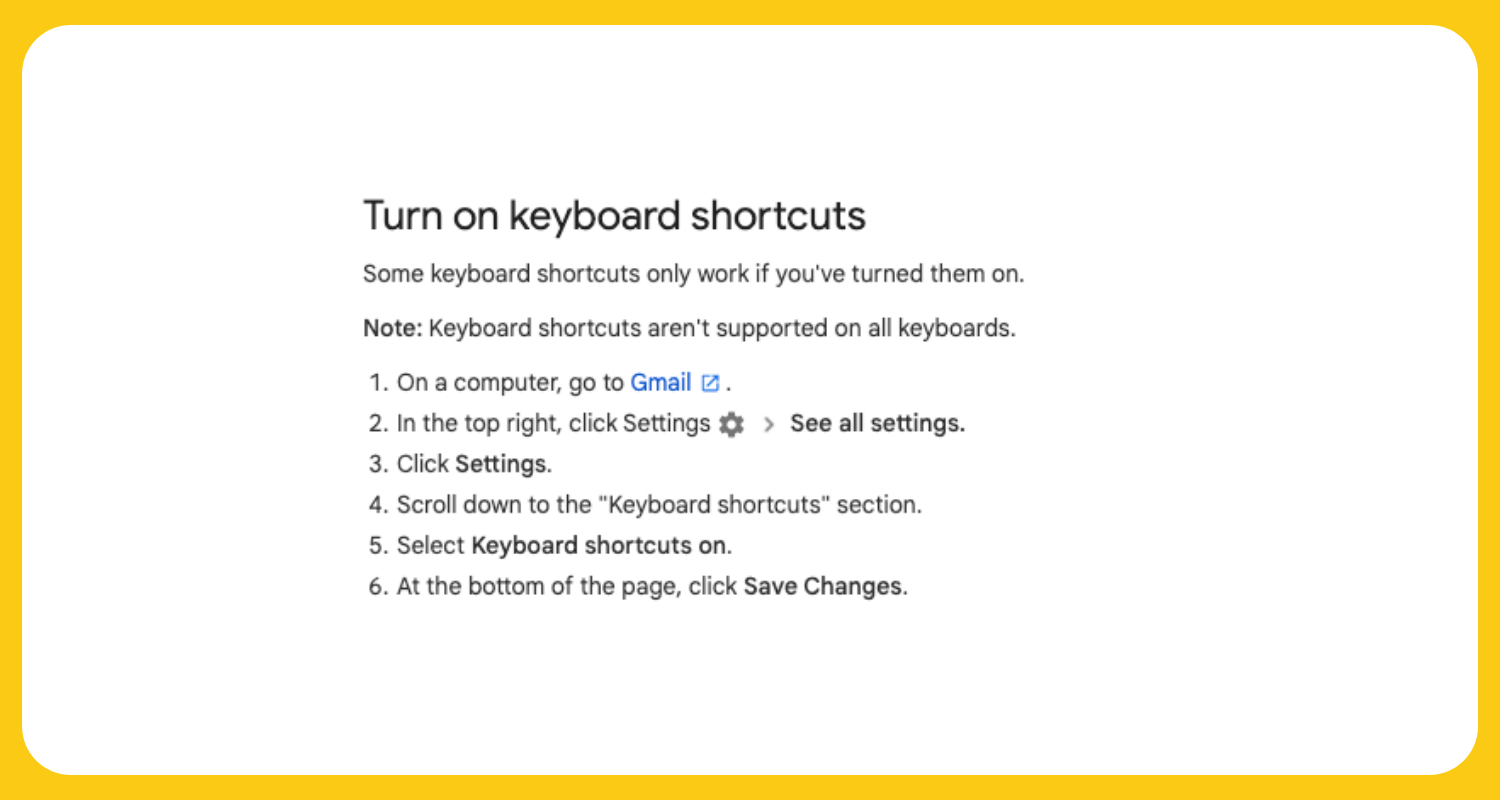 9. Create contact groups to make it faster to send to a group of people who you contact regularly.
Open Contacts (bookmark this page for easy access) and create a new contact group.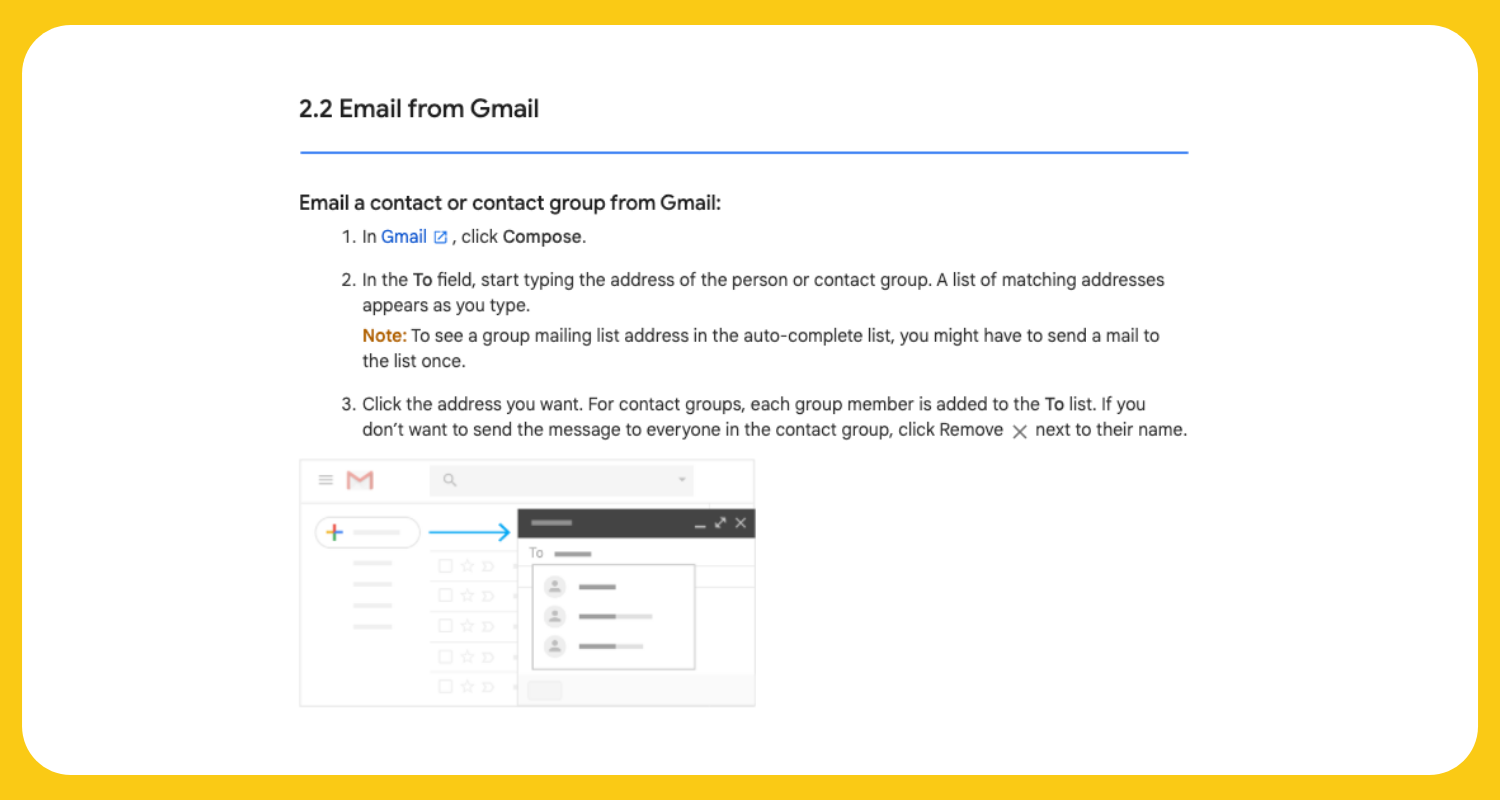 10. Enable offline mail, so you access your inbox even if your internet is unavailable.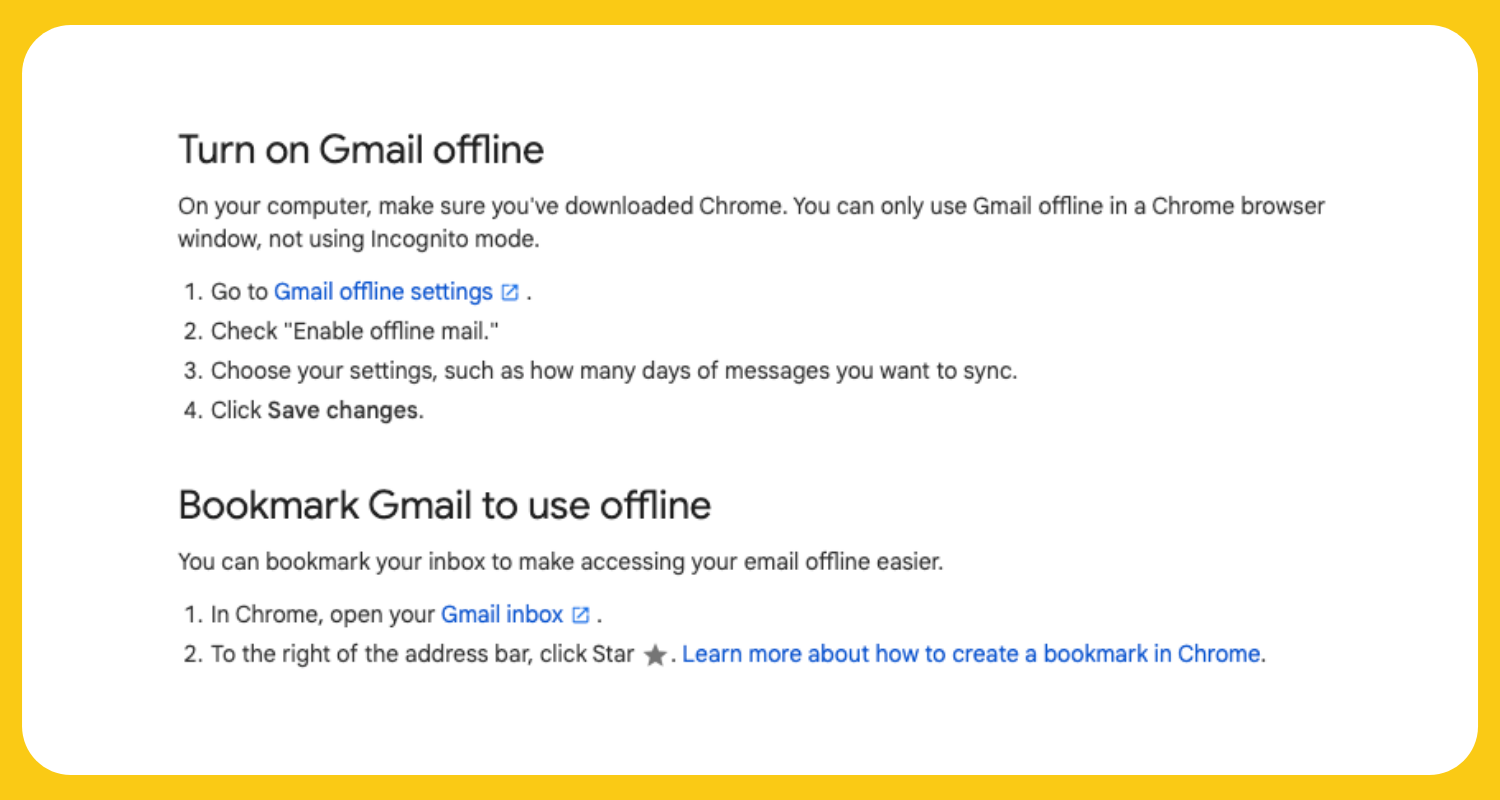 10 work management apps to eliminate email overload
10 mistakes to avoid when aiming for inbox zero
You are dismissing inbox zero simply because you disagree with some of the tactics. Remember that inbox zero is about taking control of where you decide to spend your time, energy, and attention — not actually hitting zero every day.
Thinking you have to implement everything on this list to make inbox zero work for you. Adopting even a few of these habits, systems, or tools can help you free up your time and attention — and improve your email management.
You are opting for "delete all." If this is what you think it will take to get to inbox zero, you've got the wrong idea. Remember, it's about crafting a process that helps you (sustainably) manage your email for the long term.
You're using email as a to-do list. Instead, send tasks to a task management system (we recommended some earlier).
You are going crazy with your VIP status. If there are important people you always want to hear from and respond to — of course, mark them as VIP. But don't abuse that status with senders who simply owe you something.
Assuming you'll always be on top of your email and won't ever fall off the wagon. Jobs change, workloads increase and decrease. Some weeks you'll be better at it than others. Cut yourself some slack and know that you can continuously improve (and run through this cheat sheet again!).
You are using an approach from someone who has an entirely different life and workstyle to you. Your email management systems should work for you and your preferences.
You are failing to give yourself an entire day off from email. Pick a day, and stick to it.
Believing everything needs a reply. Don't be afraid to be the person that ends the conversation!
You are avoiding meaningful work by using the excuse of "processing email" as a distraction. Prioritize the work that moves the needle for you.
Be the sender you want to hear from — 10 ideas to crank up your email game
The simplest way to receive fewer emails is to send fewer emails.
Communicating too many ideas in one email leads to a higher likelihood the recipient will overlook one of them.
If you have a question that needs answering, end your email with that question.
CC'ing someone who doesn't need to be is bad form (and may get you banned from the internet.)
Engage the "five sentences or less" approach for writing concise emails that get to the point. Better yet, try for the three-sentence rule instead.
If you must write a long email, approach it like a piece of content. Make it skimmable; use subheads, bullet points, and highlight the important stuff.
If you reply to emails immediately, you train people to expect you to respond immediately.
Don't make introductions via email without checking in with both parties first.
Subject lines matter. Learn how to write subjects that capture attention (but also explain why you're contacting someone.)
You don't always have to reply.
12 things more important than inbox zero for managing your time, energy, and attention
Go outside, preferably more than once a day.
Take intentional breaks from your work. Even a five-minute walk around the house can reduce fatigue.
Drink more water. Dehydration affects focus and can put you in a bad mood!
Stock your fridge and cupboard with energy boosters (your best self's idea of a healthy diet.)
Have more meaningful conversations with important people in your life
Factor in the axis of significance to determine what you should work on first. "How long will this matter?" is a powerful question to pose to yourself when you're feeling indecisive.
Get a good night's sleep. 'Nuff said.
Take walks as often as you can. Walking meetings are great. As are "thinking walks," where you intentionally don't listen to podcasts or try and multitask.
Reserve the first two hours of your workday for your deep, focused work. Ignoring email, social media, and outside communication during this time is a powerful way to make more meaningful progress.
Create something every day. Even if it's a house made of playdough that impresses your two-year-old…
Give yourself space to reflect, refresh and reboot without worrying about your work commitments. Whatever self-care looks like for you — prioritize it.
Spend more time with the people you love. Hopefully, you can use today's tips to help you free up your time and attention to do more of this!