One-on-one meetings are some of the most important meetings team members and supervisors will have together. They're also difficult to get right.
Most of us have sat through disorganized or high-pressure one-on-ones. And it shouldn't be that way. One-on-one meetings are an opportunity to have productive conversations. But great check-in meetings don't just happen. They take thoughtful planning and (probably) a few deliberate changes to your current system.
5 tips for managers: How to run effective one-on-one meetings
Whether you're a first-time manager or leading a large team, one-on-ones can pose a challenge. If you want your direct reports to have a better work experience, rethinking your approach to one-on-one meetings is a good place to start.
Make one-on-one meetings recurring and prioritize them.
Check-in meetings work best when they're held on a regular basis. Although vacations, sick days, and other conflicts will come up, frequently canceling or rescheduling your one-on-ones shows a lack of interest. "Make a commitment to do whatever possible to keep them, even if it means you connect by phone instead of in person or for a shorter amount of time," suggests time management coach Elizabeth Grace Saunders.
Regular meetings help your direct reports grow individually, which ultimately leads to a more productive and happier team — and yes, that definitely contributes to a manager's success.
To help stay on track with your one-on-one meetings, put them on the calendar in advance. "Don't let your 1:1 meetings be spontaneous — their power comes from consistency and structure. Define the length of your 1:1 meetings and figure out the right frequency," says Dmytro Mindra, an engineering manager at Grammarly.
Shameless plug: SavvyCal's team functionality and calendar overlay features make it easy for you and your team to schedule your one-on-one meetings.
Approach one-on-one meetings with a positive outlook.
You want your direct reports to look forward to their one-on-one meeting. Think of it as a time to support, guide, and if necessary, help course-correct. "We need more leaders who can show up as facilitators and coaches rather than order-givers," Aaron Dignan, author of Brave New Work and founder of the Ready, told The Conversation Factory.
Regardless of what has happened over the past week (or since your last 1:1), approach each meeting with positivity. Successful one-on-one meetings can be the backbone of a great working relationship.
Tip: Your time management is part of the equation. If you're feeling overwhelmed as your team grows, it might be time to move one-on-ones from weekly to biweekly, for example. Find a cadence that works well for you and your direct reports, and make scheduling your one-on-ones as simple as possible.
Set an agenda (but leave room for flexibility).
Often, there are specific projects, goals, roadblocks, or time-sensitive tasks to discuss. To make sure your one-on-ones are efficient, have a plan for each meeting. "I like having an email with objectives or expectations before a meeting so I can be prepared," said Farah Jaffer, a project consultant at Kaiser Permanente, in an interview with Slack. Along with creating a more effective one-on-one, agendas make it less likely that you or your direct report will feel blindsided.
That being said, if one of your team members happens to bring up something that's not on the agenda, be open to discussing it (or at the very least, planning a time to talk about it).
(Need help organizing your meetings? Check out Hypercontext, an app designed to help managers coach and collaborate with their team. It's particularly helpful for one-on-one meetings.)
Tip: You and your direct reports might be more engaged if the meeting is held over coffee or on a walk. If your team is remote, consider reassuring them that it's okay if the video is off sometimes.
Lean on soft skills and emotional intelligence.
Working relationships require an interesting balance. There has to be enough of a connection for your team to have trust in you as a manager, but you don't want to get too personal.
Empathy, attentive listening, and self-awareness all help build mutual trust. "Emotionally intelligent people want to know that their boss is emotionally intelligent as well," says Jonathan Feldman, an award-winning Chief Intelligence Officer.
Assure all of your direct reports that one-on-one meetings are a confidential and safe space to discuss their work and anything that's affecting their performance. Understandably, ensuring your team's psychological safety has become even more tricky these days. But it's also that much more important.
We're navigating a world-wide health crisis and adjusting to new workplace dynamics (i.e., remote or hybrid work). "Managers must create an environment that encourages employees to share aspects of their personal situations as relevant to their work scheduling or location and/or to trust employees to make the right choices for themselves and their families, balanced against the needs of their teams," wrote Amy C. Edmondson and Mark Mortensen in an article for the Harvard Business Review.
Keep in mind that these changes will be ever-evolving, and managers should keep the conversation open.
Give constructive criticism and feedback that empowers your team.
Kind and direct communication also helps build trust with your team. Highlight your team's success, thank them for any extra effort, and deliver criticism thoughtfully. Suggest changes, share resources, and help remedy mistakes with tact.
According to one analysis, "Employees were more likely to trust leaders who they perceived as more empowering. They had greater faith in their leaders and were more likely to put in effort without feeling that they would be exploited."
If you want a more in-depth look at giving feedback, "Radical Candor," by Kim Scott, offers a unique view on management philosophy: caring personally and changing directly.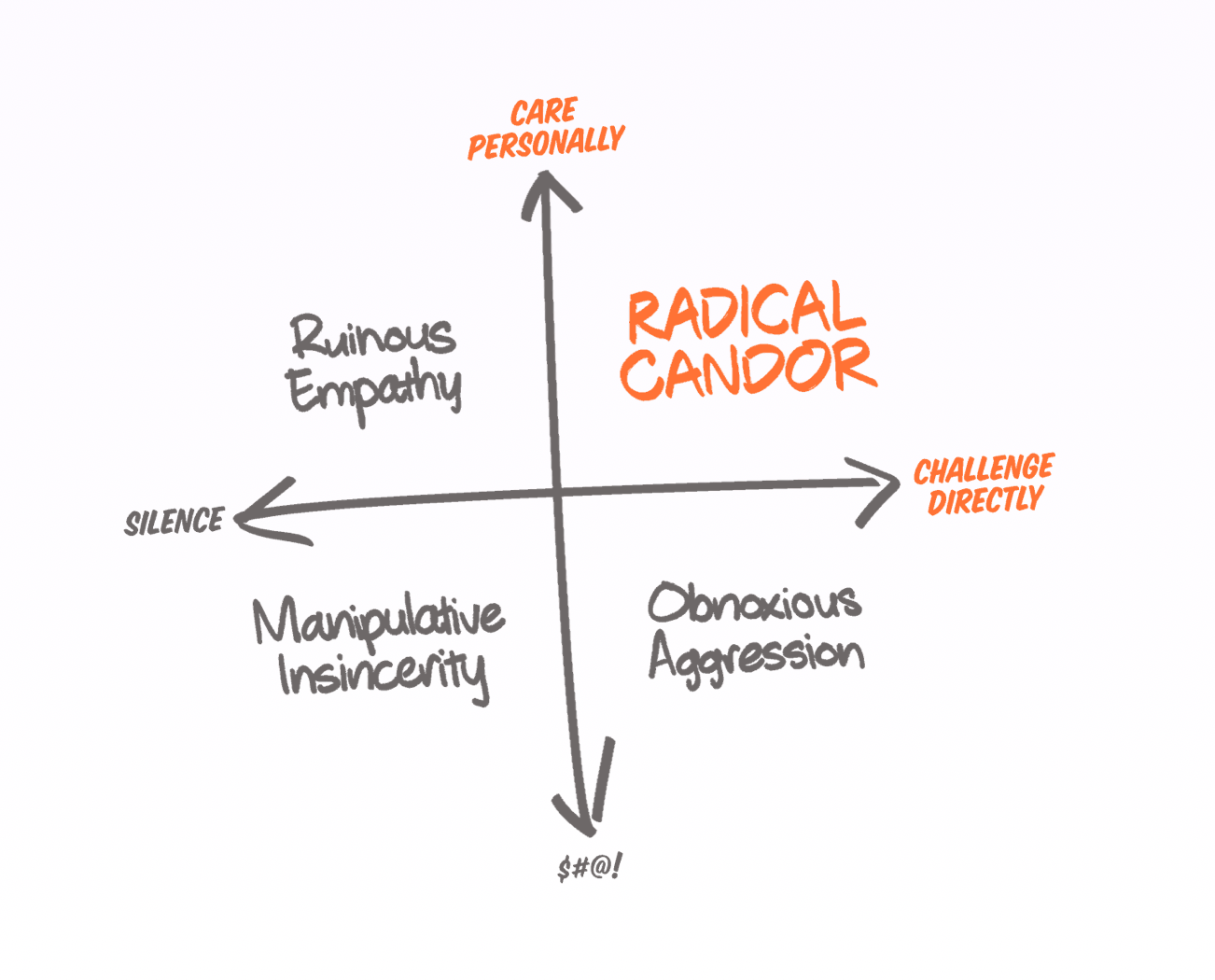 Tip: Try to be as transparent as possible with information that affects the company and your team. More information sets your direct reports up for success.
Ideas for employees: How to have a better one-on-one meeting with managers
For check-ins to be truly productive, direct reports need to be as involved as their managers. That means coming prepared and actively participating. Or, in essence, managing up. You should be genuinely trying to help your boss — working in a way that benefits you both. Part of managing up is taking your one-on-one meetings seriously.
Your one-on-one meetings should be a priority.
One-on-one meetings are your chance to get individual attention and guidance from your manager. Assuming you have a knowledgeable, helpful, and organized manager, their help can be crucial to your career success and growth.
Make every effort to keep your meetings, but if necessary, reschedule your one-on-one with a concise note. Even better, suggest a new time for your check-in.
Ask your boss how they prefer updates and feedback (and bring some to every meeting).
Hopefully, you and your manager have an agenda for each one-on-one together. You should also find out how your manager wishes to receive updates and feedback. Some bosses have a specific communication process, while others are happy with an ad hoc approach.
You should have updates prepared for your manager at every meeting. Feedback might not come up as often, but questions or concerns should be discussed ASAP with your boss.
Take notes and follow up to confirm goals and deadlines.
During your one-on-one take notes about everything you discuss. This will help you organize and prioritize your work for the coming weeks. It might even be helpful to keep your check-in notes in one document or notebook (or a tool such as Hugo). If you need to refer back to what was discussed, it's all right there.
After your one-on-one meetings, consider sending a follow-up email to your manager. They're busy, so keep it short. Confirm any goals, deadlines, and improvement plans you discussed.
5 one-on-one meeting agendas
When it comes to meeting agendas, one size does not fit all. It'll likely take some trial and error to get your one-on-one meeting flow right for you and your team. And you likely won't use the same agenda for every meeting.
The first 1:1
Your first one-on-one meeting lays the groundwork for a collaborative working relationship. You should cover a few basics in your first check-in meeting:
Career goals
Working and communication style
What managers expect from direct reports and vice versa
How subsequent one-on-ones will be organized
Problem solving and escalation
This type of one-on-one meeting agenda is inspired by SBAR, a communication technique that was originally developed by the U.S. Navy. The breakdown looks like this:
S = Situation (a concise statement of the problem)
B = Background (pertinent and brief information related to the situation)
A = Assessment (analysis and considerations of options — what you found/think)
R = Recommendation (action requested/recommended — what you want)
Consider this approach if you prefer methodical, action-oriented meetings.
10:10:10
This approach breaks up a 30-minute meeting into three chunks:
10 minutes the direct report to talk
10 minutes for the manager to talk
10 minutes to discuss upcoming work
The 10:10:10 meeting agenda is efficient for one-on-ones, but it might inhibit meaningful conversation.
The Urgent/Important Matrix (aka The Eisenhower Matrix)
President Eisenhower strived to use his time effectively _and _efficiently. In doing so, he popularized his time management model: "The urgent are not important, and the important are never urgent."
The basic flow of the Eisenhower Matrix looks like this: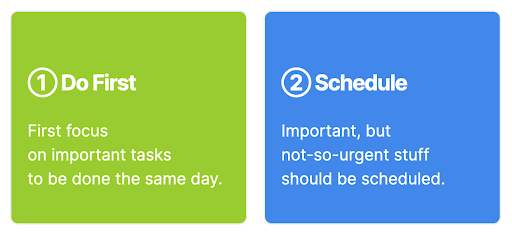 This one-on-one agenda model introduces the option to delegate work to others, encouraging growth for employees of all levels. Consider this proactive approach if you're constantly putting out fires, aren't making much progress on big-picture goals, or struggling to delegate.
List comparison
The list comparison is a model famously used by Google for 1:1s. It was created by Bill Campbell, author of the book "Trillion Dollar Coach" and advisor to Silicon Valley's elite businesses and industry leaders.
The manager and the team member bring a list of five things to discuss
At the beginning of the meeting, you match lists and talk about whatever is on both lists first.
Then you can discuss performance, work with other teams, or leadership and innovation.
This type of one-on-one meeting can be helpful with project prioritization: the task on both lists is probably the one to tackle first.
Categories
With the categories approach, direct reports and managers can discuss previously planned and agreed-upon topics. For example, you might want to cover recent roadblocks, growth goals, or upcoming projects.
The categories model works well for 1:1s that happen weekly or to discuss specific action items/pieces of a larger project.
One-on-one meeting checklist
No matter what meeting model you choose for your one-on-ones, it's helpful to use a checklist until your agenda feels natural. Although your action items will vary depending on the agenda you use in your one-on-ones, this basic checklist should help get you started:
Check-in
Celebrate wins and successes
Discuss roadblocks
Give support or offer feedback
Come up with or analyze goals
Provide direction or resources
Tie up loose ends
Confirm action items, timelines, and deadlines
Send a follow-up email
SavvyCal's personalized scheduling links make arranging your one-on-one meetings simple
One of the best ways to ensure you're sticking to regular one-on-one meetings is to make scheduling easy. SavvyCal allows you to schedule meetings with personalized links, time blocks, and availability presets.
It's simple to set up:
Create a new scheduling link or duplicate an existing one
Click on "Prefill recipient info" and add your direct report (or manager if you're the direct report)
(Optionally) click "Edit URL" in the upper-right to make the URL more personal (e.g. savvycal.com/jim/pam)
That's it. Now when they book a time, they'll be shown a personalized scheduling page with ability to overlay their calendar events on top of your availability.
Ready to simplify your scheduling process? Start your free trial with SavvyCal.