When2Meet is a simple, free digital tool that makes organizing events with many participants easy. So if you don't have much of a budget and need a large group of people to agree on a date and time for a meeting, When2Meet is a good option.
This guide will explore When2Meet, its features, and its limitations.
What is When2Meet?
When2Meet is a web-based calendar designed to help coordinate events for a large number of people. Participants can select the times and dates they're free to meet and view others' availability as well. This allows the group to decide on a convenient time for all.

When2Meet works well for:
Students
Freelancers
Very small companies
The app is simple in its purpose and its functionalities.
When2Meet features
When2Meet offers the basics for scheduling (and nothing more). Because of this, it does not feature any advanced functionalities.
When2Meet does offer:
Event and group scheduling
1:1 scheduling
Multiple duration lengths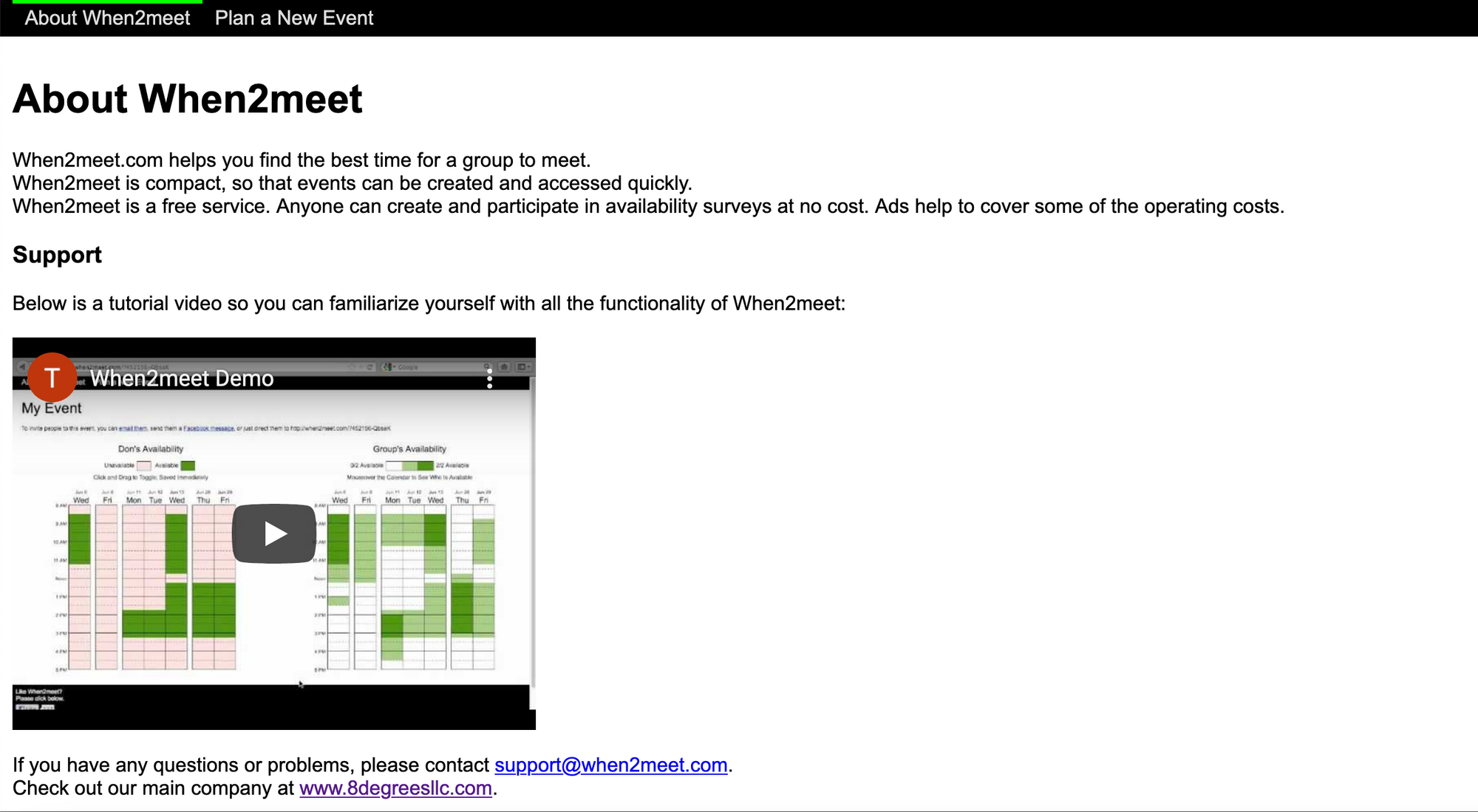 What When2Meet is missing:

Integration with Google Calendar
When2Meet doesn't integrate with other calendars. But if When2Meet allowed users to integrate their events with Google Calendars, there would be no need for users to have to update their availability. Google would do it for them (and users wouldn't have to wait for everyone to update their calendars).
Confirmation emails
When a person creates an event, they get a unique event link to send to others. This link is the only way a person can access the event page, and without it, the event becomes lost. Confirmation emails could contain the link and would allow participants to receive real-time notifications regarding the availability of the group.
Repeat availability
Some users like to get an idea of others' schedules a month out. Though When2Meet provides this capability, selecting available dates is inefficient. The platform lacks the ability for users to repeat a day's availability. For instance, if a user is free every Thursday between 10 am and 2 pm, they would have to select those time slots for every Thursday of the month.
Mobile optimization
The When2Meet mobile site looks and functions just like the web version, which also isn't very efficient. Because a mobile screen is so much smaller than a desktop screen, dragging and toggling are difficult for mobile users.
Frequently asked questions

How many members can you host via a single When2Meet event?
There don't appear to be any limitations regarding how many members you may invite with a single link.
What does the "Optional Password" do?
The creator of When2Meet wanted to give users the option of privacy. Though people can't access an event without the event link, participants of an event can change others' availability. Users can protect their individual calendars by using a password to lock out others with the same link.
Why might you choose to use When2Meet over other, more advanced calendar apps?
When2Meet is lacking in several regards, especially when compared to today's more advanced calendar platforms. However, there are a few  benefits of choosing When2Meet:
Private: It does not require users to input any private data, so risk is low. If your goal is anonymity, When2Meet is a good choice. (This may be one reason the site hasn't collaborated with Google Calendars, as doing so would do away with this benefit.)
Simple: There is something to say about When2Meet's simplicity. If you want to coordinate an event between a group of people without having to explain a myriad of capabilities, When2Meet may be a good option.
Affordable: Finally, When2Meet is free. This tool may suffice if you don't anticipate needing a calendar platform except for scheduling one-off events.
How to log in to When2Meet
When2Meet offers users the ability to log in by entering a name and an optional password. However, this feature is a bit misleading.
You can use When2Meet on several different occasions and never have to log in with the same set of credentials. The password you initially choose to use has no effect on your future experiences.
How to set up When2Meet
Once a user enters their email address and optional password, they're taken to a page with two graphs: One that shows the individual user's availability and one that shows the group's availability.
You can adjust personal availability with the simple drag-and-drop system. The entire graph starts out as pink, with "Available" days highlighted in green. To turn time slots and dates green, the user just drags his or her mouse over the desired cells.
As soon as someone updates their availability, the group chart will update in real-time. Users can also hover over a block of time to visualize, in numeric form, when everyone is available to meet.
When2Meet does not require users to click a "Save" button before exiting. This may worry first-time users who have no experience with the platform. The site does inform users of this functionality by including text that says, "Click and drag to toggle; saves immediately," above their personal calendars. However, because the note is small, it is easy to overlook it.
How to create a When2Meet event
Because When2Meet is so basic, setting up an event is simple:
1. Go to the When2Meet site.

2. Create a name for your meeting.

3. Select days and times for your meeting.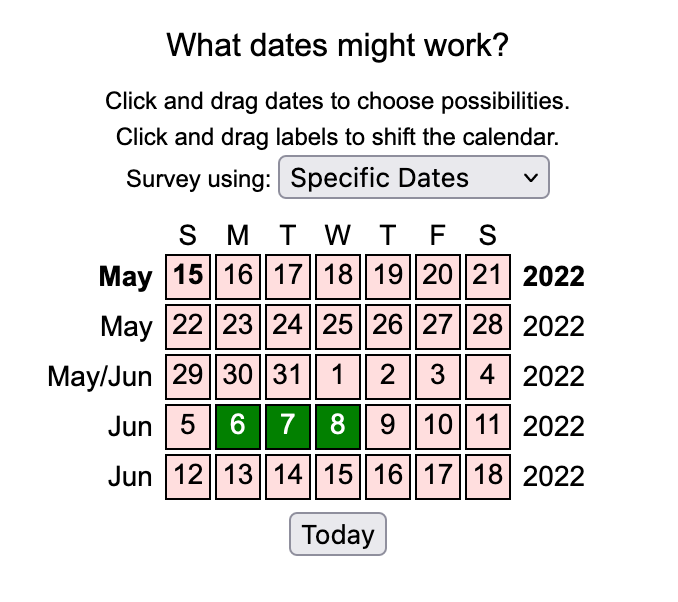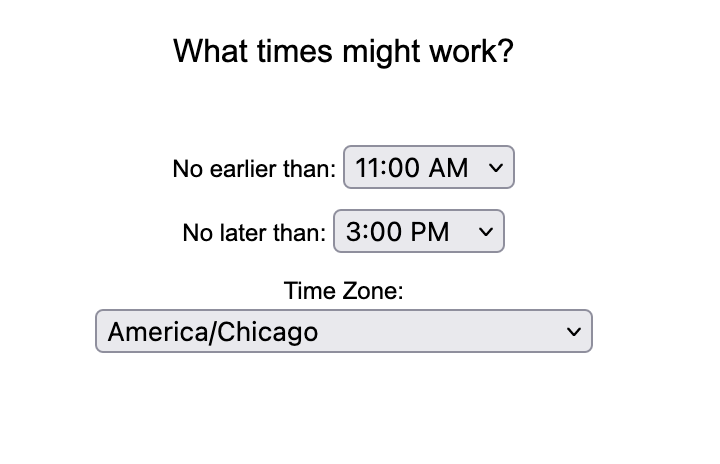 4. Check the time zone.

5. Click Create Event.

When2Meet pricing
When2Meet is a free service. Ads and donations help to cover the cost of operations.
A more robust option
While When2Meet works for the basics, some of us need a calendar tool with more features and options. SavvyCal's features include calendar overlay, single-use links, smart time-zone updates, and scheduling limits — and it's still simple and intuitive to use.