A healthy and habitable office environment is a must-have when you work from home.
Creating a dedicated space (with the freedom to roam) and designing a setup conducive to your best work can boost your performance and encourage behaviors that lead to more focus and follow-through.
It can also help you set better boundaries between your world of work and your world of play, relaxation, and personal responsibilities.
So today, we're going to share some ideas for creating the ultimate work-from-home setup (without sacrificing the satisfaction of being able to switch off at the end of the day.)
Plus we've curated some incredible inspiration from other work-from-homer's who have set up their ultimate space and have some excellent tips and advice to share.
Your work-from-home environment directly affects how well you can execute (and how well you can relax too)
When you're more satisfied with your physical space, you're more likely to produce better outcomes.
Ambient features like lighting, temperature, and noise can affect your concentration levels. And physical features like desk height, chair support, and computer placement can contribute to your level of comfort.
Combined (and when crafted specifically for you) — the physical and ambient elements of your office can help boost your performance levels and create an environment fit for you to flourish.
But where it can all unravel when you're working remotely is when you remove the safe space in your home (the places you like to relax and recharge) and replace it with a constant reminder of your deadlines, worries, and frustrations.
Working from home shouldn't translate to working all the time
An office space where you can keep your files, notes, and equipment separate from your home life, is incredibly beneficial.
Mostly because:
You'll encounter fewer distractions when you need to engage in deep work.
You can avoid constantly moving your stuff whenever the kitchen table is in use for something other than your work.
And, you'll have the space to kit yourself out with great gear that can help you get the job done.
There is no denying that it's easier to unwind and untangle yourself from your to-do list — when you can shut the door on your office and engage fully in your home life without any distractions from work.
Work From Home 101: How to conduct your workspace assessment
If you've ever worked in the corporate world, you may recall having the friendly OH&S officer perform a workplace assessment for your cubicle.
They measure your desk height, adjust your chair for you, and might even order you a fancy headset, so you don't have to have your hand holding the phone to your ear all day.
But unfortunately, these niceties don't come with self-employment. So we must take matters into our own hands.
First, consider a few questions in regards to your current home office setup:
Do you have a dedicated space (or spaces) for your work?
Is it somewhere that doesn't need to be constantly moved about because other things need to happen there too?
Do you find it difficult or easy to start work each day?
Do you struggle with deep work or getting "in the zone"?
How do you think your current workspace plays into how good you feel (with your health in mind)?
What can you do to make your work-from-home setup more comfortable, practical, and peaceful?
Once you've taken stock of what you have right now, consider two key factors to make your office space more comfortable and distraction-free:
1. Ergonomics — to help prevent injury, and discomfort
Office-related injuries due to a combination of lengthy sitting and poor posture include:
lower back pain
neck and shoulder pain,
decreased blood circulation throughout the body
repetitive use injuries to the wrists and hands.
Sitting in the same position for 6+ hours a day is not healthy. And many of these seemingly temporary problems can turn into chronic health problems that affect you long-term.
But you can prevent these issues by:
Sitting at your desk properly
Improving your posture
Adjusting your desk height and having your computer, mouse, and keyboard in the proper position
Investing in an ergonomic chair (with the ability to adjust the height, tilt, and arm support)
Taking frequent breaks to stretch and reduce eye strain
Include walking in your daily regimen to decrease sedentary behavior
2. Environment — create the optimal conditions for your best work
Enhancing your work-from-home environment is about catering to your personal preferences. It's your job to make the space your own and factor in elements that help you focus, feel good, and fight-off distractions.
Consider these five modifications you can make to your area:
Lighting: Natural sunlight is glorious if you can get it. But if you're like me, and stuck with artificial lighting, think about whether you prefer a soft light desk lamp or are happy with the overhead lighting you already have. If you're someone who suffers from headaches or migraines, toning down your lighting situation might also help ease your symptoms at work.  
Airflow and temperature control: One of the modern world's greatest inventions is air conditioning. Being able to control the temperature of your environment can make your workspace more comfortable and can increase productivity anywhere from 5-15%. Some research has even indicated that productivity decreases by 2% per degree over 77ºF (25ºC). Mainly because heat can cause lethargy, and that reduces your effectiveness.
Desk fans, portable heaters, and open windows can help airflow and maintain a comfortable temperature if air-con is unavailable.
Noise: Do you like to work with music playing? Or is silence your best friend? Sometimes playing tv shows (that you've seen before) can help you get the boring jobs done. Personally, it depends on the work as to what kind of noise situation I can accept. But don't be shy trying out different noise levels for different work modes. For instance, an office with a door you can close is excellent. But so are noise-canceling headphones.
You might even find that the ritual of putting those headphones on signals your brain to get in the zone.
Scent: Did you know our sense of smell is the strongest of the fives senses? And some studies have shown that being more intentional with the odors in your office can reduce stress, increase performance, and enhance creativity.
Here are some quick tips for aromatherapy in the workplace:
Rosemary — encourages clear thinking, improves memory, and energizes the mind.
Citrus — grapefruit can help fight mental exhaustion, lemon is uplifting, orange can ease stress, and bergamot oil can even help treat depression.
Lavender — reduces stress and anxiety.
Peppermint — is energizing and refreshing and can aid concentration and stimulate the mind.
Cinnamon — can help to fight mental fatigue and improve concentration.
Plants: Deliberate interaction with plants can positively affect attitude, behavior, and physiological response in a work environment. Mainly because they have a restorative effect on our attention, placing a small plant within close sight (on your desk or bookshelf) can reduce psychological stress. And increase calm. You may even find yourself less tired!
Visual cues: Visual elements in your office can enhance your mood and benefit your work processes. For instance: inspiring posters (you can use these poster templates), happy images, and positive messages displayed on your walls or desktop can make you feel good. And can help you take mini-breaks from your work. You can also consider translating your to-do list into something more visual, like a Kanban board, to aid in focus. Or use small visual cues as proof of progress when forming new habits.
Is your environment optimized for the current work you're doing?
One of the many benefits of working from home is that you're not chained to a desk and forced to do all the many types of work you do — from one place.
You can move with your mood and the mode of work you need to engage in.
So while it's helpful to have a dedicated place for your desk and all the office bits and pieces — giving yourself the freedom to roam about is why remote work is so agreeable with so many of us.
Marissa Goldberg of Remote Work Prep notes that:
"Molding your workspace to how you're feeling and what you're trying to accomplish can increase the quality of your work while decreasing the effort required to make it happen."
She also gives an example of her different modes when writing her newsletter. And the space she prefers to occupy for each task:
Brainstorm/Interaction = Home office
Deep work writing = Quiet, cozy no-screen space (bed/couch
Editing = One screen, no distractions (dining or loft table
Distribution (least fave) = Purposeful distraction
Your best work shines through when you create the best environment for the task at hand. And exploring what works for you and when is a great way to boost your ability to execute each task.
And enjoy it more, too.
28 work-from-home setup ideas you can steal for yourself (pics included)!
We tapped our impressive network to give you some ideas and inspiration for creating your ultimate workspace. And they did not disappoint!
Below you'll find tips and recommendations from twenty-eight online operators who've carved out the perfect environment for producing their best work.
Scroll down to see some valuable advice for setting up your space, a list of recommended products you might like to check out, plus some wonderful ways to wind down from your workday.
8 tips for putting together your work-from-home setup

Tip #1: "Start small. Invest in a reliable computer, and then build out the necessities from there." — Kaleigh Moore (kaleighmoore.com)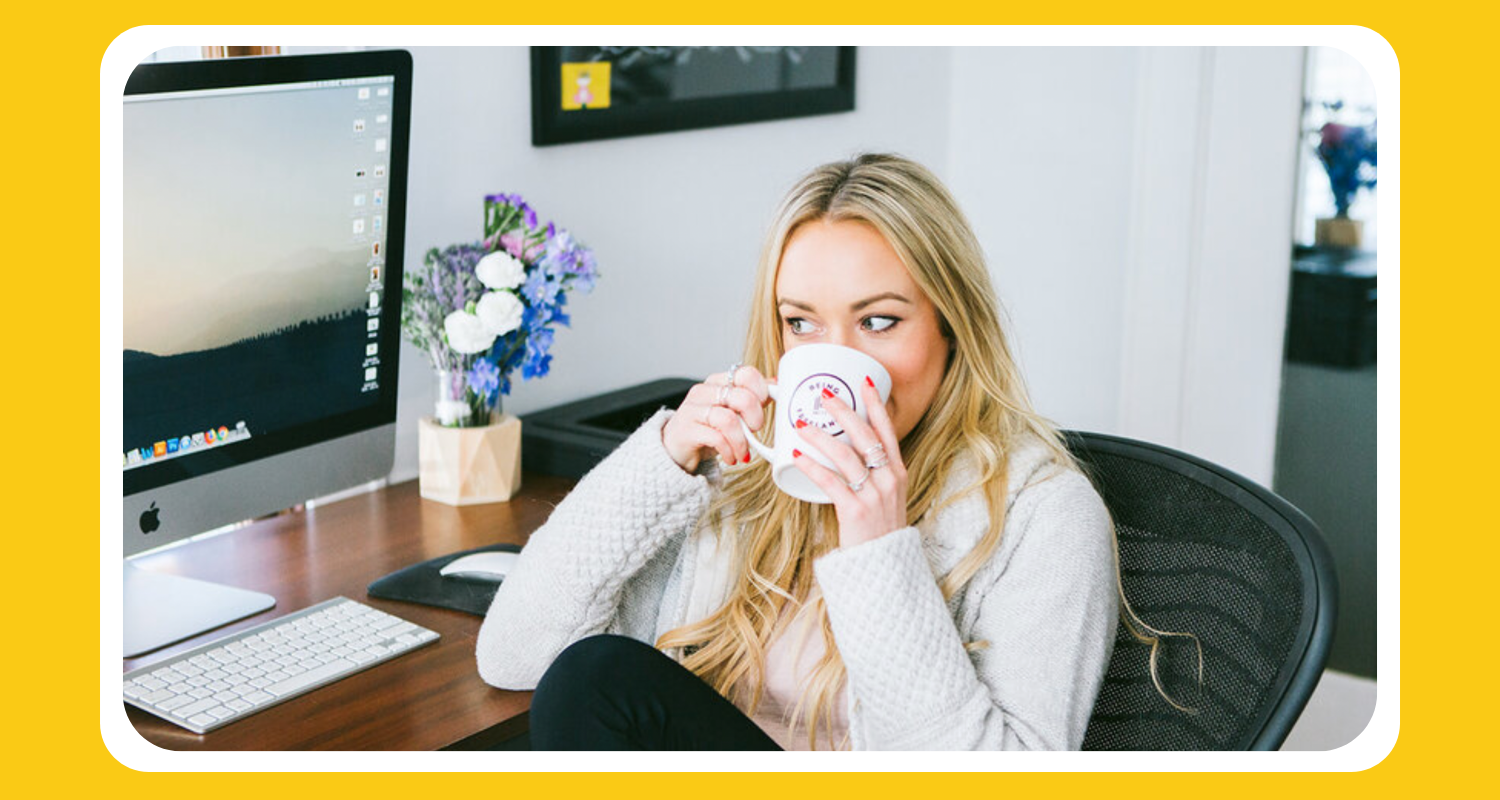 Tip # 2: "You really need a space that is where you do work, and when you're not in that space, don't do work. I built a wonky cheap shed in my backyard to have that space, but even just a nook in your house will do the job. It's worth noting that, with a simple $20 backdrop for my webcam, I can transform the look and feel of the space." — Trevor Longino from CrowdTamers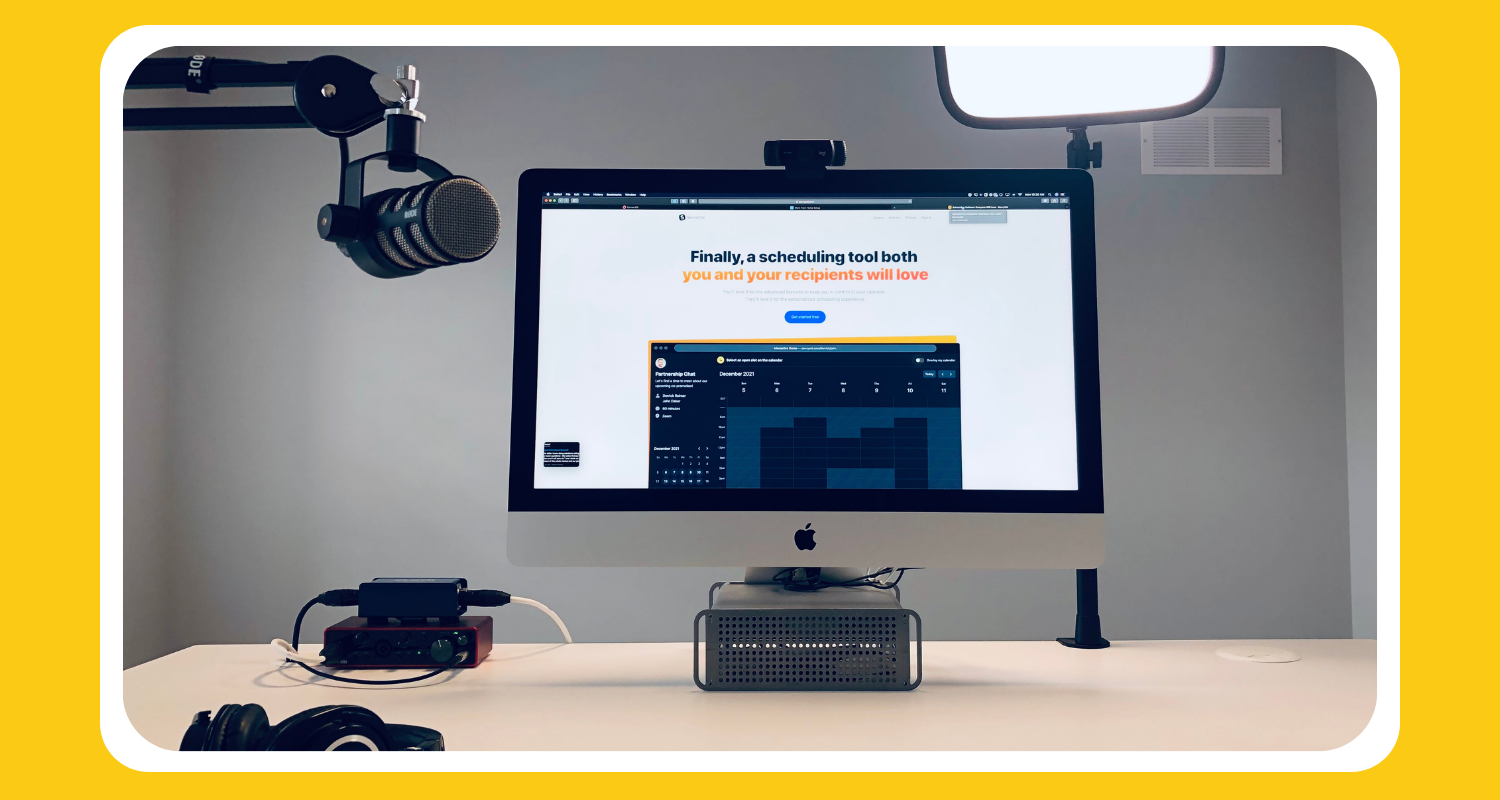 Tip #3: "Don't trick yourself into believing you would hit your revenue goal if only you had <WFH upgrade>. Use WFH upgrades as rewards. For example, I didn't let myself buy a desk until I earned $10k working from my 13-inch MacBook at my very uncomfortable dining room table. An amazing office ≠ an amazing business. However, I think people should invest in what prospects can see/hear sooner rather than later. A mic that looks and sounds good plus some decent lighting is an easy way to upgrade your most important revenue-generating activity — sales calls." — Josh Garofalo from Sway Copy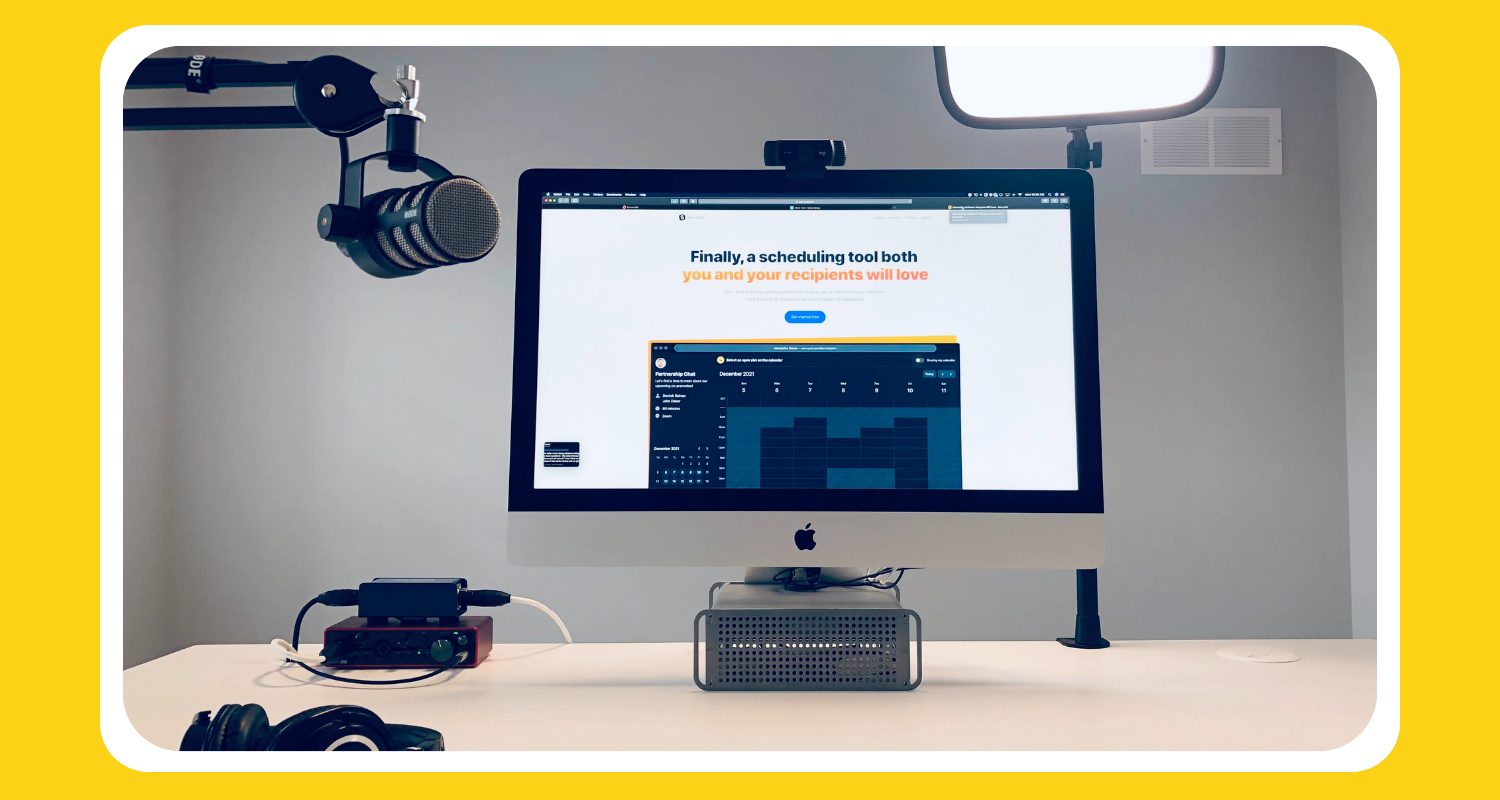 Tip #4: "Create a space you enjoy being in. I wrote for years on a corner desk in my master bedroom on an old dining room chair. It wasn't a place I enjoyed being in. Now I walk upstairs and love having my rainbow books and rainbow guitars with a wall full of windows and my peloton easily accessible." — Adrienne Barnes from Best Buyer Persona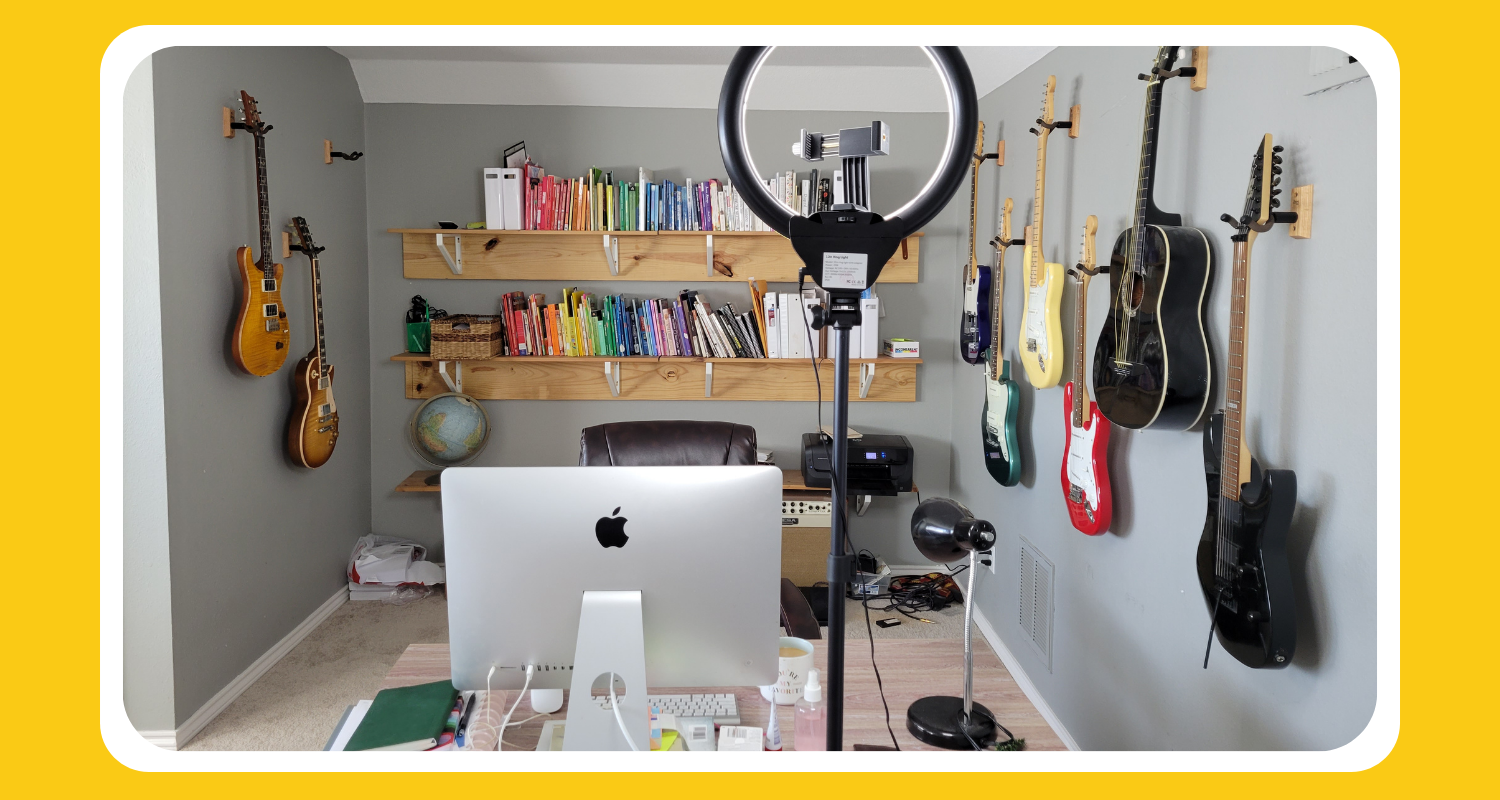 Tip #5: "Get a fully adjustable desk chair. These ergonomic chairs cost a lot, but they're so worth it. Every body is different, and if you can adjust the height, the seat, and the arms of your chair, you can make it fit your body perfectly. It makes a huge difference when you spend hours behind your desk." — Sofie Couwenbergh from Let Me Write That Down for You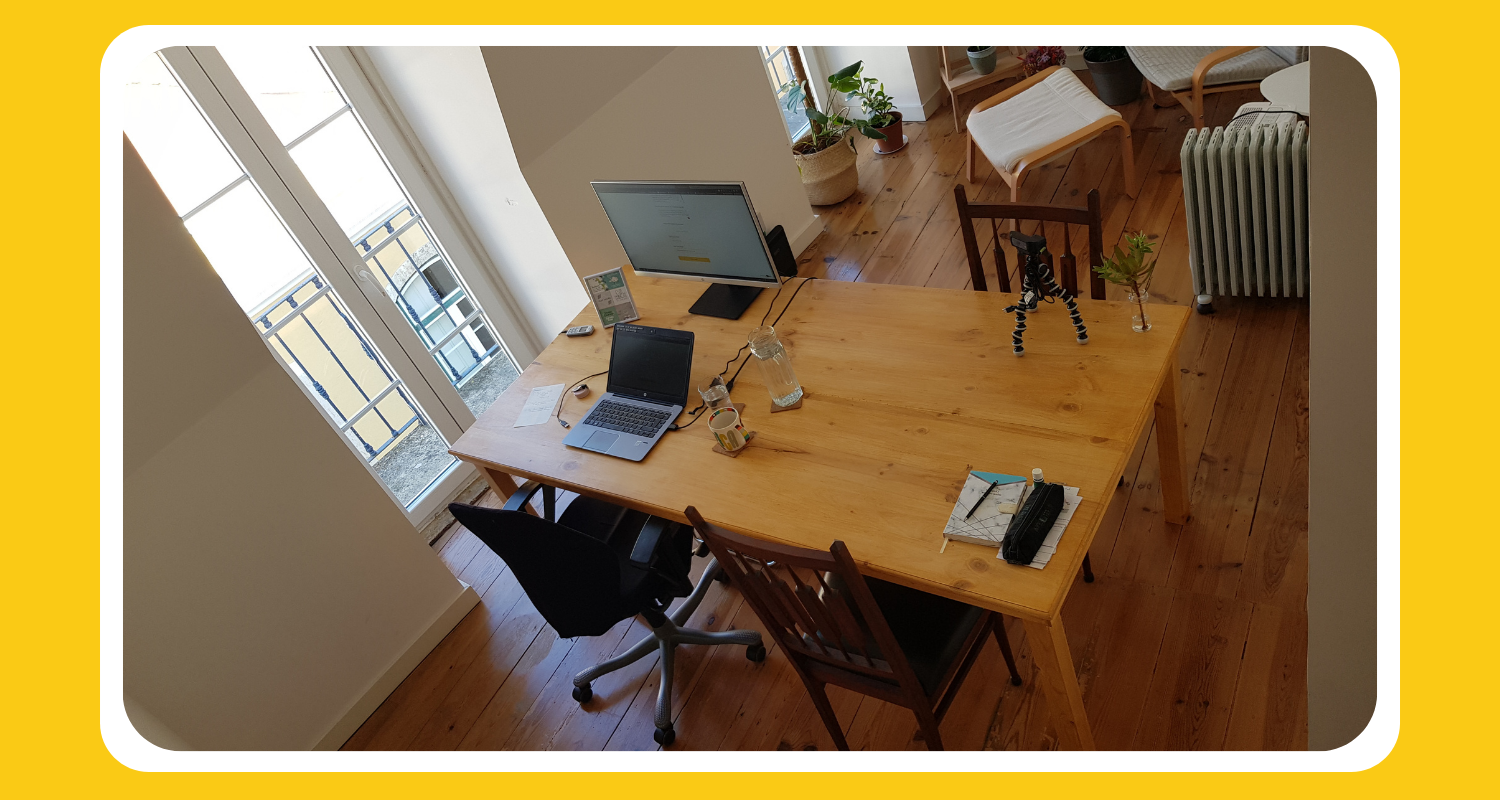 Tip #6: "Make it a fun and nice place you want to actually spend time. I have a Fatboy beanbag, a TV, a cabinet with all my weird and wonderful tech-related trinkets. I love spending time in my home office." — Ben Tossell from Makerpad
Tip #7: "Visual cues can be game-changing for getting the right work done at the right time. I use a Personal Kanban board to visualize my work and set myself up for success every day/week. It helps you avoid decision fatigue and in-the-moment distractions! You don't always have to rely on tech." — Claire Emerson from People Love Projects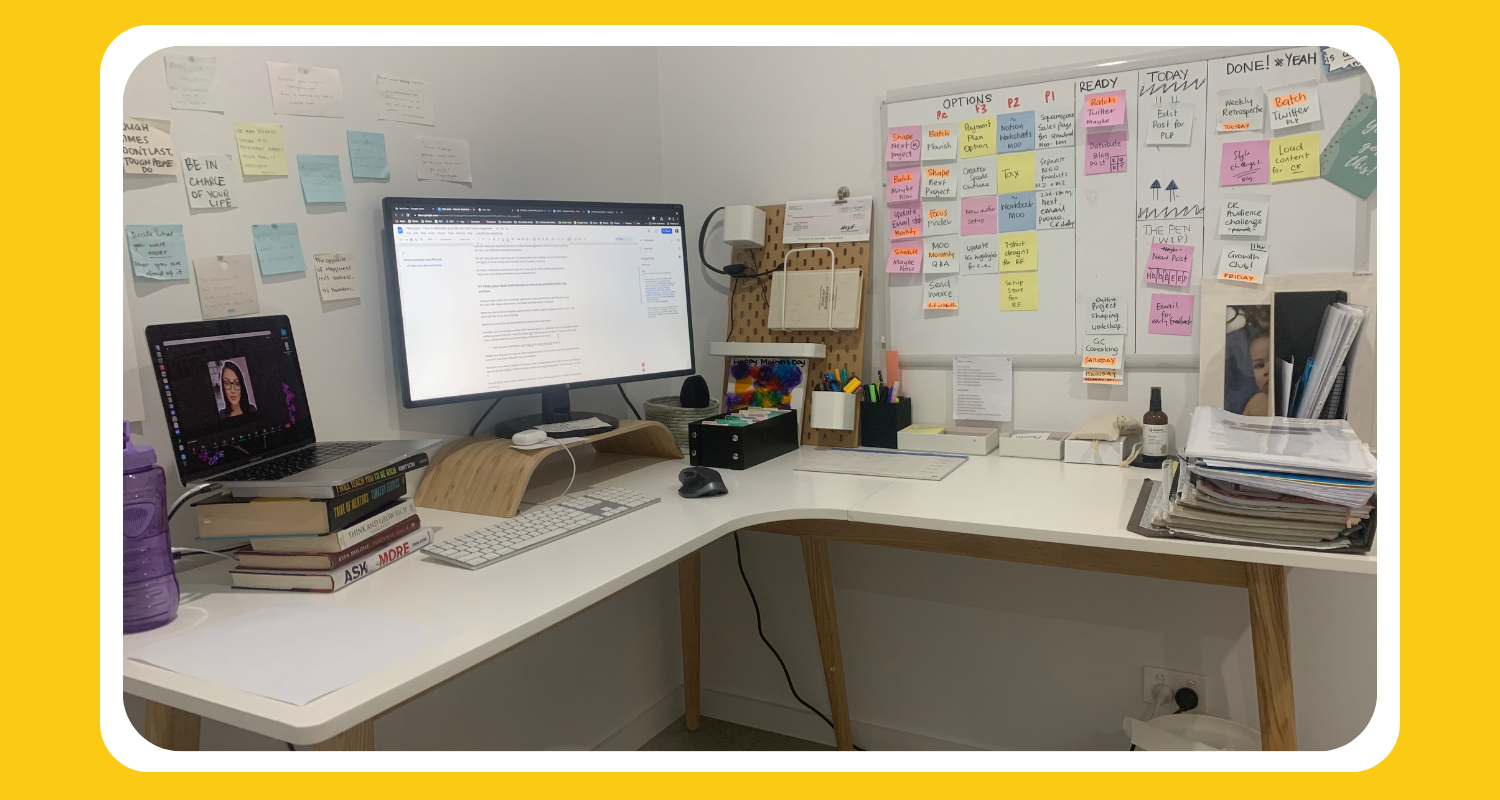 Tip #8 "I love having a dry erase board in my office. Sometimes I want to go analog as I think through ideas rather than continuing to stare at the screen. I love the one I recently added - a Quartet Infinity. The glass makes it very clean." — Barrett Brooks from barrettbrooks.com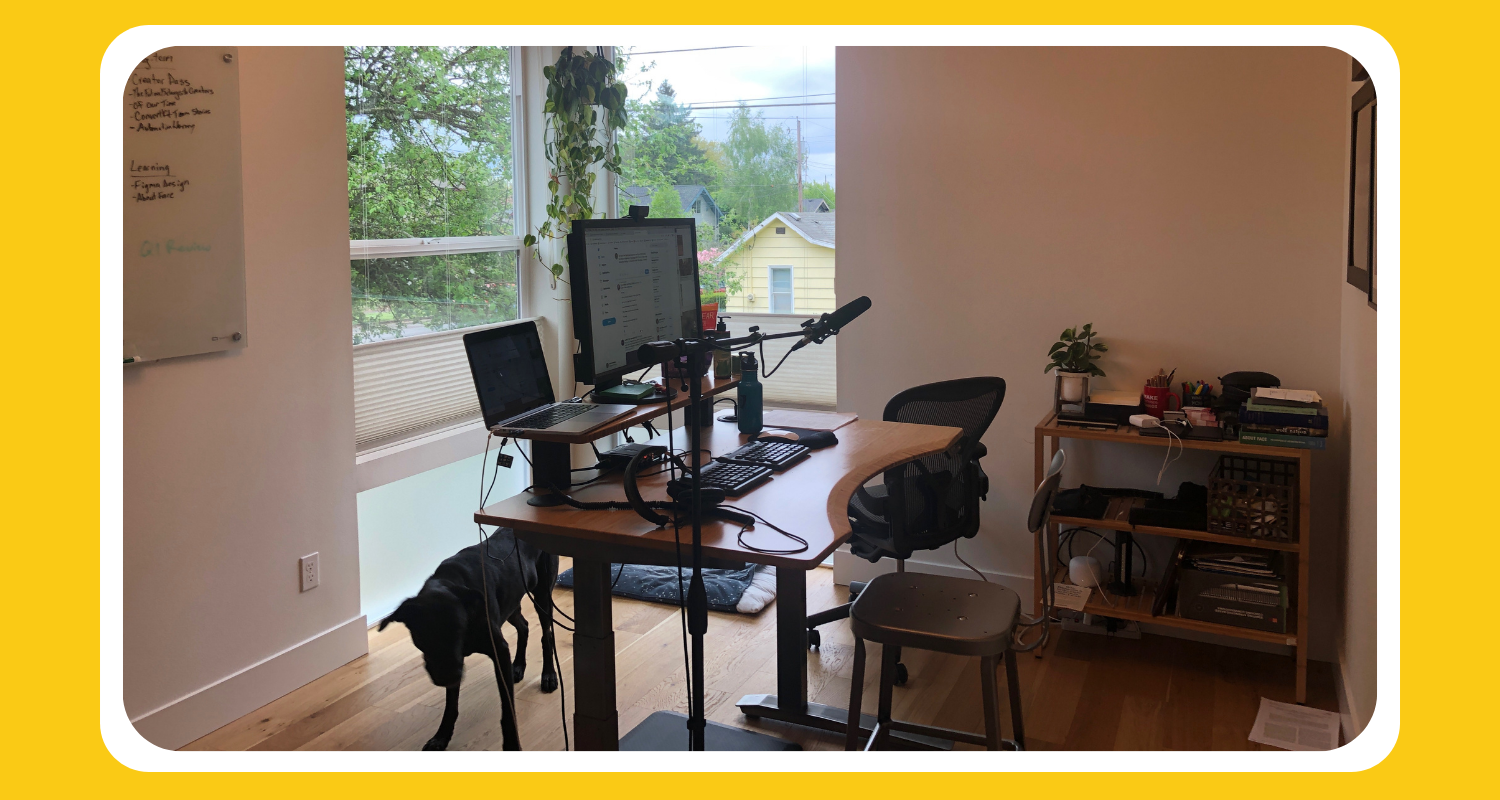 10 best products for optimizing your environment

Under a $100:
#1 – Mushfiq Sarker from The Website Flip recommends: My favorite item under $100 is the Fifine Podcast Microphone I bought on Amazon. The clarity of my voice on calls and recordings is amazing. It also blocks out background noises.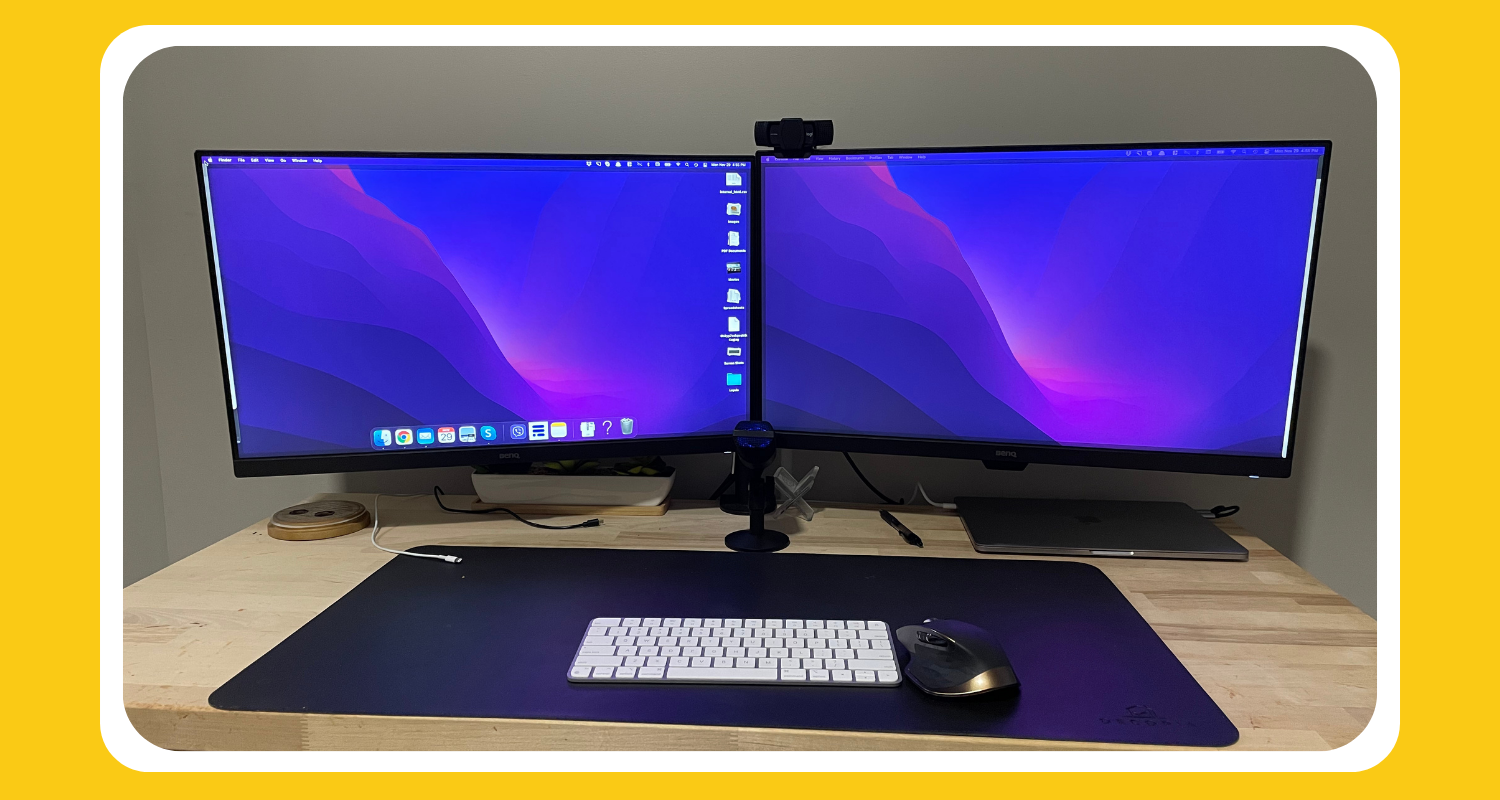 #2 – Herman Maes from Daily Bits recommends: The Elgato light strip to switch colors depending on my mood for the day. And a monitor arm to have my MacBook and monitor in a fixed position floating above my desk.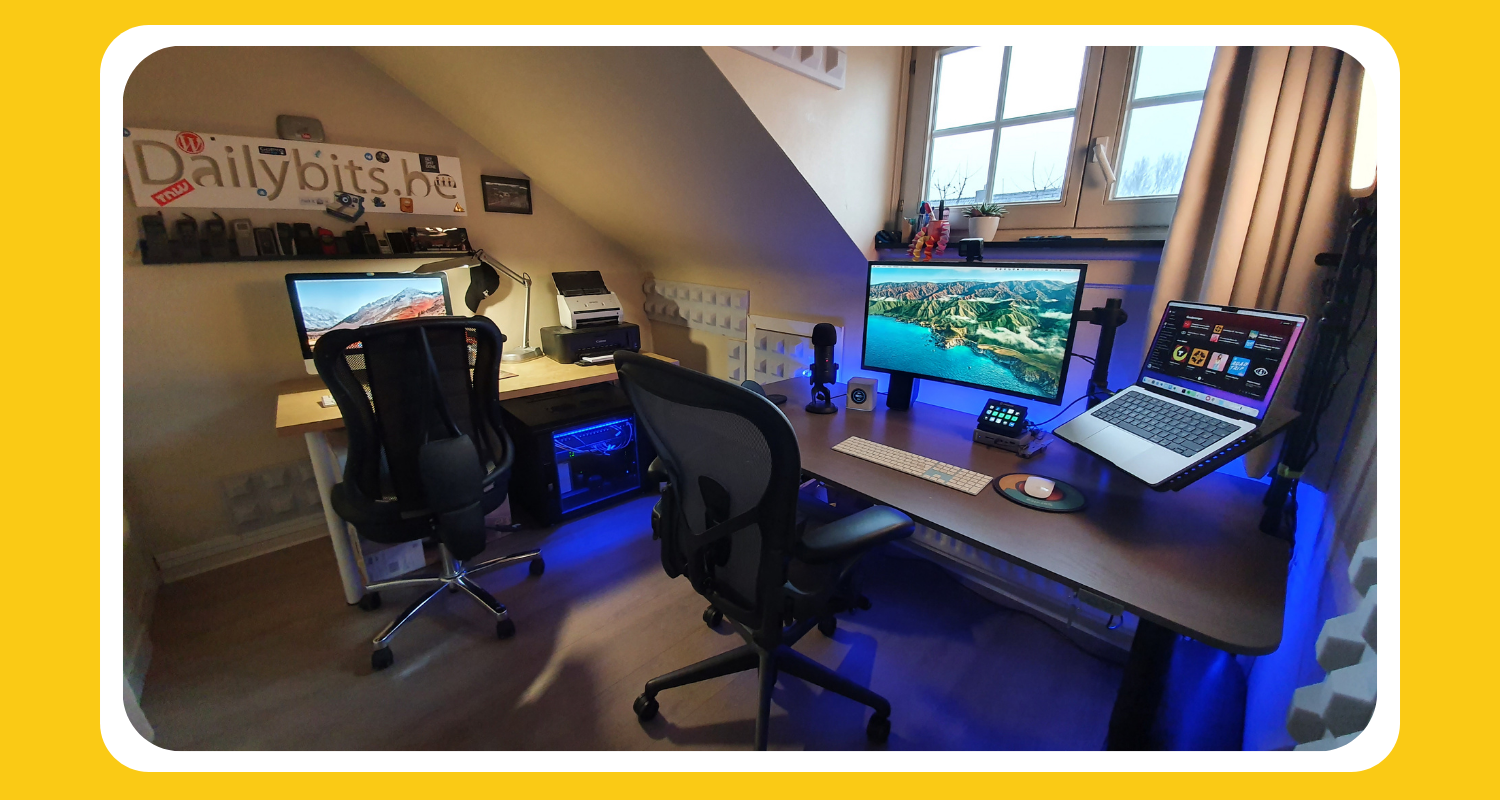 #3 – Katherine Roan recommends: My laptop sleeve that turns into a laptop stand. It makes it quite easy for me to work from anywhere.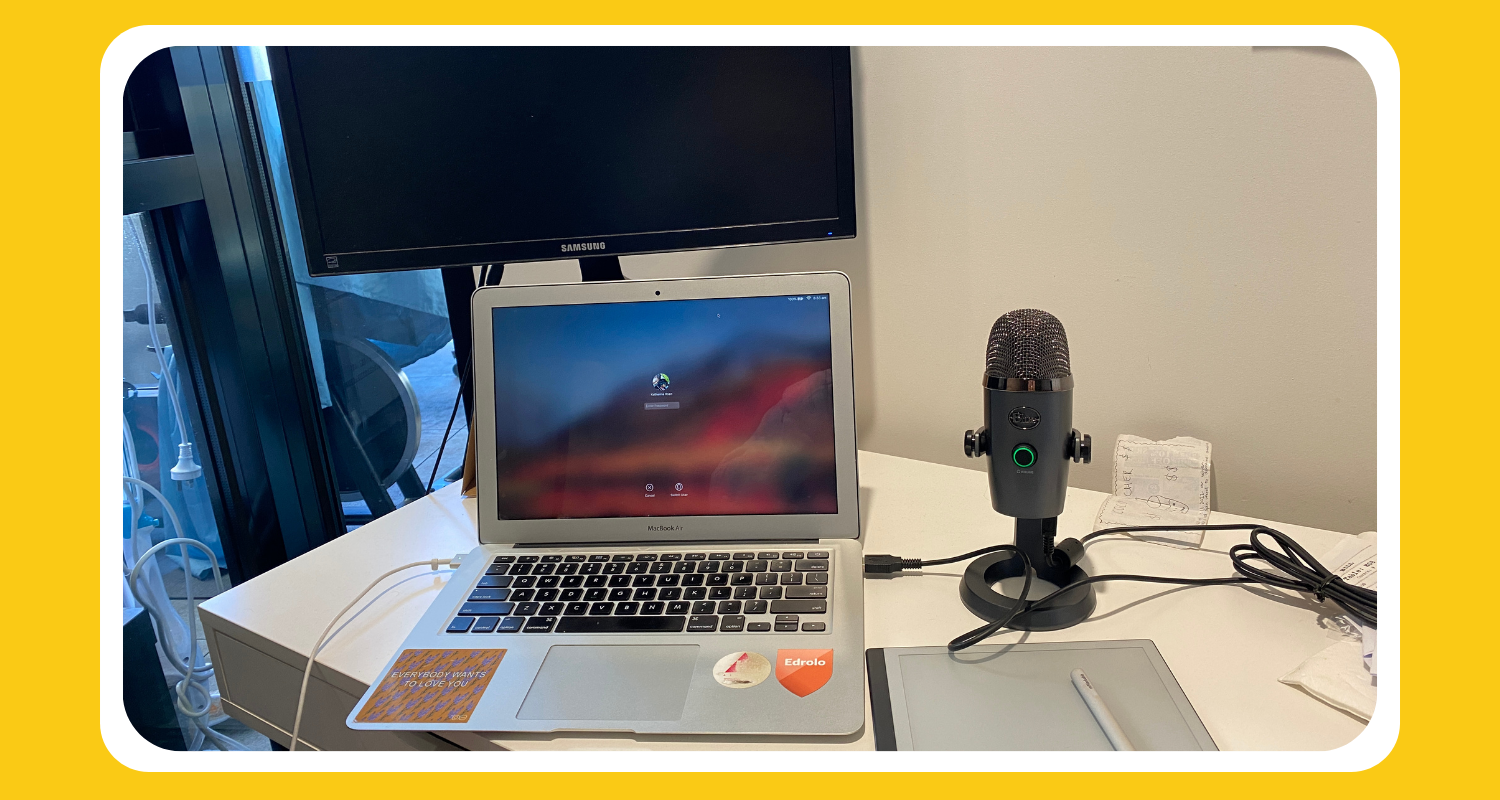 #4 – Monica Lent from Affilimate recommends: I absolutely love my Aeropress coffee maker. When I used to work from an office, I'd always start my day by drinking some barely potable coffee from the communal coffee machine (which cost the company upwards of $10,000 each!). But the coffee made by this tiny $25 device is miles better, and the ritual of brewing the coffee and carrying it into the office puts me in the mindset of starting my workday.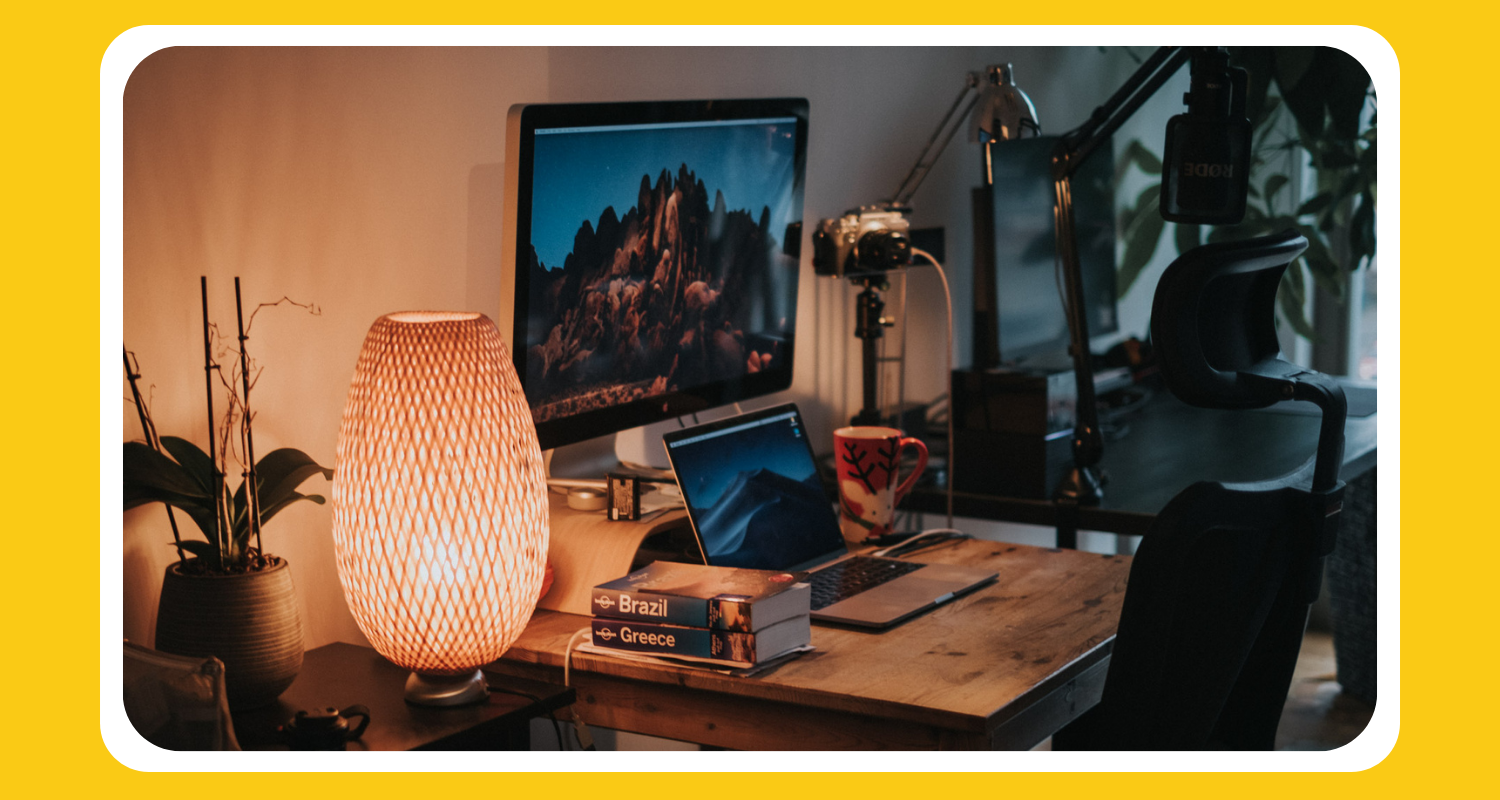 #5 – Robert Brandl from Tooltester recommends: The Logitech M590 Mouse. It lets you change Bluetooth channels, which is very useful since I share my desk with my wife.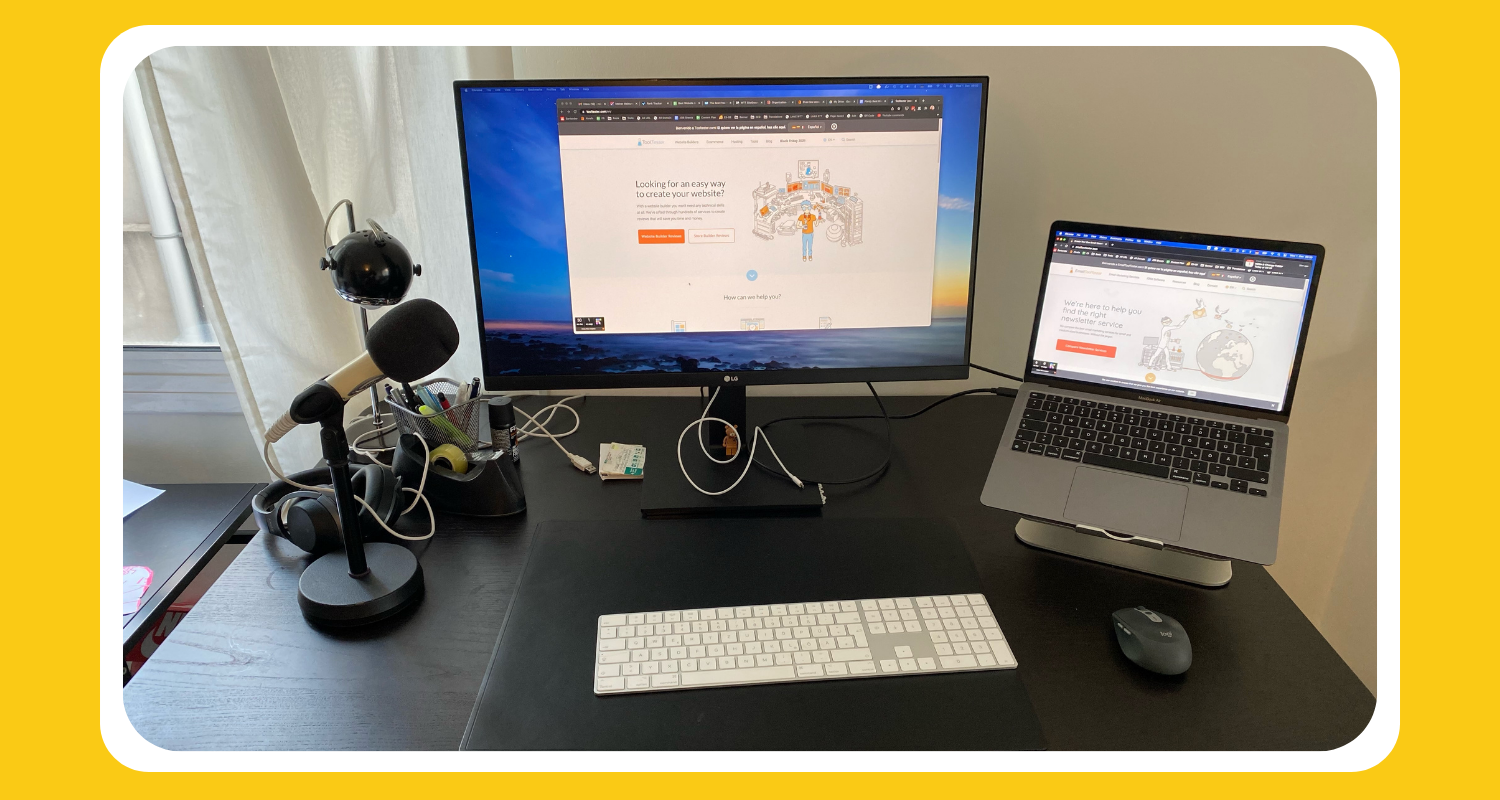 High-ticket (but high payoff!):
#6 – Brian Casel from ZipMessage recommends: Professional Audio setup using Shure SM7B microphone + Focusrite Scarlette + dbx 286s microphone preamp & channel strip processor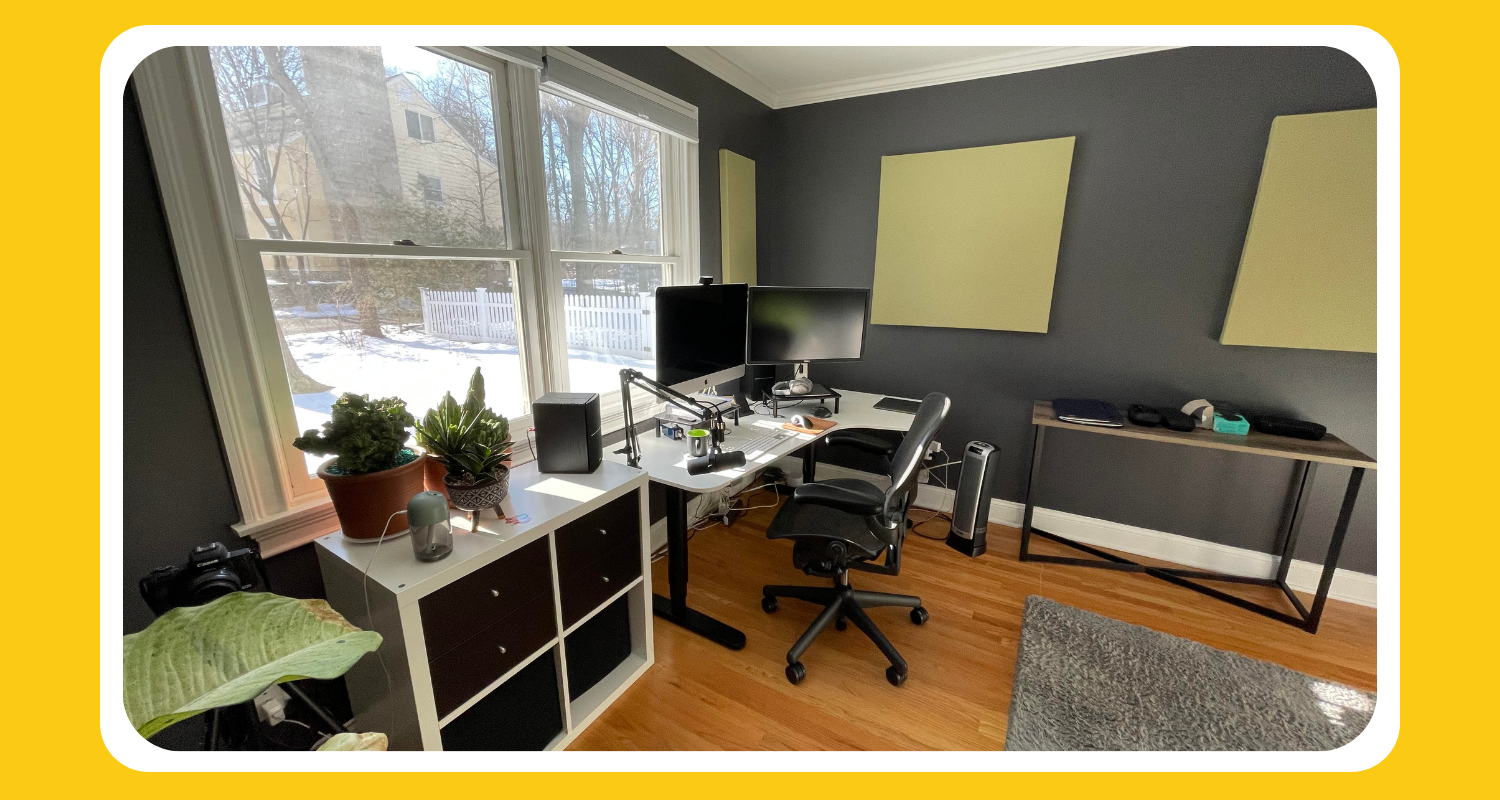 #7 – Adam Waselnuk from LegendKeeper recommends: My "Alive" standing desk by Ergonofis. It's the perfect balance of functional and beautiful. I can switch to standing up whenever I want with the touch of a button. The quality is exceptional, and I'm sure it will last for many, many years. It brings joy and saves my body every single day.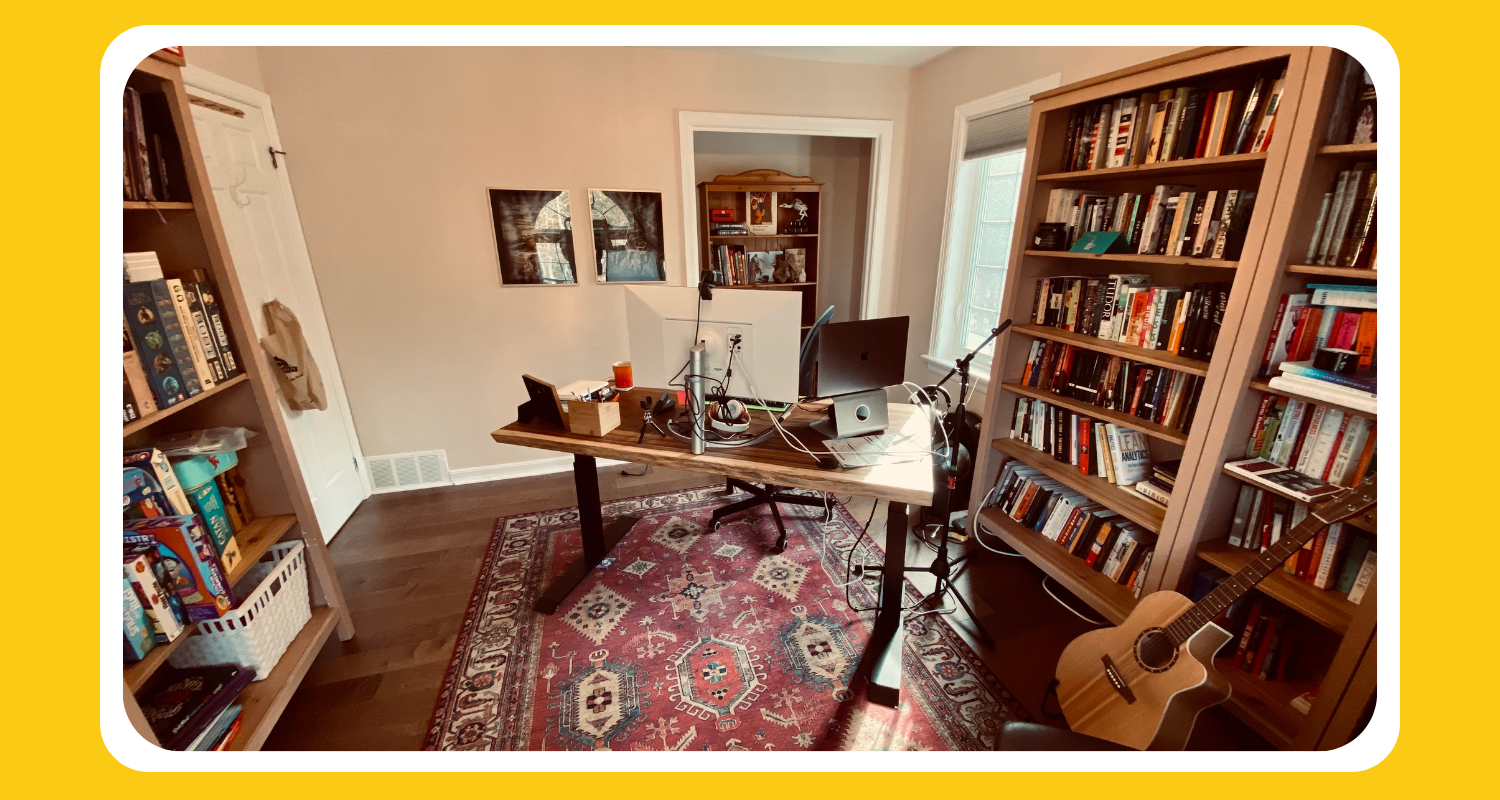 #8 – Simon Bennett from SnapShooter recommends: The Aeron Chair from Herman Miller. My back used to kill me before I got the chair. But after three weeks of sitting in it, I have no more back pain.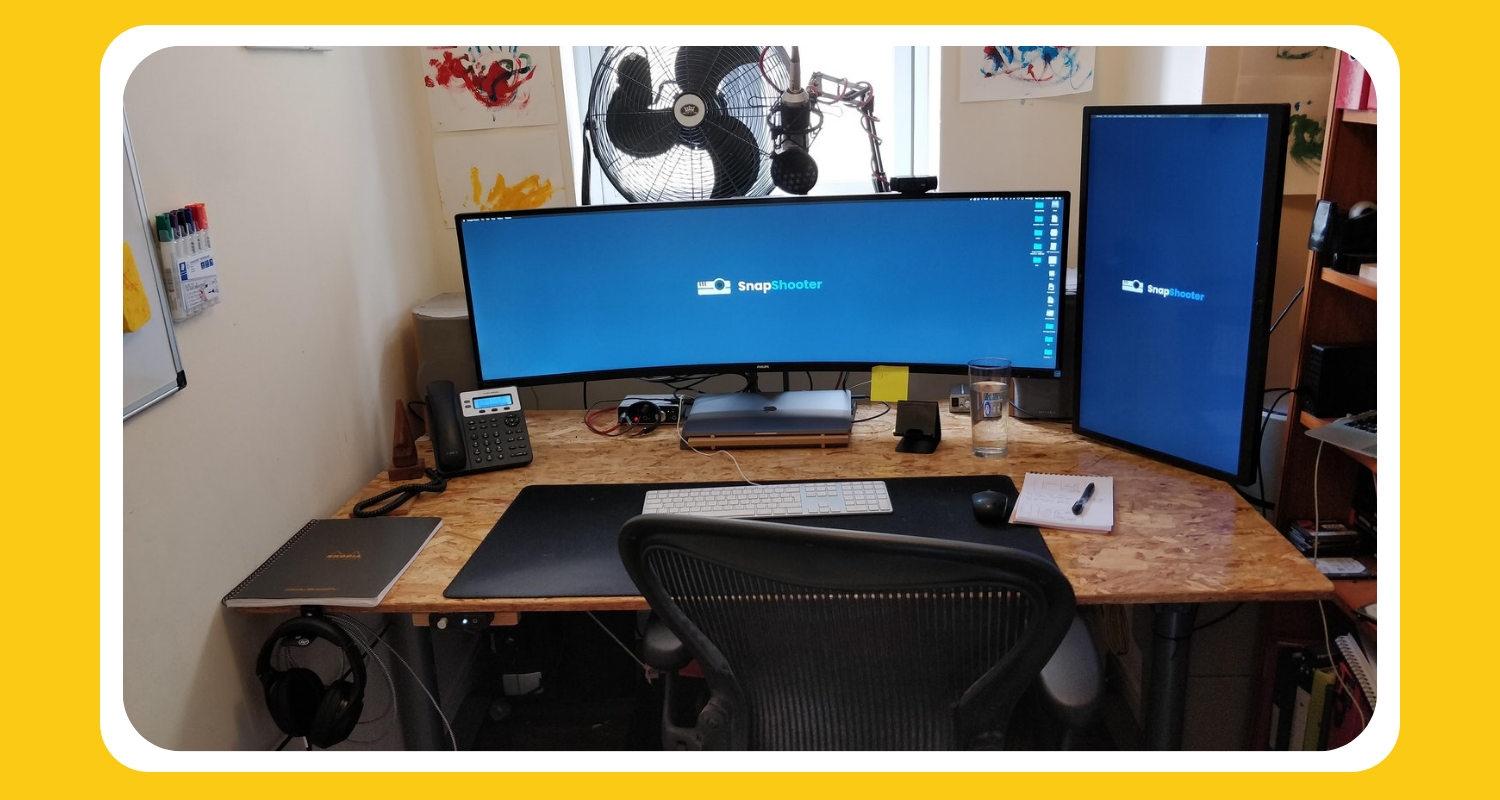 #9 – Andy Miller from NapTime.app recommends: The office itself! Got a garden office built from Okopod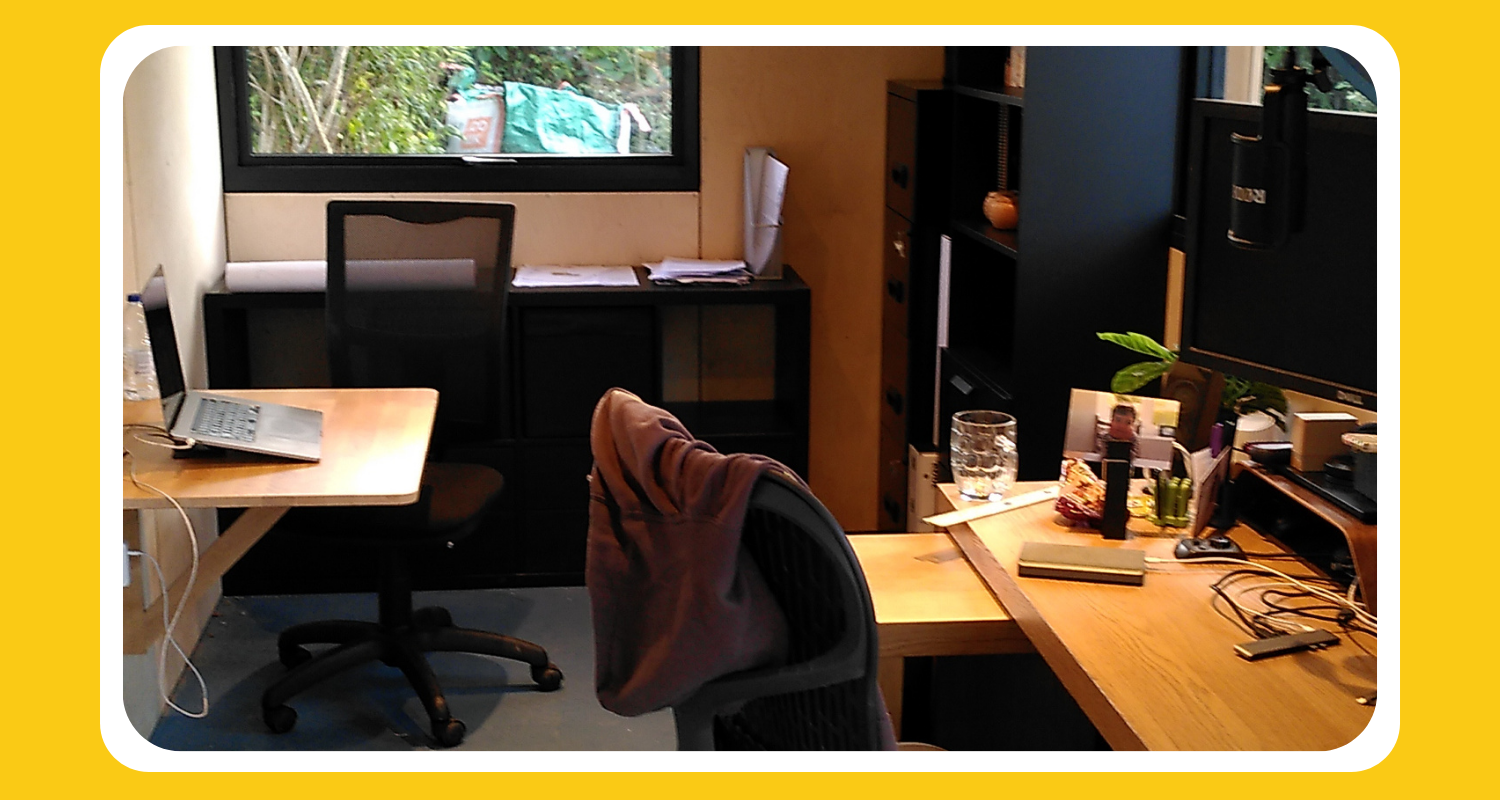 #10 – Derrick Reimer from SavvyCal recommends: My favorite recent investment is my LG ultrawide monitor. An all-time favorite is my Alex Duetto espresso machine (pictured on the right)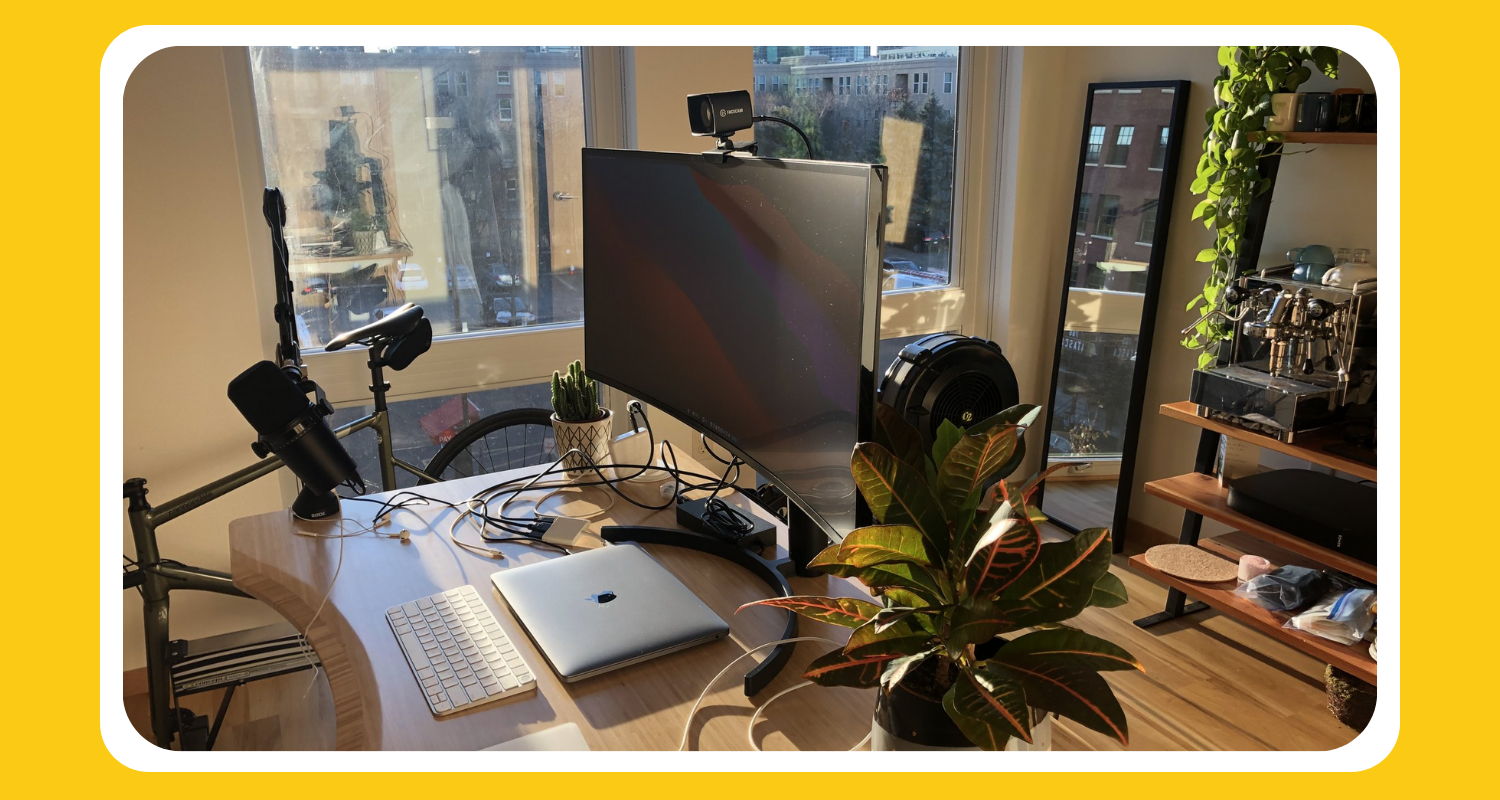 10 practices for winding down at the end of your workday

#1 from Amanda Natividad:
"I write on a post-it note 2-3 timely tasks I need to do the following day. It helps me more quickly start that next day and allows me to take some to-do's off my mind."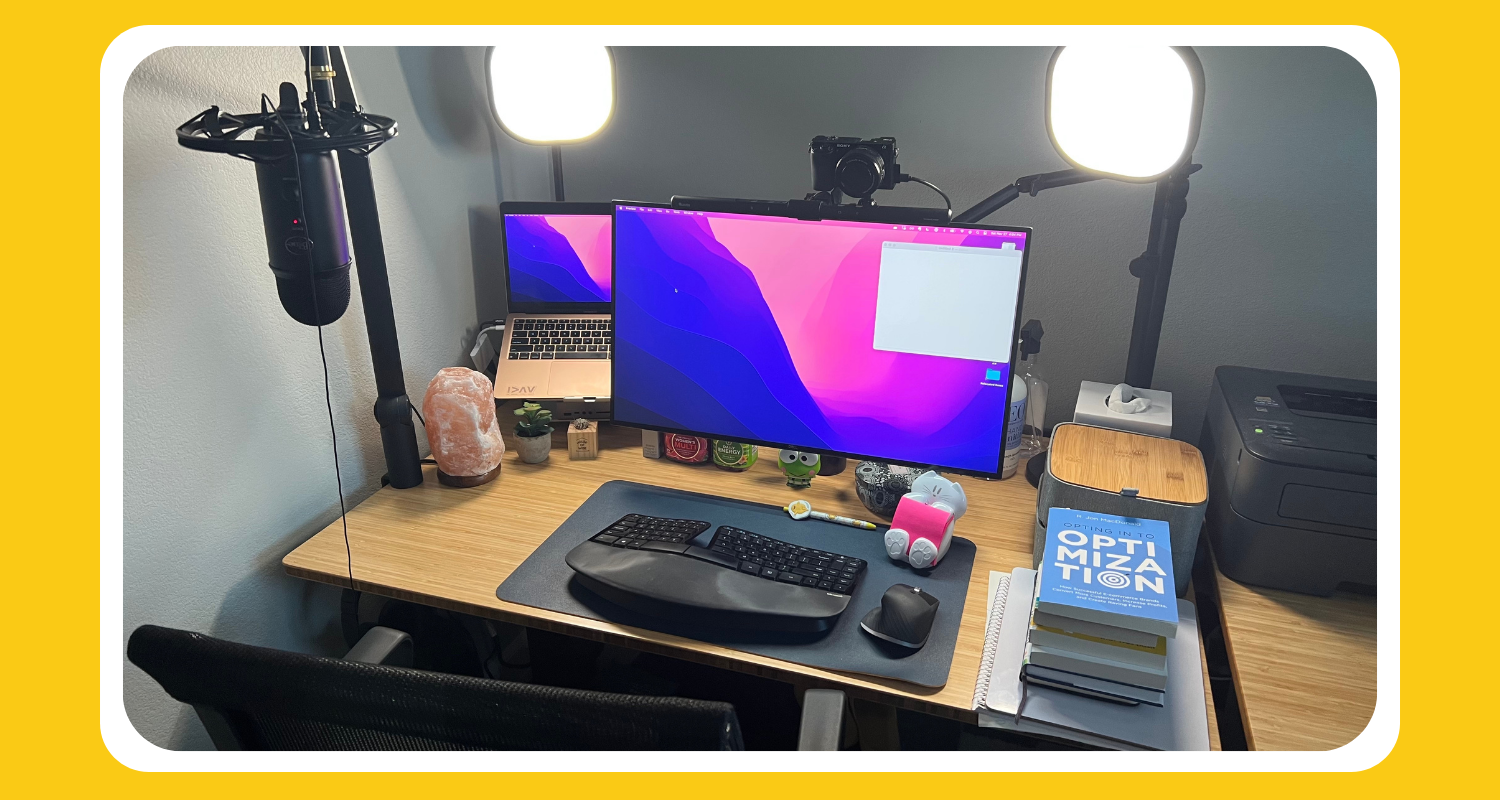 #2 from Kia Kamgar:
"Walk my dog."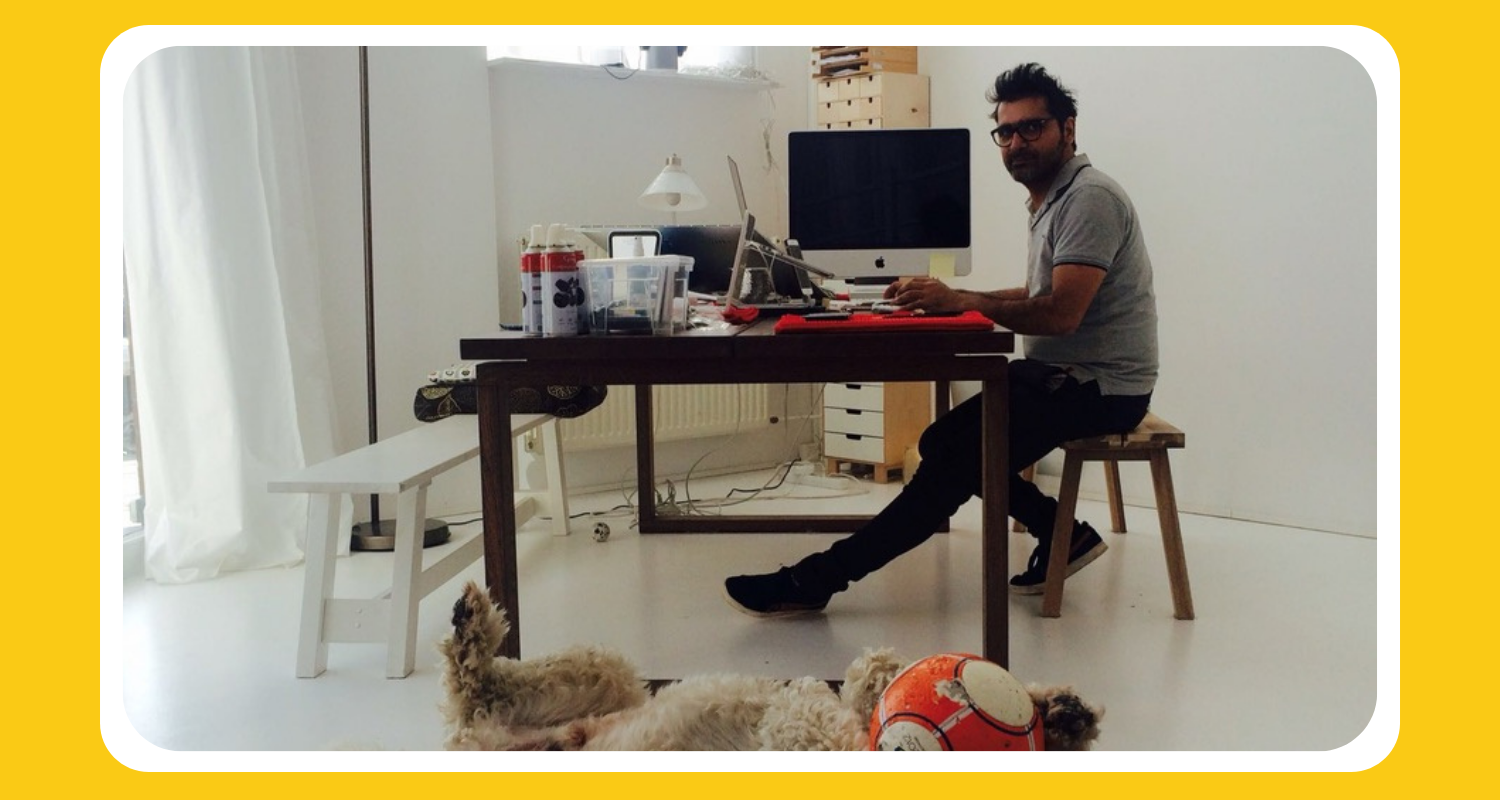 #3 from Shawn Ragell:
"My favorite way to unwind from the day is by taking my daughter for a walk around our neighborhood. After being cooped up inside working for a stretch of time, there's nothing better than getting some fresh air."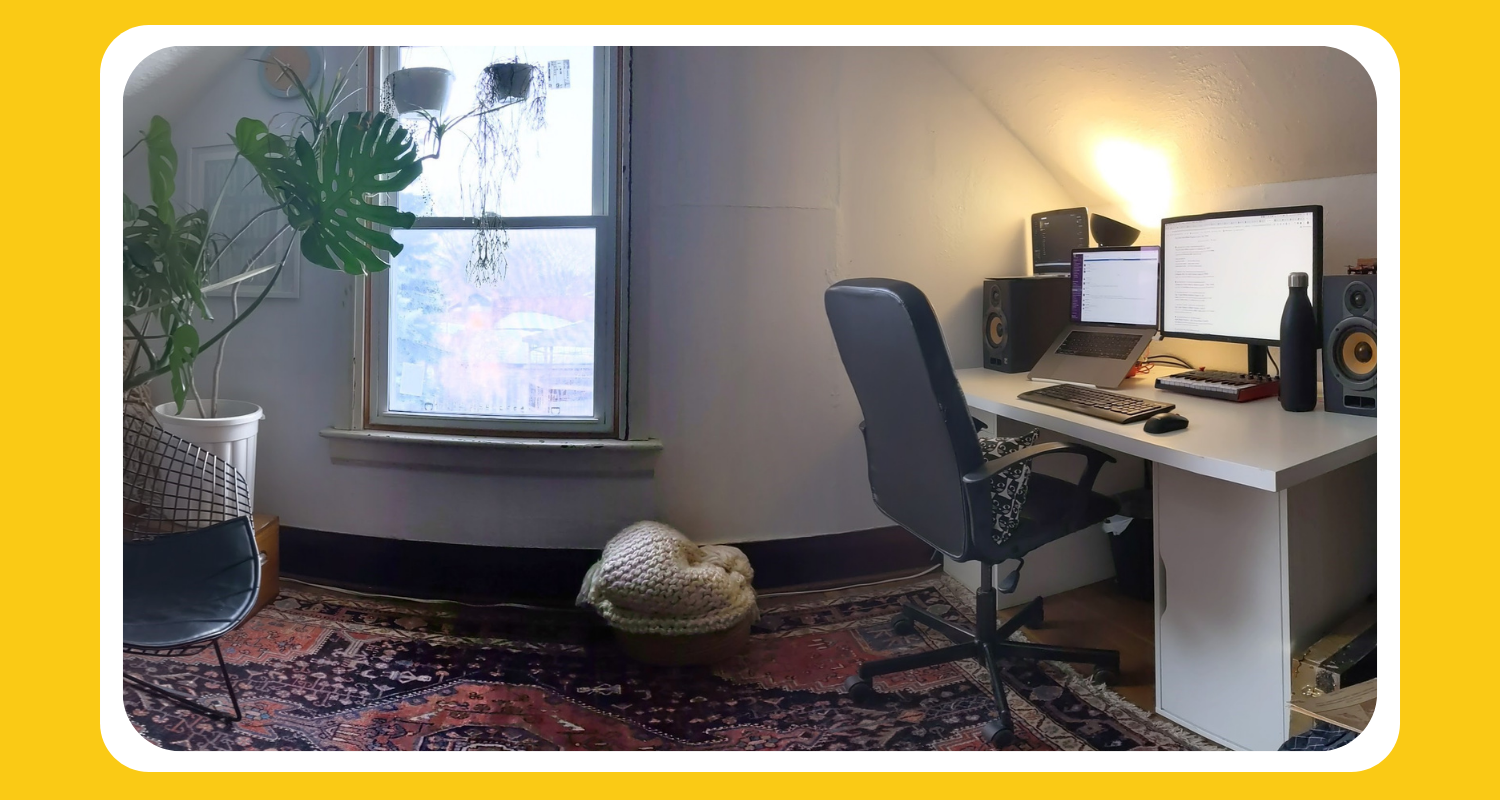 #4 from Christopher Silvestri:
"Read, go for a workout, or play PS4."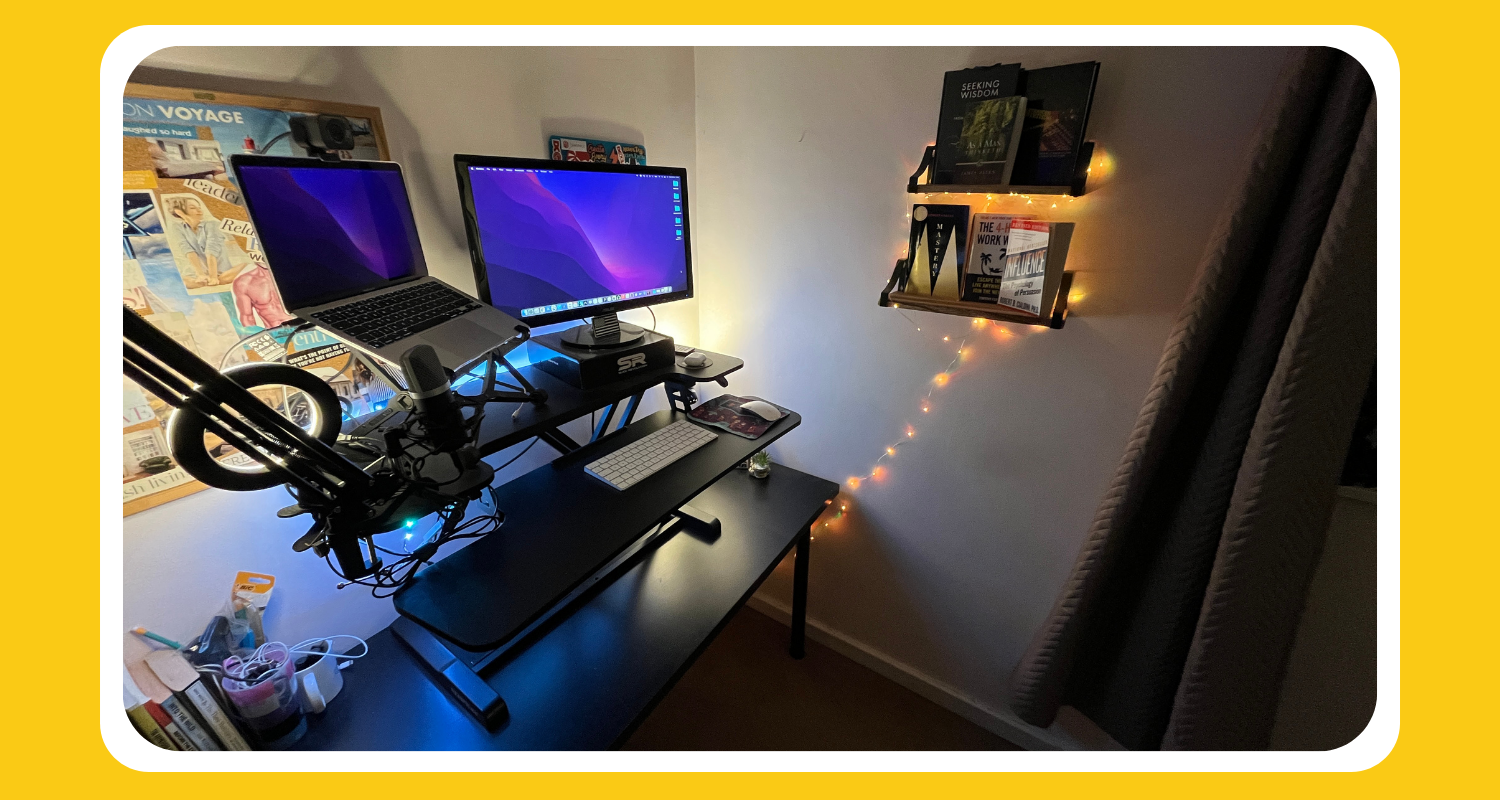 #5 from Tony Chan:
"There are two things that help me switch off and unwind for the day.
1) I try to go on a 30-min walk at the end of my workday to reset myself (if the Chicago weather allows in the winter). That might include going to the grocery store daily or every other day to get what I need for dinner.
2) Related to that, I really enjoy cooking and making dinner, and I probably make dinner 4-5 days of the week for my wife and me. Just another way for me to break up my day and unwind."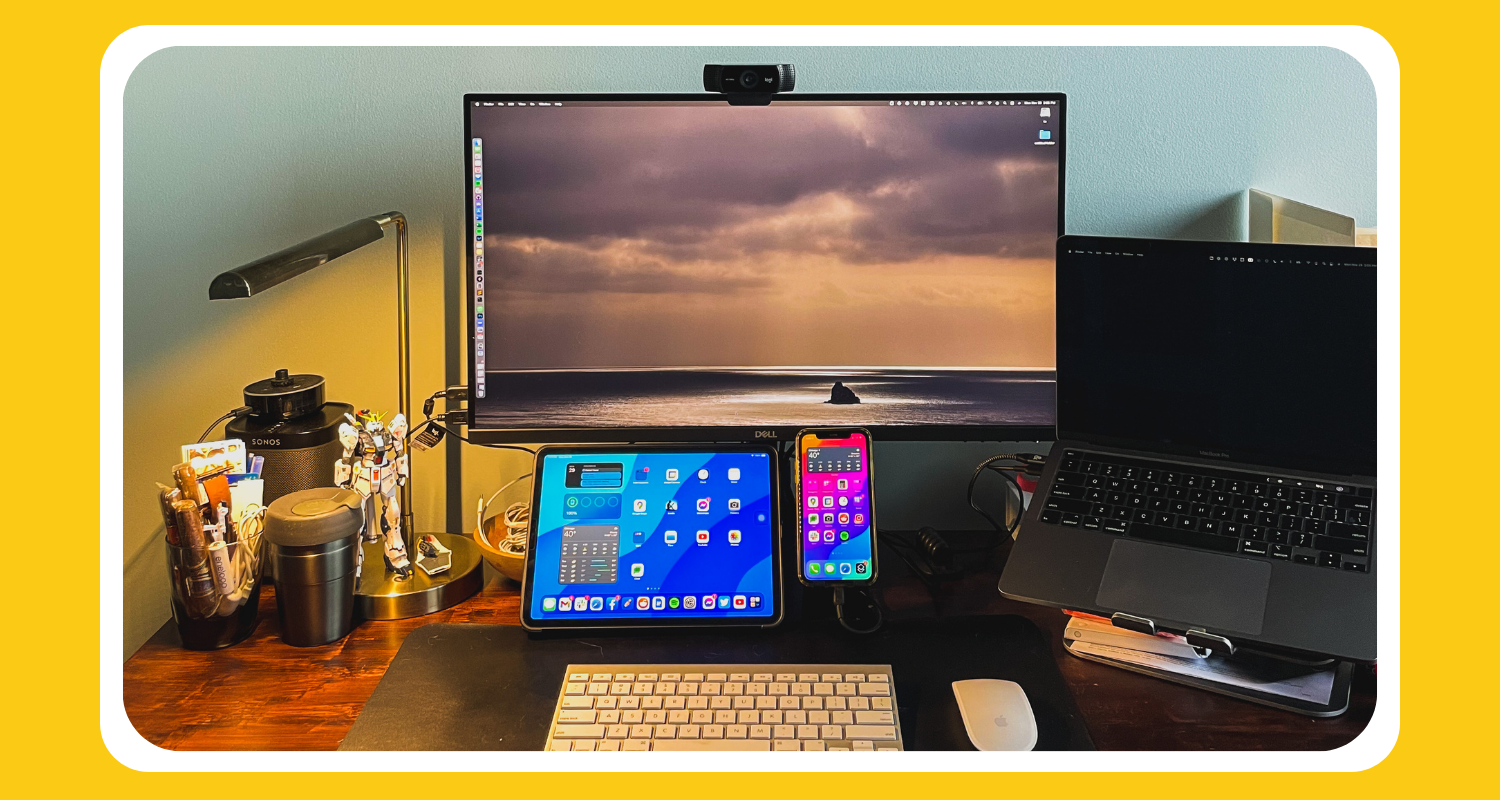 #6 from Jane Portman:
"Hug the kids and take a hot shower. Feels like running water takes the day off your shoulders."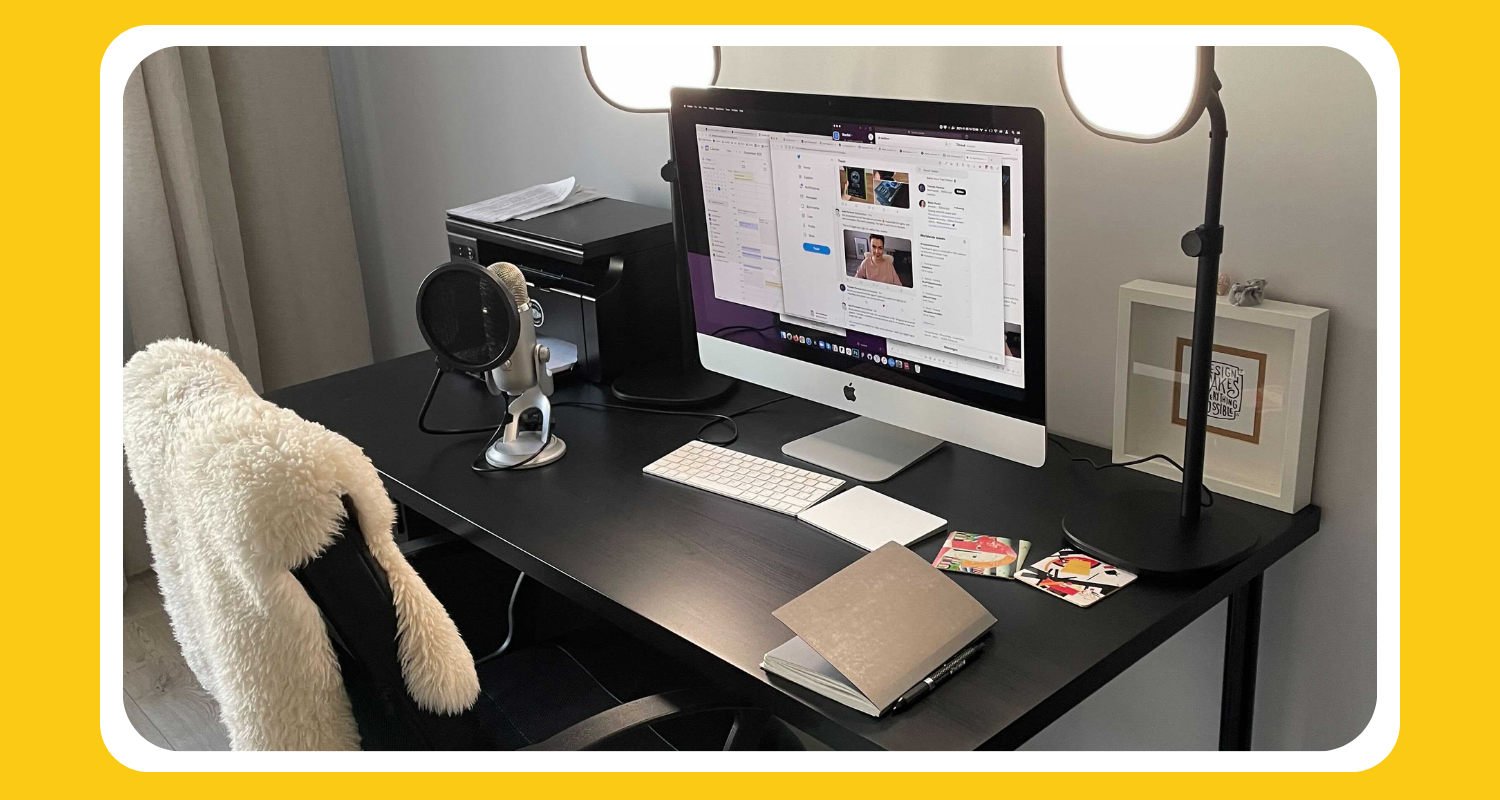 #7 from Devan Sabaratnam:
"Right behind my desk is a collection of guitars and amplifiers. I look forward to just spinning around and picking up a guitar, plugging it in, and making loud noises. It is another passion of mine, and I find it helps to get rid of all the work stresses of the day."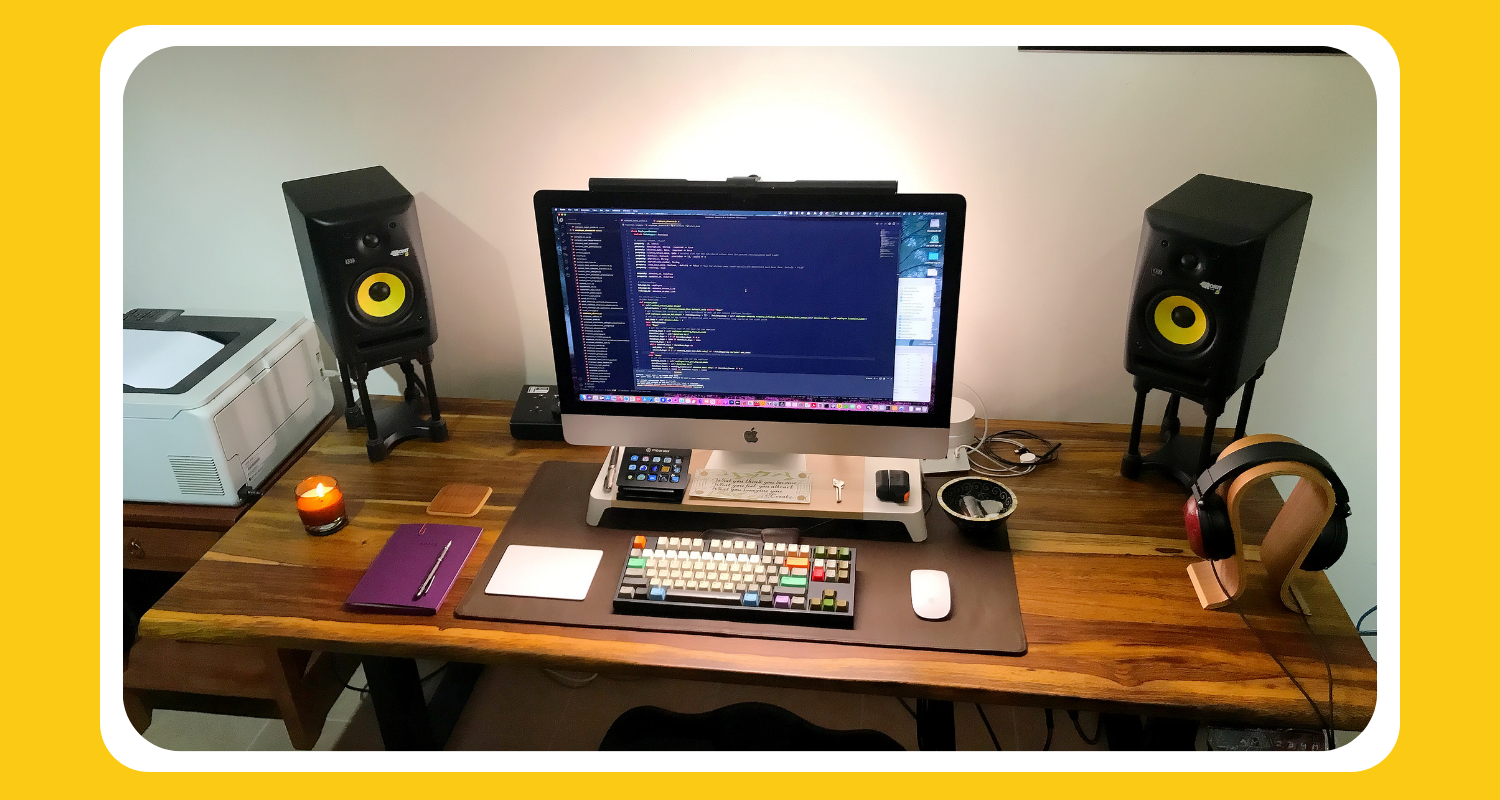 #8 from Ali Schwanke:
"I have my office in a room by itself, so laying out the next day and powering down my computer, then closing the doors helps separate work from family life."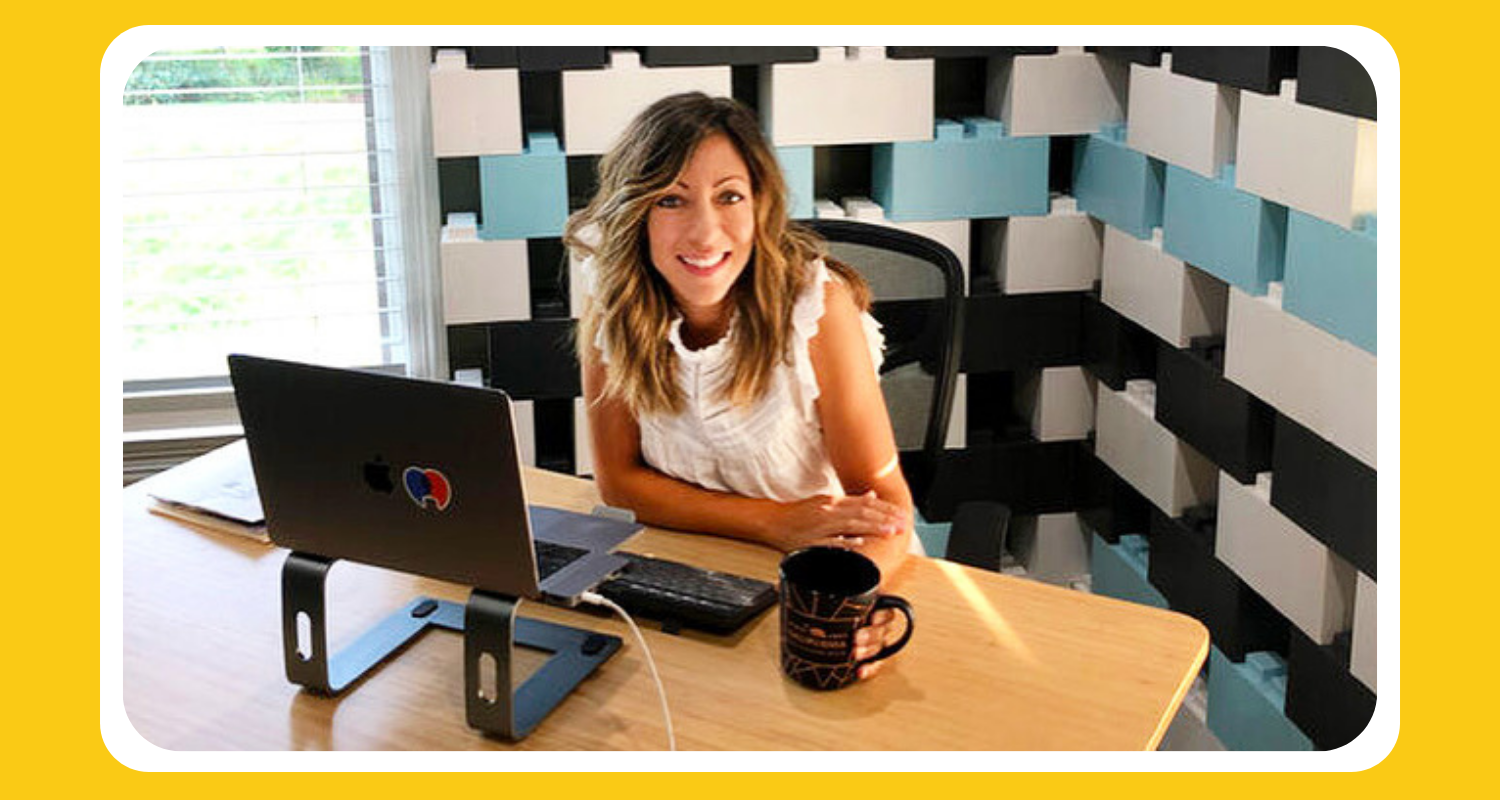 #9 from Tim Abell:
"Push the power button to suspend the laptop, walk out and close the office door. Use a different laptop for non-client work in a different room in the house. Join the kids for family dinner time around the kitchen table; no devices allowed."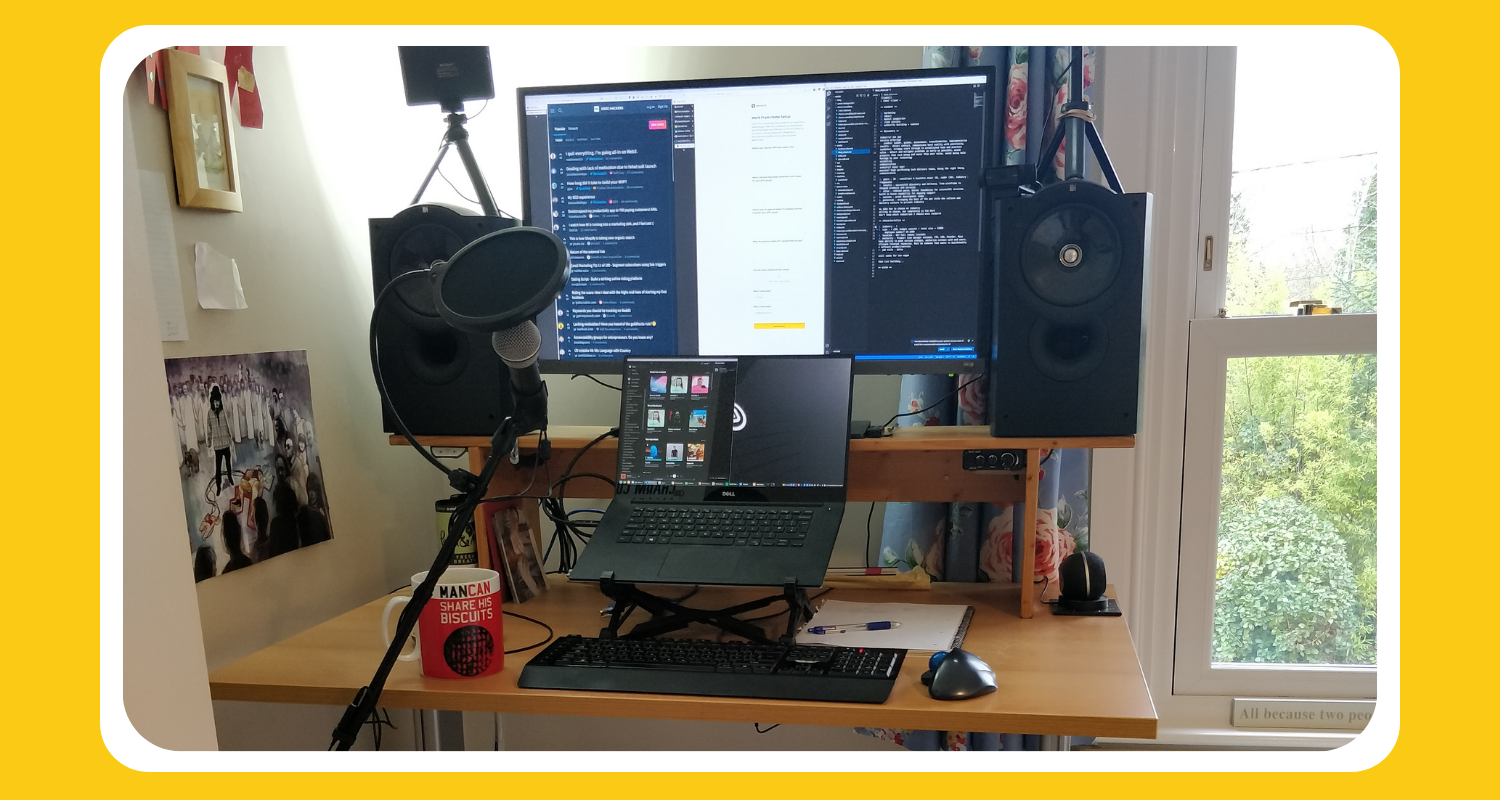 #10 from Corey Haines of Swipe Files:
"I don't have a formal ritual, but normally I just put the laptop away and begin prepping for dinner. So dinner time kind of caps my workday and shifts my focus away from work."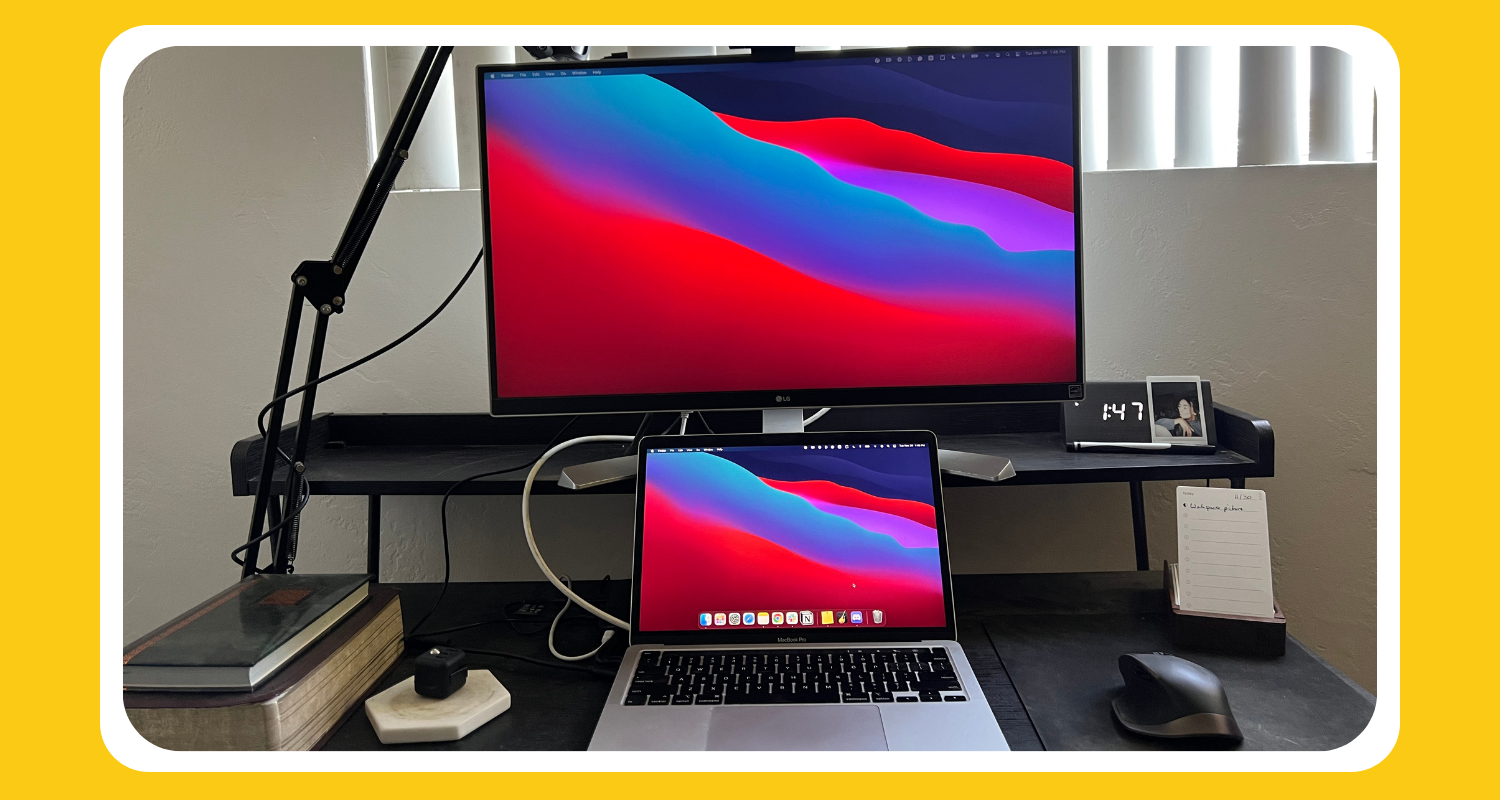 #11 from Adi Aviram from Linearity:
"I love to surround myself with plants. I have many around my apartment, and every once and then I'm going to water or check on them. After many hours in front of the computer, especially in the winter time, it gives me small moments of grounding, keeps my mood high and it's an excuse to take small breaks and stretch my body."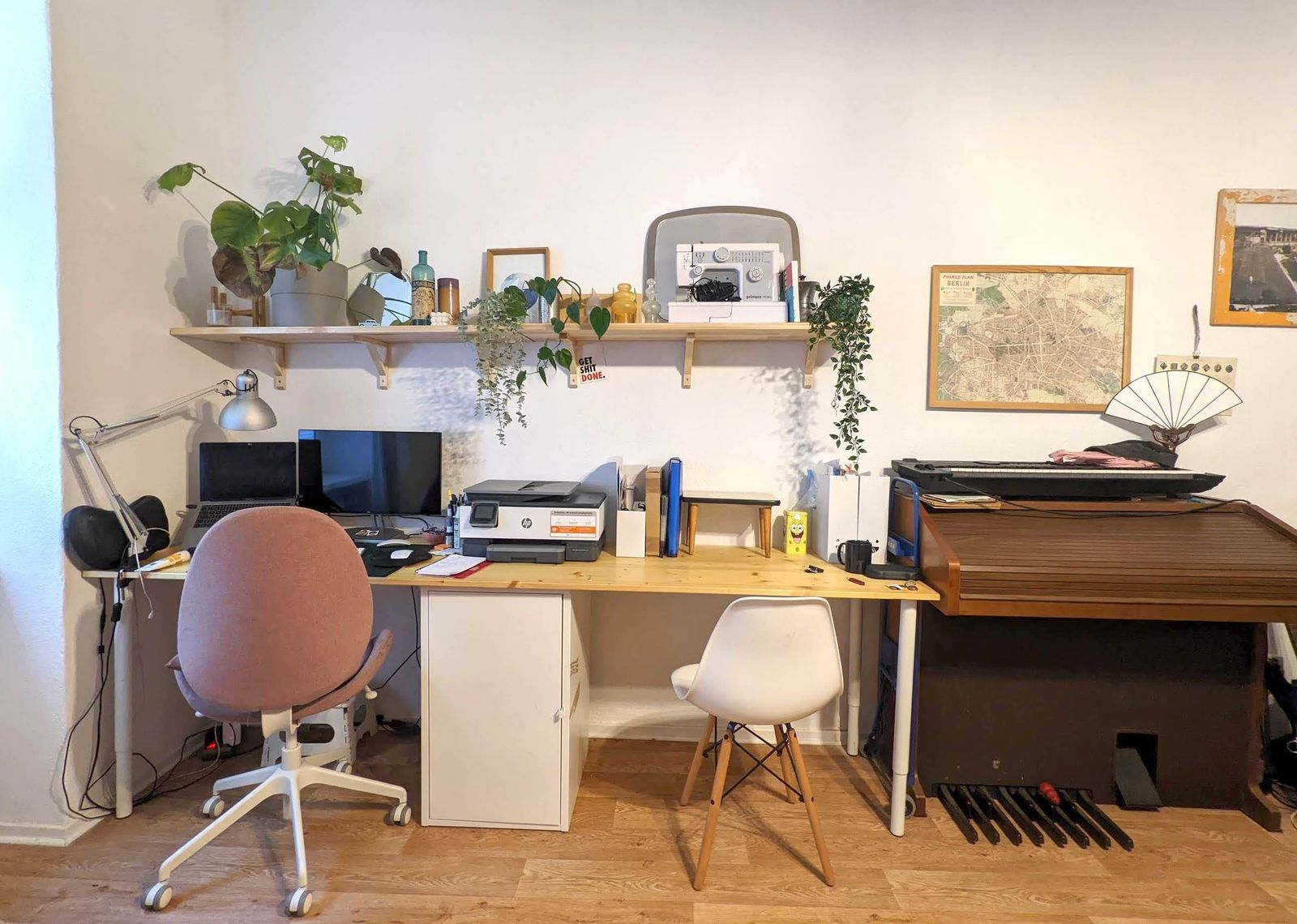 #12 from Evgenii Pavlov from flair:
"Try to keep your 'work from home' life, separate from your home life. Have a dedicated space or room for working. When you leave that room it's important to be able to switch off and to get out of your working mindset. If your work is right there in the kitchen with you then you may be tempted to do one last thing when really you should be spending time with your friends or family."