Find out how to set up a Yahoo calendar, send meeting invites, and manage to-do lists. Learn how to take full advantage of your Yahoo calendar, including how to sync with your mobile device. New to Yahoo calendar? Avoid scheduling snafus with this guide.
Yahoo has been around for a long time, and it's likely that you may have used a Yahoo email address at some point. But did you know that Yahoo also has a robust web-based calendar?
If you don't have a calendar program that you already use, Yahoo calendar is worth checking out. It's simple to use and offers many helpful features. In this article, we'll show you how to use Yahoo calendar to manage your deadlines and daily responsibilities.
It shouldn't take long to set it up and start using it to put your schedule in order.
How to set up your Yahoo calendar
Yahoo calendar doesn't have a mobile application, but it's still super functional and user-friendly. The only hitch is that you have to use a computer to access Yahoo calendar. You can find the program at calendar.yahoo.com.
To use Yahoo calendar, you'll need a Yahoo Account. However, you can create a free account quickly and easily.
Getting started with Yahoo Calendar
When you open Yahoo calendar, you'll see the calendar view is in the middle, the To-Do's List pane is to the right side of the calendar, and on the left you have options to edit your calendars.
Along the top of the calendar view panel is a list of viewing options. You can choose to view by day, week, month, year, or list. Beside this is an "Actions" menu.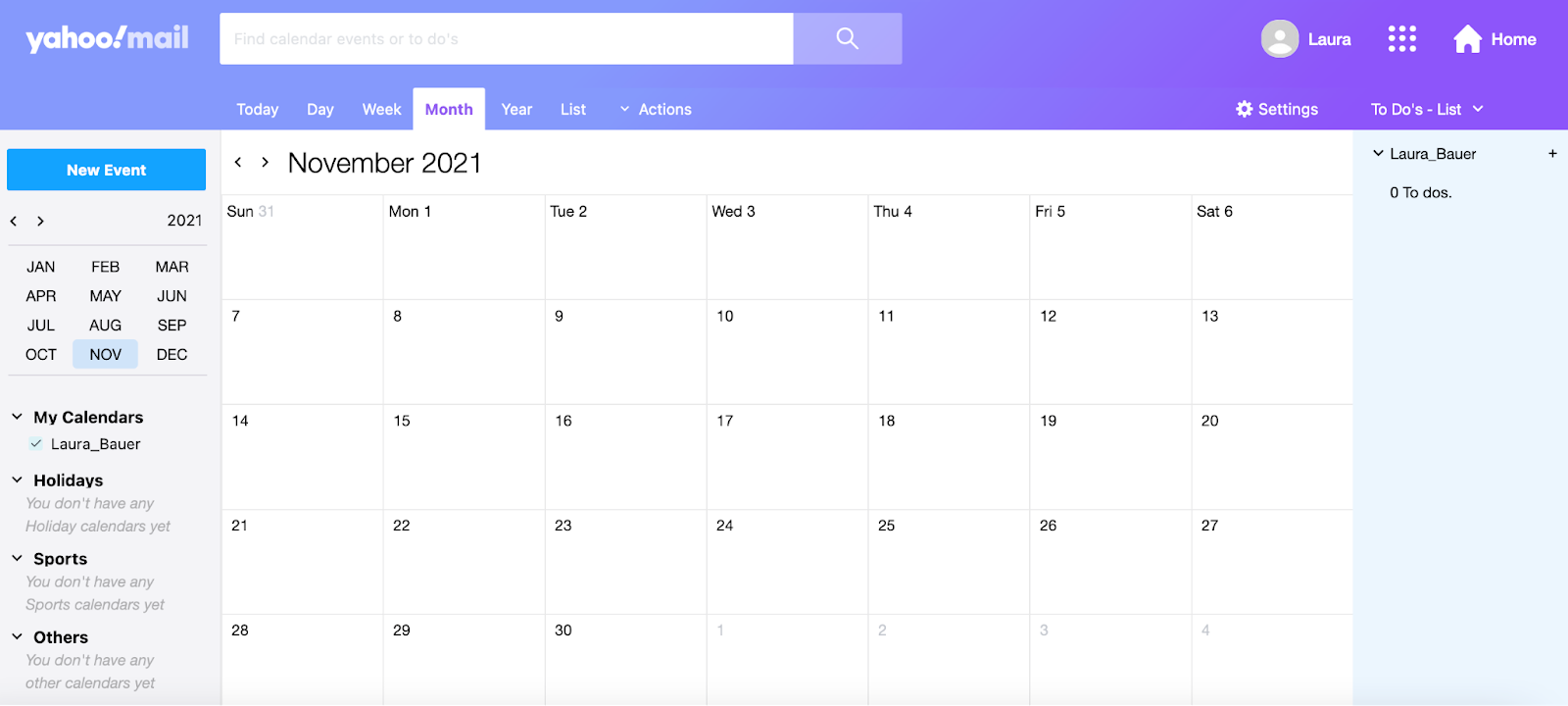 Yahoo calendar's layout is simple and clean, and you shouldn't have any issues finding your way around.
Set your Yahoo calendar preferences
If you'll be using the calendar frequently, it helps to personalize it a bit — really make it your own so navigation is as simple as possible. You can change the colors, calendar name, and more.
In the left pane under the list of months, you will see your name or the name you used during sign-up. If you hover over it with your cursor, you will see a down arrow appear to the right.
Click that arrow, and select Edit Calendar.
Personalizing your Yahoo calendar
After choosing Edit Calendar, a pop-up window will appear. From there, you can give your calendar a new name, change the color, and select your sharing preferences.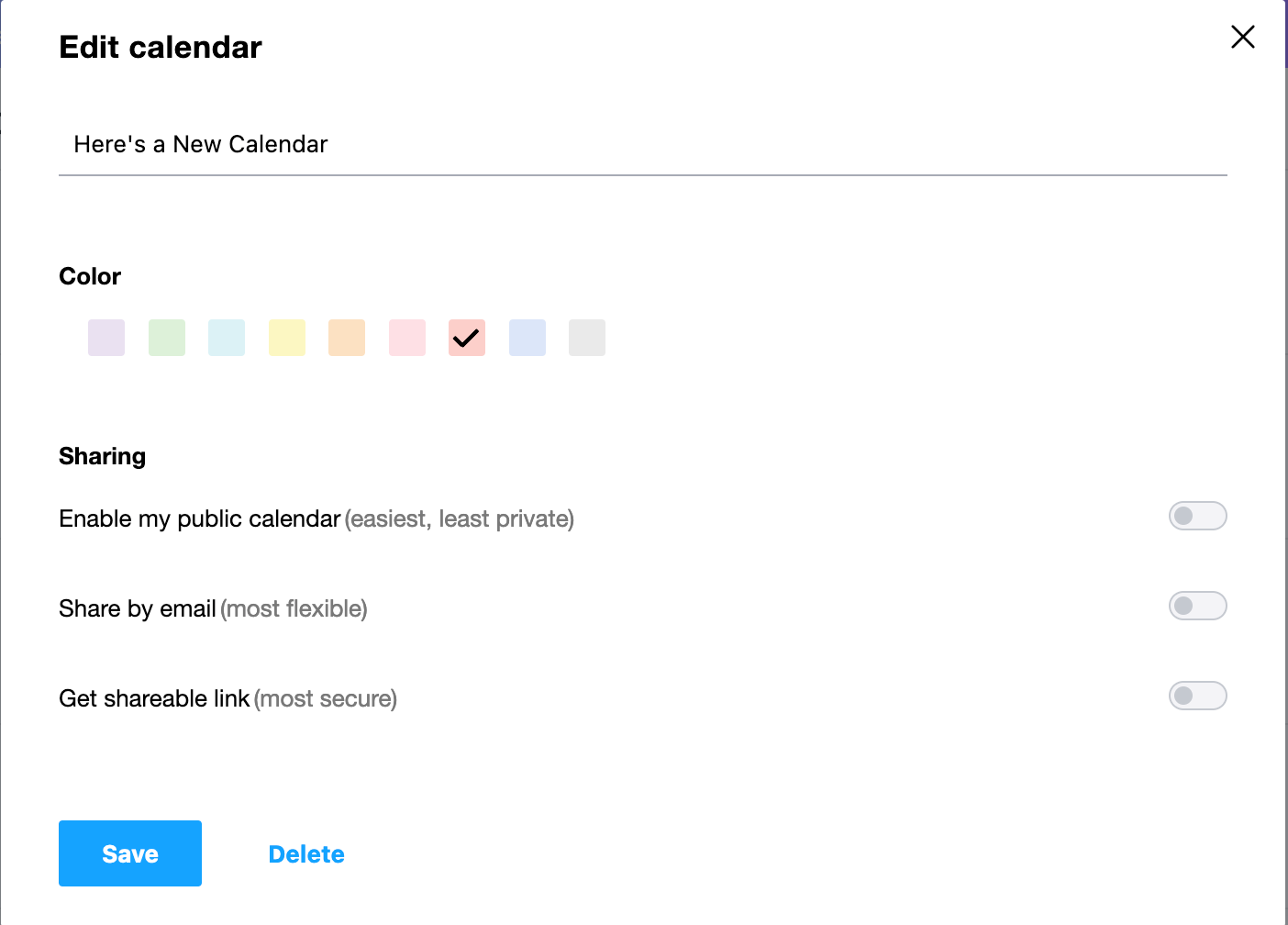 You can make your calendar public, share your calendar by email, or create a shareable link. Each option has different privacy and security considerations.
More on Yahoo calendars sharing options
Making your calendar public is the least secure because it allows anyone to view it. However, you can limit what you share publicly. You can share events, titles, and location only or allow people to only see if you are free or busy that day.
Inviting people by email gives you a little more security. Only the people you invite are able to view your calendar. Again, you can choose what you share with them (same as with a public calendar).
Generating a sharing link is the most secure sharing option. You'll get two links: One allows for viewing in a browser and the other allows someone to import your calendar. When you share via a link, it does not allow the person to edit your calendar. They can only view it.

No matter which option you select, you can stop sharing at any time. To stop publicly sharing, just uncheck the box. To stop access through links, you'll have to reset the links. (To do this, look to the left of the link boxes beside where it says "View events only." There is a circular arrow. Click that to reset the links.) After resetting, none of the old links will work.
How to change your view
Changing how you view your Yahoo calendar is really simple. The navigation bar that sits on top of the calendar gives you multiple options.

Click on Day and it will show your calendar for a specific day, Week shows the week you're in, Month shows your current month, and so on.

The List option is a little different. It will only show you a list of events that have been added to your calendar.
For more viewing preferences, click Settings in the upper right, and select Calendar Options.
That will let you choose the start of your week, time zone, and what times you start and end your day.
You'll also see an "Invitations" toggle. If you turn that feature on, every event will show up on your calendar — even if you're not attending. So chances are, you might want to add invites to your calendar manually.
If you scroll down, you can change your event reminder settings.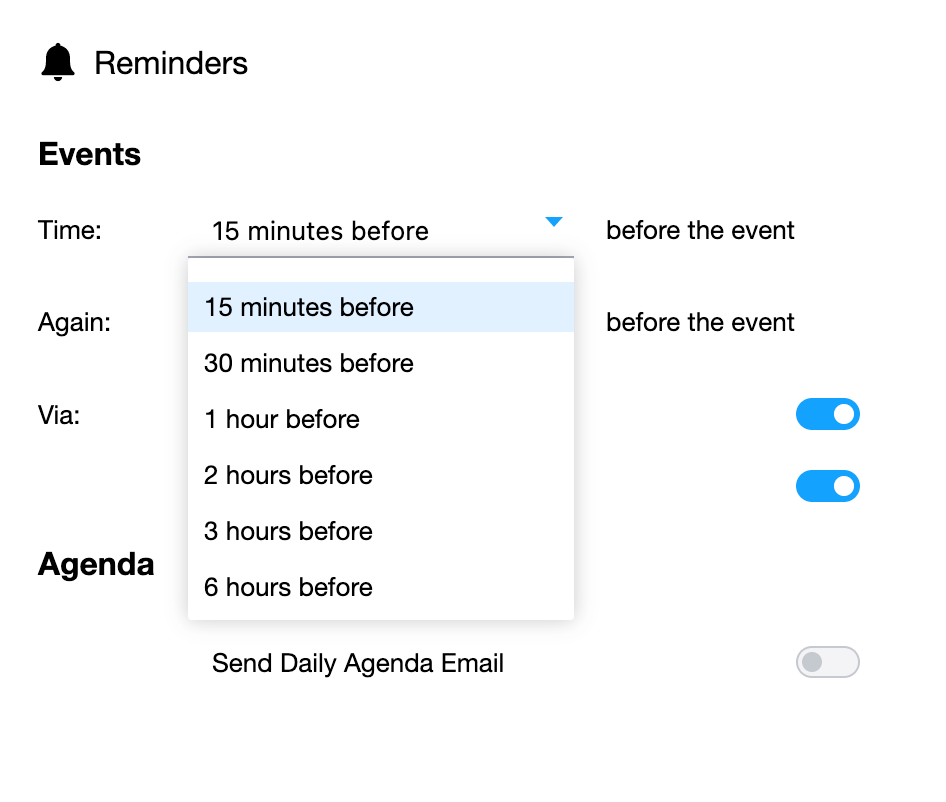 Select if you'd like event reminders and, if so, how long before the event you'd like to be reminded.
You'll also see an "Agenda" toggle. If you'd like to receive a daily agenda email, turn that toggle on.
How to create a new Yahoo calendar
Want to separate your personal and professional appointments? Yahoo calendar allows you to create additional calendars.  
To create a new calendar, click on the downward-facing arrow next to "Actions" (in the top navigation). Click on Create New Calendar.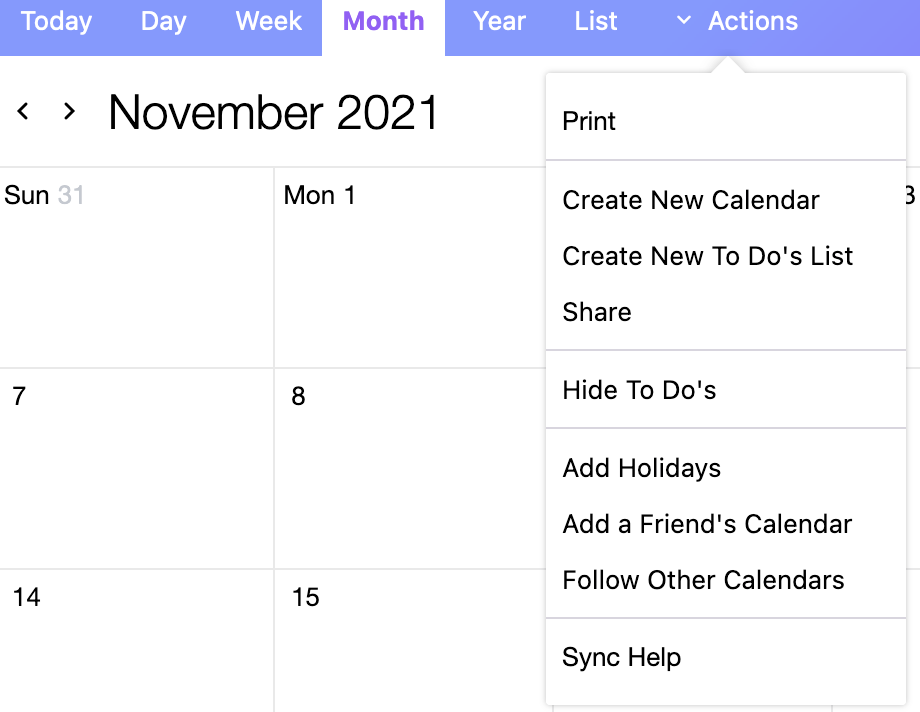 A box will pop up that will allow you to name the calendar, choose a color, and set sharing options. Make sure to save before closing the window.

You can also add premade calendars that already have events on them. You'll find these ready-made calendars in the navigation on the left, below "My Calendars". There are three options:
The "Others" option allows you to add a friend's calendar or follow other calendars. To add a friend's calendar, you'll need their Yahoo email address.
How to create and manage events on your Yahoo calendar
There are three ways to add a new event to your calendar.
You can click on New Event in the upper left above the pane that shows your calendars.
Click in the calendar on the date you want to add the event.
Right-click within the calendar and choose New Event in the list that comes up.
Clicking in the calendar will bring up a small box that allows you to add the event title and location. You can also adjust the date here. If you click Add More Details, you will see a new box. This box will come up if you right-click on the calendar to add an event or if you click New Event in the upper left.
In this box, you can add details to your event. You can specify the start and end dates and times. If it is an all-day event, you can check that box. There are also the options to repeat the event, invite others, and choose the location.
You can add notes and set a reminder, and you'll have the option to mark yourself free or busy for the day.

Finally, you can choose the type of event. This lets you give it a label so you know what it is at a glance (for example, doctor visit, or work). It will add a little icon related to the type of event beside it on the calendar. Make sure you click Save before exiting.
If you need to remove an event, right-click on the event within the calendar, and then, choose Delete Event from the list.
How to manage the to do's list
Remember the To Do's List in the left pane? This is a handy way to organize your errands and other tasks.
You can manage your To Do's List in a few different ways. The main way is to click the downward arrow next to "To Do's - List." The drop-down menu lets you add a new item, change the view, create a new list, and share your list.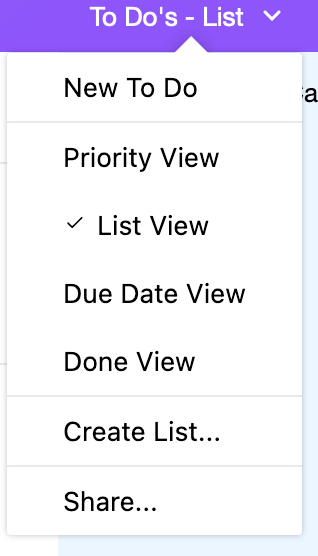 Add a new item
From the list, choose New To Do. When you click this, a box will open. From there, you can enter the name of the item and due date, set the priority (normal, urgent, or important), choose the list to put it in, and add notes. Click Save before closing out of the screen.
Change the view
The To-Do's List menu allows you to choose from multiple viewing options.
"Priority View" shows your to do tasks listed by priority setting.
"List View" is the default and shows the list ordered from most recently added to oldest.
"Due Date View" arranges tasks by due date.
"Done View" shows you all the items you've marked as complete.
Create a new list
The "Create List" option lets you create a new To Do's List. A new box will pop up. From there, you can name the list and invite people to view it. (Note: the "Actions" menu also lets you create a new To Do's List.)
Share a list
As it sounds, the "Share" option lets you share your To-Do's Lists with other people.
List management
So what happens when you complete a task on your list or want to remove a task?
To remove an item from your list when you complete it, click the box to the left of the item. It will cross it off and remove it from the list. (Items you remove this way will appear in the done view.) You can also mark an item as done by right-clicking on that item. From the drop-down menu, select Mark As Done.
If you want to delete an item completely, use the Delete To Do in the right-click menu. This menu also gives you the option to edit the item.
If you're not a fan of the To-Do's list or don't need to see it all the time, you can hide it:
Go the "Actions" menu
Select Hide To Dos from the menu
To bring it back click on it again.
How to access your Yahoo calendar on mobile devices
As we mentioned earlier, there isn't a Yahoo calendar mobile app. It also is not native to either iOS or Android. And Yahoo does not have a mobile page for the calendar, so it is hard to read and really not functional on a mobile device browser.
Because Yahoo has not given you an easy way to use the calendar on a mobile device, you have to take things into your own hands (unless you're someone who will only use the calendar on your computer). To make Yahoo calendar mobile, you will need to sync it with your native mobile calendar, Android or Apple.
How to sync on Android
If you have an Android device, you'll have to import your Yahoo calendar to Google calendar.
In your Yahoo calendar, find the calendar you want to sync and click the downwards arrow to open the menu.
Choose Export.
A pop-up box appears that gives you the option to export or cancel. Click Export.
This will bring up a box so that you can save it to your computer. Choose where you want to save it and click Save.
Now, open Google calendar.
On the right pane, click the + next to "Other calendars."
Choose Import from the menu. This will change the screen.
At the top, it says "Import." Click Select file from your computer.
Find the Yahoo file you just saved, highlight it, and click Open.
This will bring you back to the import page in Google calendar.
Where it says "Add to calendar," choose the calendar you want to import.
Click the arrow to see all your calendars.
Click the Import button to import your Yahoo calendar information.
Your calendar information should show up on your Google calendar on your Android device. If it is not showing up, make sure that you have your phone set to sync with your Google account.
How to sync on iPhone
Working with an iPhone? First things first: You will need to make sure you add Yahoo as an email account in your phone.
Once you sign in, you should get a screen that lets you choose which aspects of Yahoo to turn on. Make sure Calendars is selected.
You will also need to set the frequency for syncing.
Go back to Passwords & Accounts.
Click Fetch New Data.
Choose Yahoo.
At the bottom of this screen, you can choose how often to sync. You can choose from hourly, every 30 minutes, or every 15 minutes. Note: If syncing doesn't work correctly, you'll have to remove the Yahoo account and then re-do the process.
Once you sync your calendar on an iPhone, you will automatically get updates whenever you make changes online to your Yahoo calendar. If you add something while in your iPhone calendar app, it also will automatically show up online in Yahoo calendar.
Combine Yahoo calendar and SavvyCal for a better experience.
If you've synced your Yahoo calendar with an Apple calendar or a Google calendar, you're in luck. SavvyCal is compatible with both.
SavvyCal creates a scheduling experience that's simple and seamless for you and the recipient. While Yahoo calendar is functional, Savvycal gives you more control over your calendar with personalized scheduling links, global availability presets, time blocks, scheduling limits, ranked availability, and more.
We also offer a free 7-day trial. 😉