Most people and businesses rely on a digital calendar. But when it comes to scheduling meetings, emailing back and forth to find a convenient time for all can be draining. Booking meetings doesn't have to be so cumbersome.
Scheduling tools make it quick and simple to coordinate meetings with coworkers, set up calls with prospects, and schedule all-hands events. But there are so many scheduling and calendar tools available, making it hard to choose one that fits your needs and budget. Calendly is one option — and with around 10 million monthly users it might be one that's familiar to you.
What is Calendly?
Calendly was one of the first big successes in the scheduling tool niche. The company focuses on making it simple for people to efficiently find meeting times — saving them time, accelerating sales, and improving customer service. It eliminates the need to rely on email exchanges and phone tags for scheduling appointments, calls, interviews, and demos.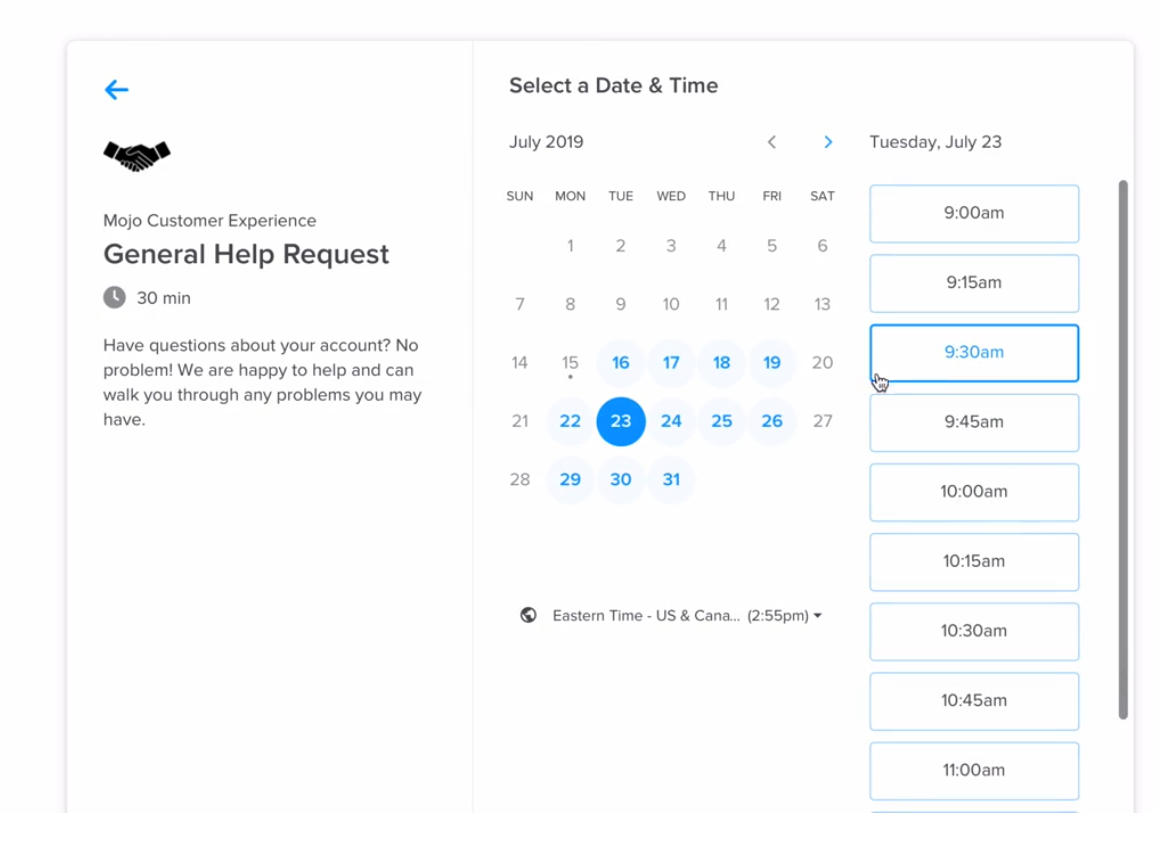 How does Calendly work?
If you've used other digital calendars or scheduling tools, Calendly should be fairly easy to figure out.
Sync to your personal or work calendars (optional). Create event types. Choose from a 15-minute, 30-minute, or 60-minute meeting, or adjust the timeframes to fit your needs.

Edit the event's name and description and your availability.
Send the link to a recipient.
Recipients can choose one of the event types you've created and select a time with you.
How To Login To Calendly
Before you can log into Calendly, you'll need to create an account. It's the main feature of the home page, so you shouldn't have trouble figuring out how to begin.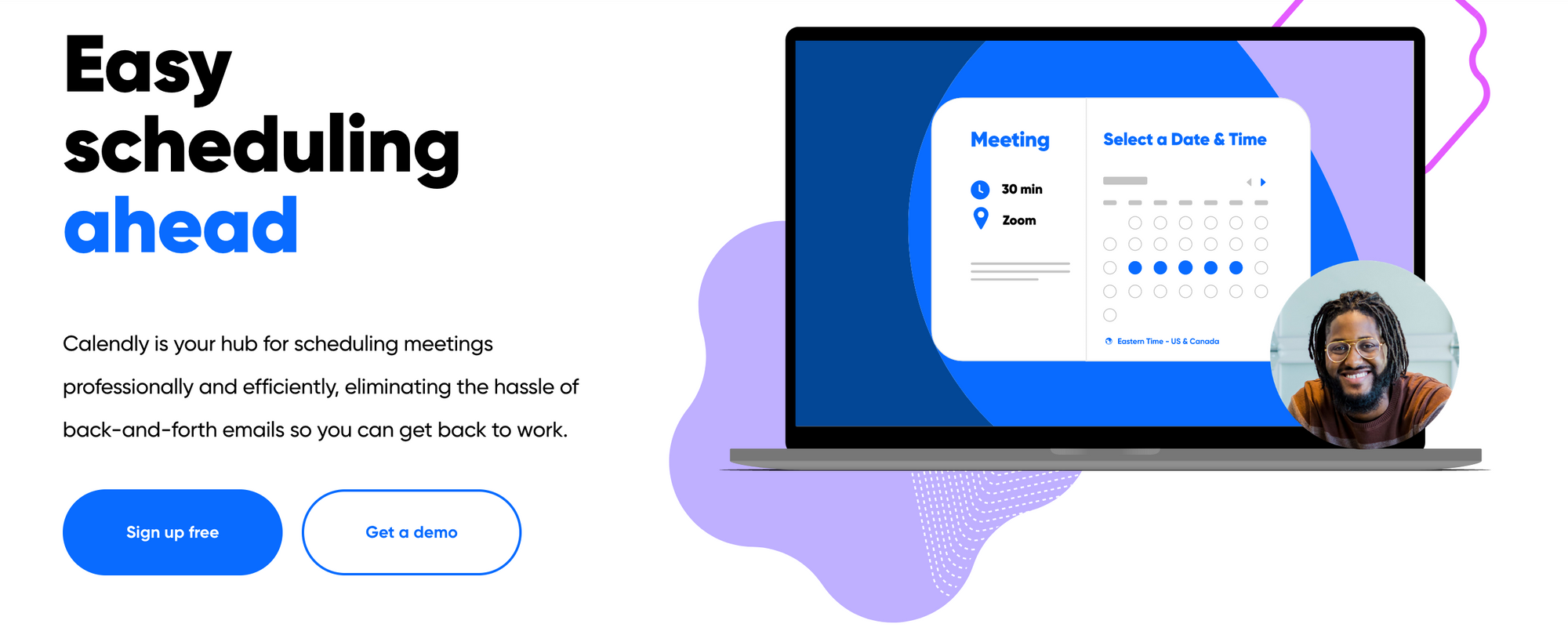 If you enter a Gmail address, the website prompts you to sign up with Google. Choose the account you want to sign up with and click "Allow" so Google can set the proper permissions.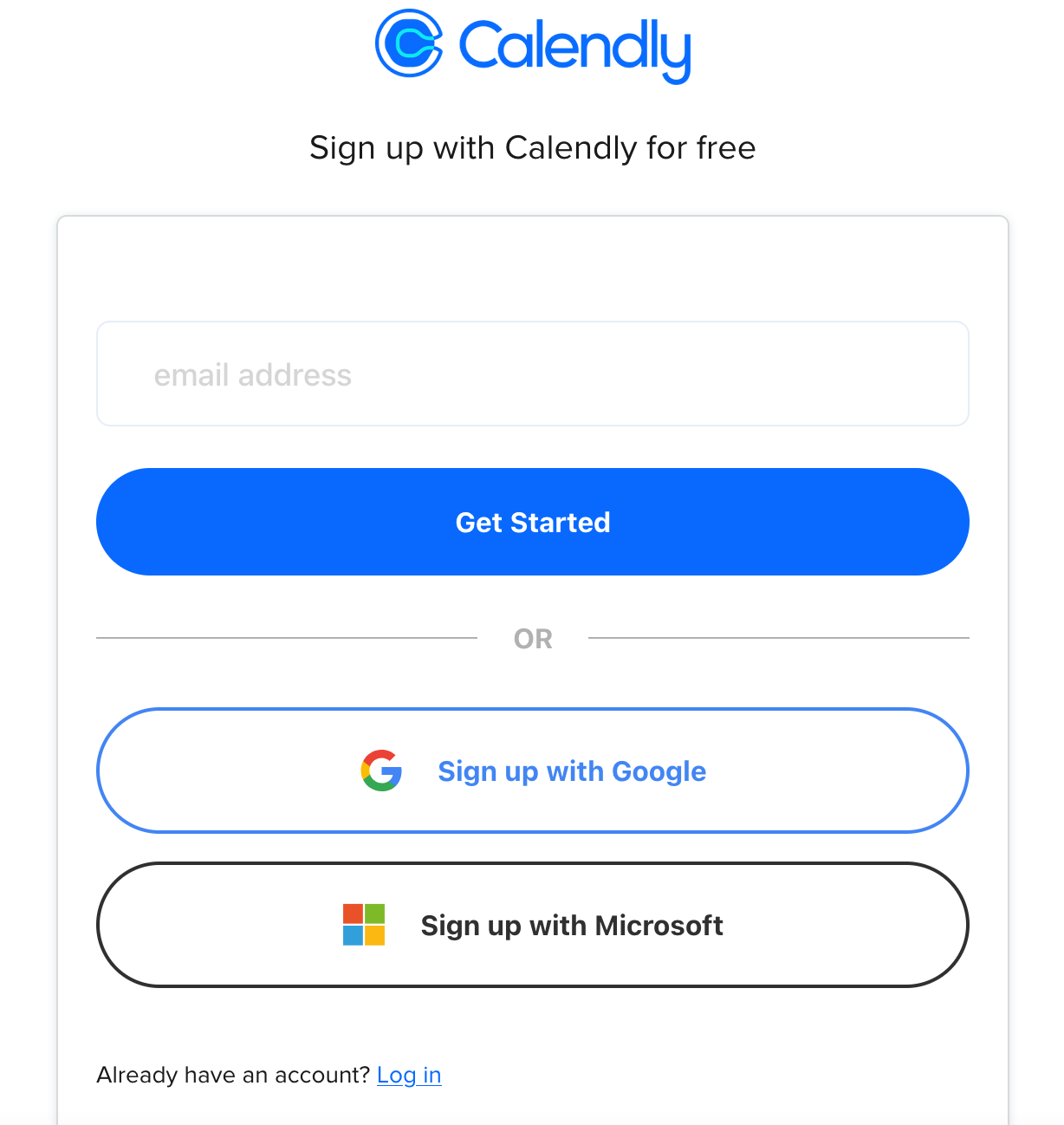 After allowing permissions, you'll see a page that lets you create your personalized URL and choose your time zone. At this point, you can choose to set it up later or to continue with the setup process detailed below. If you decide to log out of Calendly for now, you can sign in again later by clicking the "Sign Up" button at the top right of the page.
How to Set Up Calendly
When you log into Calendly, you'll see an Account tab at the top right corner of the page. Clicking on this provides you with everything you need to set up your account and billing information, as well as to share your link or invite other people to the account.
Start by clicking on Account Settings. This is where you can change your profile information, add a profile picture, update your link, and change your login settings. This is also where you can update your language, date and time formats, country, and time zone.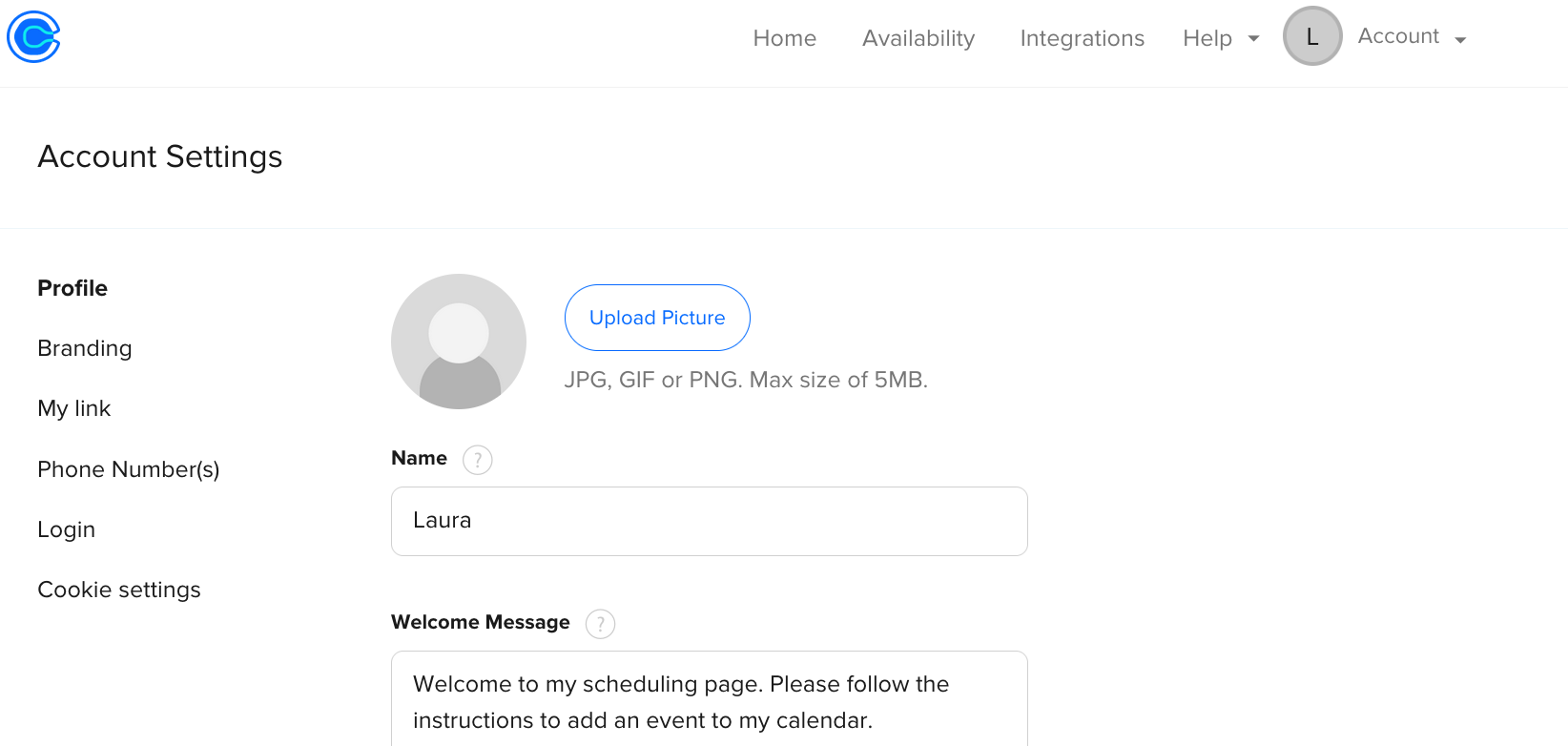 Calendar Connections is the third part of the Account Settings tab. Clicking on this takes you to a list of calendars that Calendly can integrate with. Click on the Connect button for the calendar you want to integrate, and complete the setup process.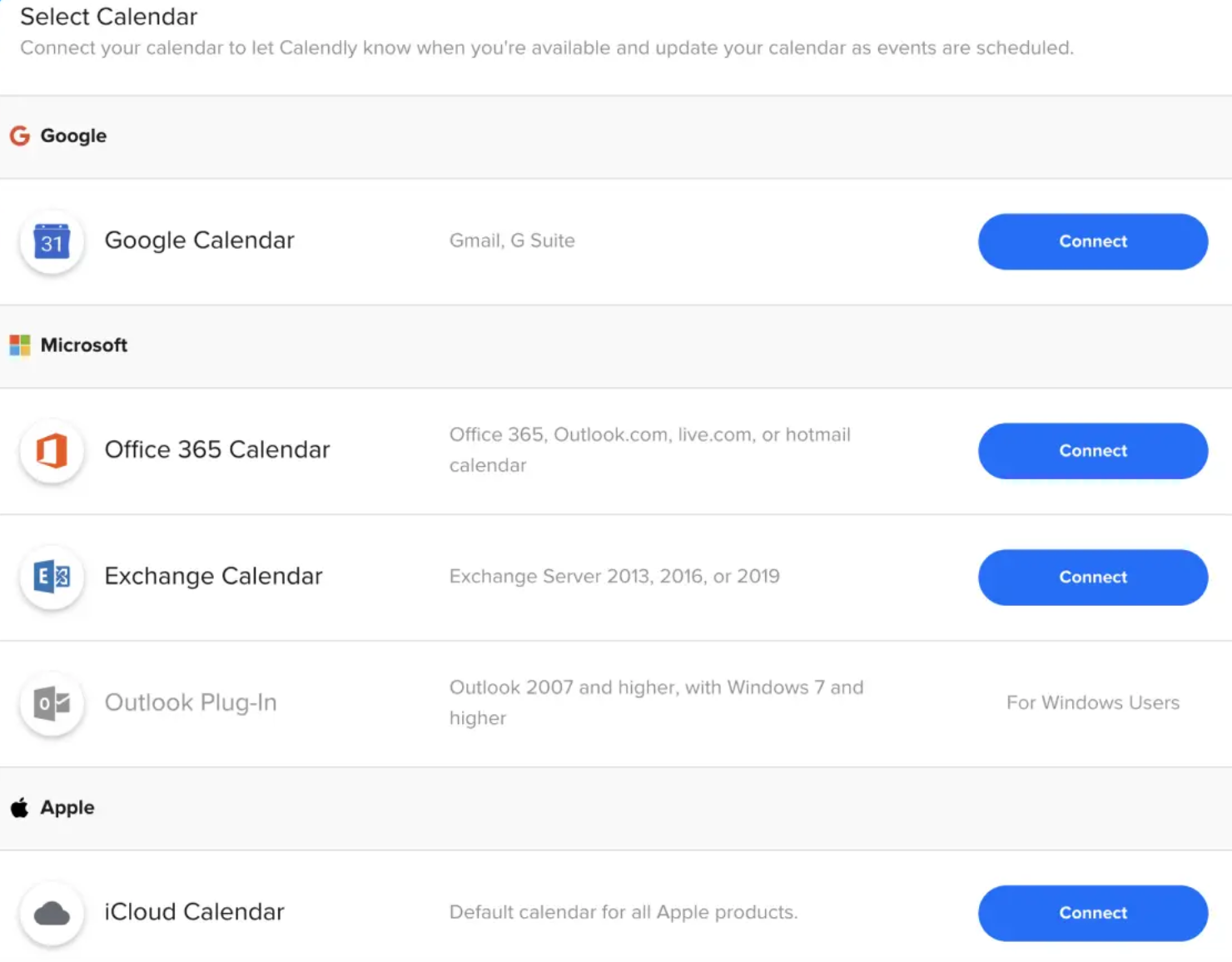 In the Users section, you can start building your organization. The active section allows you to invite users and teach them how to use the team scheduling features. There are also links to videos that detail Calendly's scheduling system and management tools. A pending tab shows you the people you've invited who haven't responded yet.

Clicking on Share Your Link triggers a pop-up box that allows you to copy your link, email it, or add it to your website.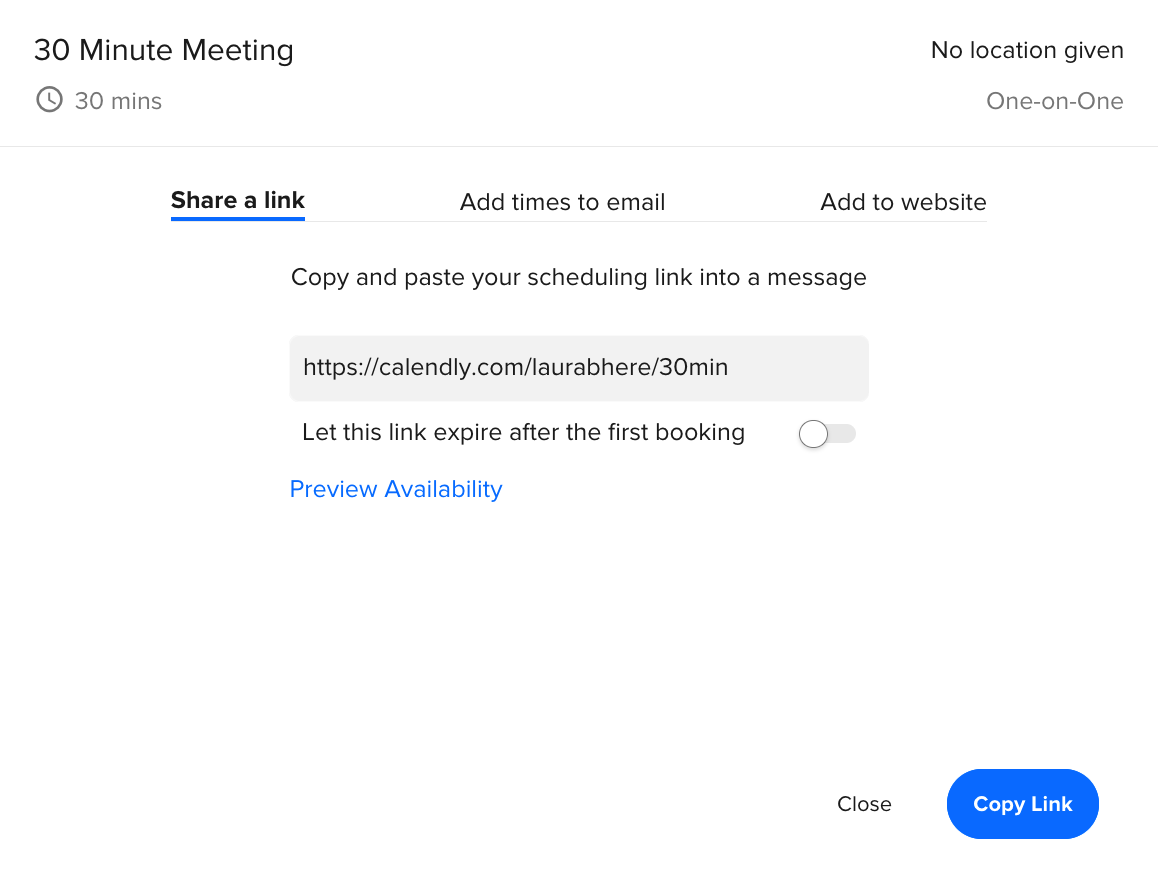 In the apps tab, you'll find information about Calendly's mobile apps, desktop application, and browser extensions.
Frequently asked questions about Calendly
Curious about Calendly? Let's take a look at some of the more common questions people have about the tool:
Is it free to sign up for Calendly?
Calendly's Basic plan is free, and new users receive a 14-day free trial of the paid plans. If they decide not to upgrade, they can continue to use limited features with a free basic account. (You can learn more information about Calendly pricing below.)
Is there a help center?
Calendly provides a comprehensive knowledge base, and the help center can be accessed by all users. The information covers everything from how to get started to security and compliance information. Paying users do receive faster or expedited support via email, and certain paid plans include live chat support.
Can Calendly be used as a standalone calendar?
Calendly is a meeting scheduling application. It does not work as a standalone calendar. However, it does integrate with several calendar applications to make it easier for you to schedule meetings quickly and efficiently.
Can you share your whole Calendly calendar?
If you want to let recipients choose their preferred event type (for example, a 15-minute meeting or a 30-minute meeting), you can send them the link to your public Calendly page. You can find this link in your Account dashboard and then copy and paste it manually.
Calendly app
Calendly has a mobile app for iOS and Android users. The app allows you to do everything the desktop application does, including copying your scheduling links to paste into email, view upcoming meeting details, see the answers your invitees provided for questions, and join video calls, among many other features.
Calendly WordPress plugin
Calendly does offer options to integrate your calendars via WordPress plugins. The application partnered with Zapier to offer a variety of plugin options, including the possibility of four integrations, notifications if an invitee cancels, letting you know if an invitee schedules an event, and much more. You can also embed your calendar directly into WordPress.
Calendly API
Calendly offers a published API for any developer using the Calendly system. To use the API, you'll need your authentication token. The documentation is more detailed in terms of the application's defined endpoints.
Calendly Pricing
Calendly offers five plans, from basic to enterprise. Here's a glimpse at what each plan includes:

Basic
The basic account is (and always will be) free but offers limited features. The basic plan allows you to connect to other calendars such as Google, Office 365, Outlook, and iCloud. Users on the free plan can create unlimited one-off meetings, customize booking links, and add the application to their website.
Essentials
Calendly's entry-level paid package ($8/seat/month) provides users with all of the basic features, plus some. For starters, you can integrate with two calendars and get unlimited active event types. You can also create group events, send reminders and follow-up emails, and you'll have access to metrics and reporting data.
Professional
Professional-level users ($12/seat/month) have access to everything above. They can also connect to up to six different calendars, create customized email notifications and reminders, receive SMS notifications, create automated workflows, remove Calendly branding, and customize colors.
Teams
The teams plan ($16/seat/month) is similar to the professional plan, but it includes more integration options and more robust support.
Enterprise
Large companies may want to spring for the enterprise plan (call for pricing). The enterprise plan is best for 30+ member teams. You'll get all the Calendly features plus advanced security, control, and support.
Advanced Calendly functionality
Calendly has a wide range of enhanced features, and it integrates with a number of other applications. Here are a few of the integrations that Calendly offers:
API & Webhooks: Developers can use the Calendly API and documentation.
Google Analytics: Create and track meeting and event goals.
PayPal: Accept payments from PayPal at your events.
Salesforce: Update your records automatically when scheduling meetings with Calendly.
Stripe: Accept payments from Stripe during your events.
Zapier: Access more than 700 applications and integrate your Calendly account with them.
Zoom: Create events on Calendly and automatically include all the meeting details from Zoom.
LinkedIn messaging: Schedule meetings through direct message on LinkedIn
Slack: Streamline workflow by using Calendly in your Slack channels.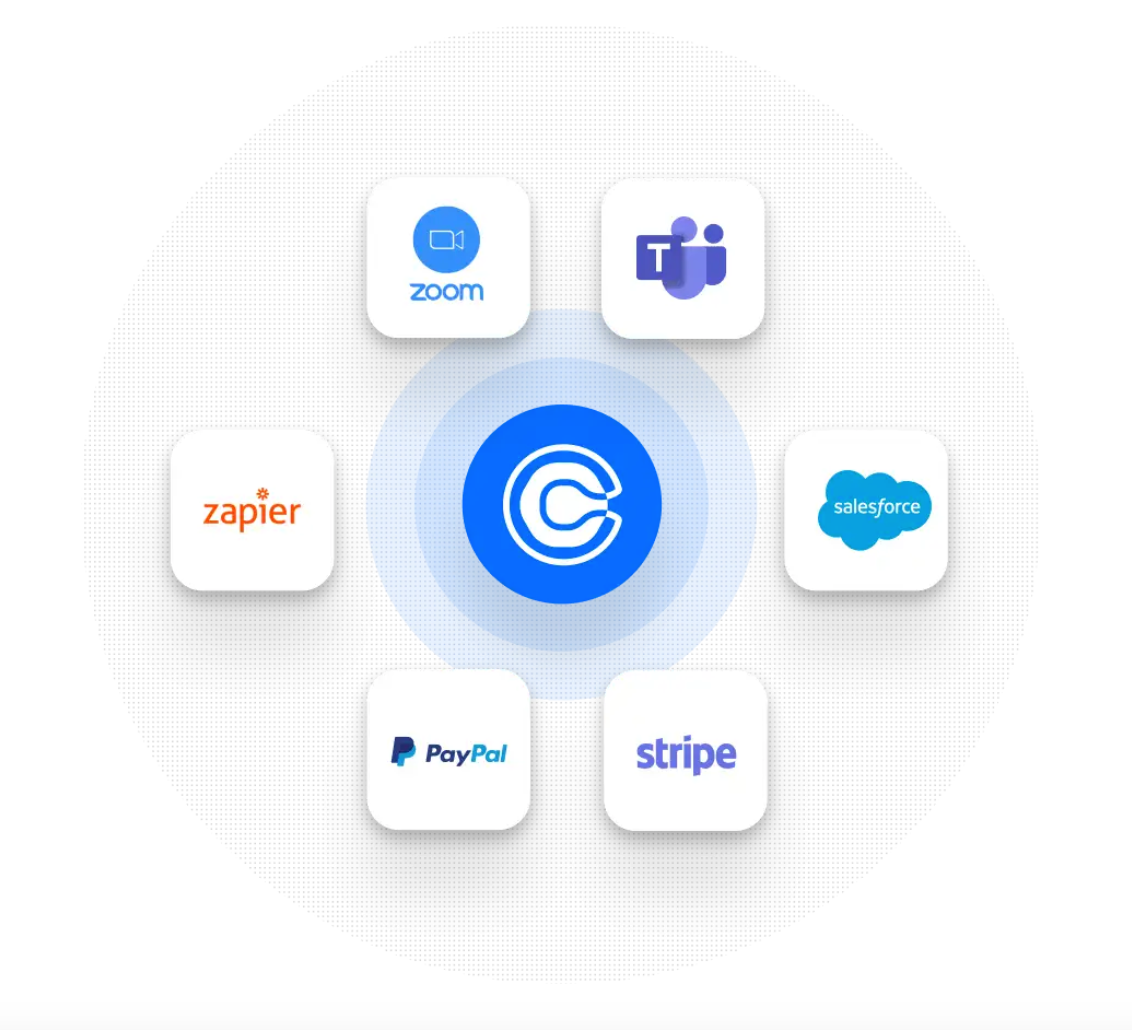 Calendly hopes to change the way people work and manage their days, and that mission is clear when you look at the type and amount of integrations the company offers.

Quick plug: SavvyCal integrates with numerous popular tools such as Zoom, Microsoft team, Stripe, and Zapier.

SavvyCal: The perfect Calendly alternative
Robust, generic tools are nice but they don't make sense for every person or business. SavvyCal offers a more collaborative solution for both senders and recipients. Features like personalized links, calendar overlay capabilities, and preferred times make scheduling quick and simple. There's no toggling back-and-forth between calendars and customizing availability can be done in an instant.

Try SavvyCal for yourself.