In this blog post, I'm breaking down the twenty best Google Chrome extensions for scheduling meetings, blocking time for upcoming tasks, and using Google Calendar to make the best use of your valuable time.
Effective time management and defensive calendaring are essential to working smarter, not harder, because you'll need to stay on top of your priorities in order to accomplish everything you want to get done.
If you have a busy schedule, odds are good you're either an experienced Google Calendar or Apple Calendar user.
Related Reading: Google Calendar vs. Apple Calendar: Which one to use?
If you're using Google Calendar, then already know the calendar app can help you stay organized and manage your time. There's a reason why Google Calendar is the second most popular productivity app in the U.S., used by more than 500 million people, and is available in 41 different languages.
But what about all the different Chrome extensions that can turn Google Calendar into a productivity powerhouse? Who has time to waste searching through hundreds of extensions, and trying to figure out which ones are best for them?
Well, we hear you.
That's why we analyzed hundreds of extensions and found the 20 best that are most relevant to busy startup founders and executives.
And by the time you read our list of favorites, you'll know exactly which Google Calendar extensions to add to Chrome to personalize your Calendar experience.
Let's slide into it!
To be included in our list of the best Google Calendar extensions, extensions must be currently available (either in the Chrome Web Store or on a website that is safe to visit), not be flagged as a potentially harmful extension, and have largely positive user reviews.
Disclaimer: Please note that I was provided with compensation in return for my honest review. This is not an exhaustive list of all the different extensions out there as with 4 million Chrome extensions downloaded daily, that wouldn't be practical. Every attempt has been made to provide accurate and up-to-date information as of the time of publication.
1. Checker Plus for Google Calendar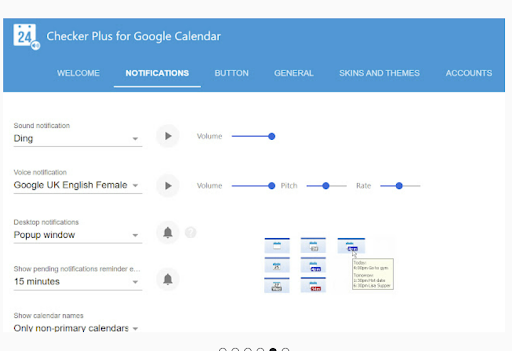 This handy tool adds a calendar button in your Chrome toolbar. Checker Plus displays a full view of the current month, week, day, or agenda, allowing you to view all your events without opening GCal. Simple to setup and use. Enter and view your appointments without having to open a new Google tab. This extension has all the functionality you need. You'll find reminders, multiple calendars on one calendar, and a single button to open full screen mode.
This extension is perfect if you have multiple email accounts to manage. Plus, it has sound and voice notification which is great for the visually impaired. Some users complain that it can not sync between browsers. In the Google Chrome Store, this extension is rated 4.4 out of 5 with 2,277 reviews and 300,000+ users.
Checker Plus has garnered positive write-ups in both PCMag Australia and MUO.
"How have I been doing anything without this…? It is seriously so easy to use, far better than any other 'google calendar' extensions… I can type in the date and time and it will recognize that easily. It is so fast to put reminders in and events without having to mess around with changing the date or time like my other extensions needed me to do. Very smooth experience, and I appreciate that very much!"
2. Clockwise: Time Management Calendar Assistant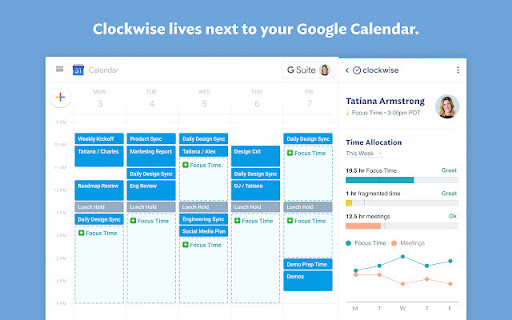 Clockwise is an intelligent calendar assistant that uses AI to create uninterrupted blocks of time in your schedule to enable more deep work time and eliminate the need for context switching. It also resolves double bookings, has simple and sleek integrations with Slack, Google Calendar, and web applications, and is highly customizable.
This extension is rated 4.7 out of 5 with 154 reviews and 100,000+ users.
Users praise the easy onboarding and seamless integrations. Yet other users complain that it doesn't work outside their company with external users. There are also some complaints that it works fine initially but then starts giving "connection error" messages even when users have solid internet access.
TechCrunch called Clockwise "one of the more interesting offerings" in the time management software and daily planner space.
You want to use Clockwise!! As a manager, I love that it creates more focus time for people on my team and minimizes the time between meetings where you really can't get much done because of context switching! I also like the idea that it helps solve conflicts (like the perfect assistant). My recommendation, get your entire team into Clockwise and make sure they configure their meeting hours to see the advantages.
– Martha Arellano
3. Meeting notes for Google Calendar - Meetric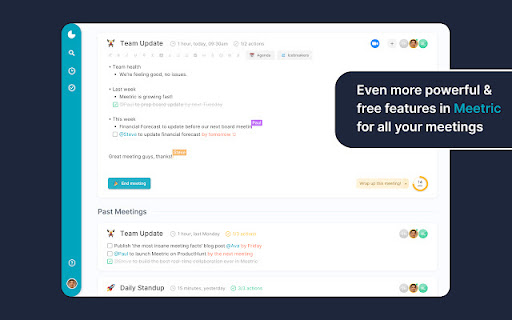 Meetric works directly with your Google Calendar or Google Meet and allows you to take notes without switching windows. Easily capture meeting minutes, take notes, and assign tasks to yourself and others in the meeting. This extension also has a built-in timer to help you keep meetings on track.
This extension is rated 4.8 out of 5 with 57 reviews and 2,000+ users.
You can use Meetric in any web-based video conferencing tool, like Google Meet or Microsoft Teams; Collaborate in real-time on the agenda & the notes with other guests. When you have reoccurring meetings, your meeting notes from prior meetings are pulled in automatically. The older meeting notes are dated and get pushed down each time a new meeting occurs so you can reference and pull from those as well. Some users complain it is difficult to find older notes.
We use this tech and it solves a real problem around accountability during and after meetings. Would recommend anyone who has daily meetings to check it out.

Well done guys!!!
– Ryan O'Grady
4. TeamCal for Google Calendar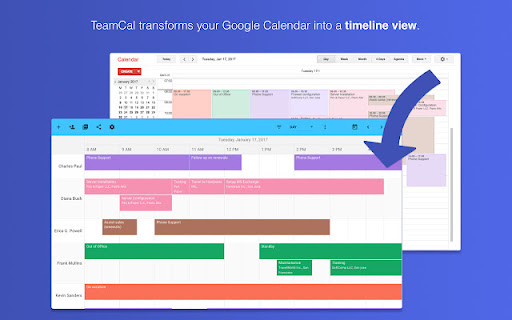 TeamCal allows you to add team scheduling and planning functionalities to your Google Calendar and displays all your calendars at once using a horizontal timeline view. You can use TeamCal to schedule and to identify gaps and overbooking of your workers. There is a 30-day free trial and after that pricing starts at $29.00 per user, per month. They do not have a free version. This extension is perfect for managing employee scheduling, staff rotations, on-call duty time, and team vacations & leaves. It has Mobile Access, Resource Management, Schedule Distribution, and Shift Swapping.
This extension is rated 4.1 out of 5 with 10 reviews and 2,000+ users.
TeamCal gives you the ability to see your whole team's Google calendars and what is on the books for each of them and the ability to catch double bookings. Some users complain the different format can be confusing at times and that it is difficult and time consuming to arrange the calendars within the TeamCal view without drag-and-drop functionality. A Shopify review says, "If you're managing a team, TeamCal may be the tool you need."
It's been great since day one. The biggest benefit by far is the ability to catch double booking and alert staffing about said issue, ensuring there are enough team members to support an event. Hands down, the ability to see my whole team's (over 60 reports) specific google calendars and what is on the books for each of them. Personally, my favorite view is "the week at a glance" This allows me to identify potential conflicts at a broader scale. I also love how customizable you can make your team view, for example, I have my FT reports listed first and then my PT reports below them, regardless of alphabetizing , and on top of that, I can color code to specific areas of expertise.
– Brian M., Workforce Resource Manager
5. Google Calendar Weekend Highlighter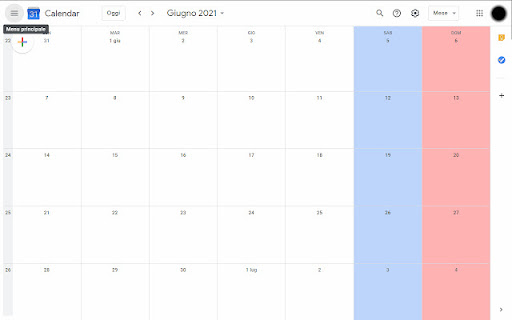 Google Calendar Weekend Highlighter lets you choose two custom colors and two custom days to be colored with those background colors. You can also highlight the weekend in the Day, Week, Month and Custom views on Google Calendar web pages.
Google Calendar Weekend Highlighter is ranked 3.9 out of 5 with 16 reviews and 2,000+ users. Some users complain that the extension colors Friday and Saturday instead of Saturday and Sunday as desired.
I've only started using this extension and I just love it! It works seamlessly and is very useful!
– Dottie Bowles
6. Hide Morning in Calendar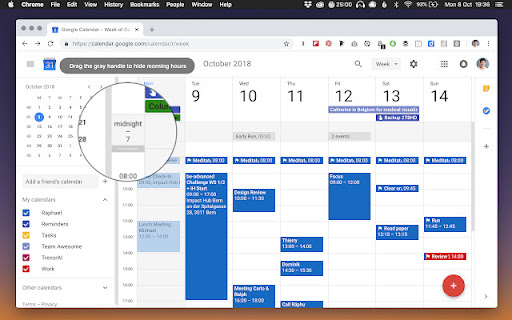 This extension lets you hide morning hours on your Google Calendar to stop wasting space on your screen for empty hours. Instead, you'll see only the title of events scheduled during those hours.
This extension is ranked 3.9 out of 5 with 75 reviews and 10,000+ users.
You can set a range of working hours during the day that fits your schedule and take away the unnecessary white space for the times you're out of the office or sleeping. Some users complain that you can't hide night hours.
It did exactly what I needed. I work during the day, so it was nice to eliminate anything between 1am and 6am (you can customize that). Great little app!
– Cory Smith
7. Button for Google Calendar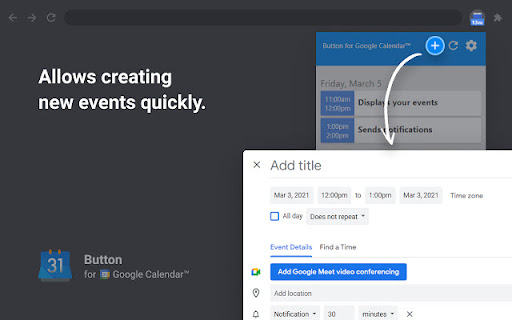 This extension gives you a quick overview of your Google Calendar with one-click access so you can see upcoming events from your Google Calendar without leaving the current tab. Google Meet, Zoom, Microsoft Teams, and Skype are supported.
Button is rated 4.6 out of 5 with 49 reviews and 50,000+ users.
This is a free, clean, simple, and trouble-free extension. It only supports authorization in only one Google Calendar account.
I'm glad someone picked up the project since I use this extension several times a day. Love the minimalistic view, the option to see how long it is until the next meeting at a glance, and the option to join meetings without opening google calendar. Would recommend the extension to anyone!
– Ruben Broekx
8. Google Calendar on New Tab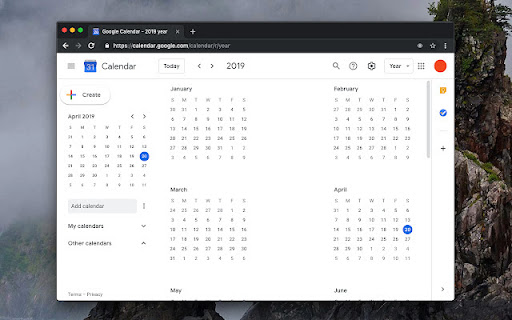 Use this extension to replace your default new tab page with a custom Google Calendar page whenever you open a new tab. Configure it to display the day, week, month, year, or agenda pages, or set your own custom URL for the new page.
This extension is rated 5 out of 5 with 4 reviews and 793 users.
Awesome and extremely useful, enjoying it every day, thank you.
– Ilias Sarris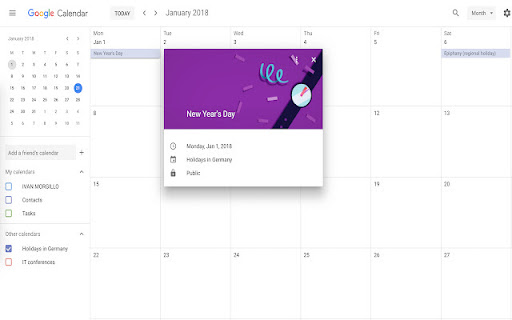 If you've ever wanted to fix the annoying scroll on the calendar grid in Google Calendar, you'll love this extension. Instead of navigating to the next or previous month using the scroll, you'll use the arrow buttons.
This extension is rated 4.3 out of 5 with 172 reviews and 10,000+ users.
Some users complain that it has stopped working since the recent Google Calendar update.
How do you spell relief? The months jumping around like popcorn on a hot pan was driving me nuts. Was looking for a new calendar program until I found this great little extension. Little things make a big difference.
– David Leacock
10. Planyway: Calendar & Time Tracking for Trello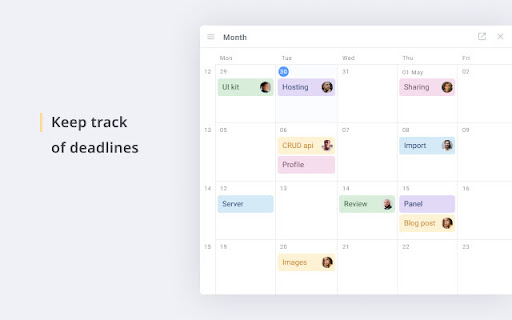 This extension helps you manage teams and projects. Planyway is a team calendar and time tracking tool that integrates with Google Calendar, Outlook, Apple and other calendars. You can visualize tasks from several Trello boards and get an overview of all your projects. There's even a mobile app for iOS or Android so you can plan on the go.
This extension is rated 4.6 out of 5 with 516 reviews and 100,000+ users.
Brilliant extension! Works much better than Trello's own calendar. I can see my Google calendars as well as my other boards, so planning is really easy, no matter what board I'm using. I used it in it's beta stage, and now that they have a paid service, it's so good, I have to buy it! Highly recommended!
– Olympia Scott
11. Send to Calendar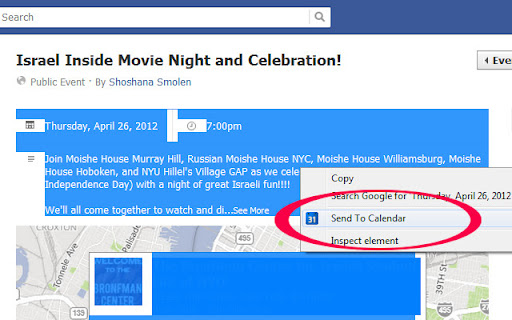 Now you can send events to Google Calendar automatically from any webpage without re-typing! Select text, right click, and 'Send to Calendar.' It works great with Facebook or any other website. Select the text that has the event information you want to schedule, right click and choose 'Send to Calendar.'
This extension is rated 3 out of 5 with 83 reviews and 10,000+ users.
There are no special permissions needed and this extension tries to accurately detect date and location information.
Super useful. I use this all the time.
– Chris Knappick
12. Calendar and Countdown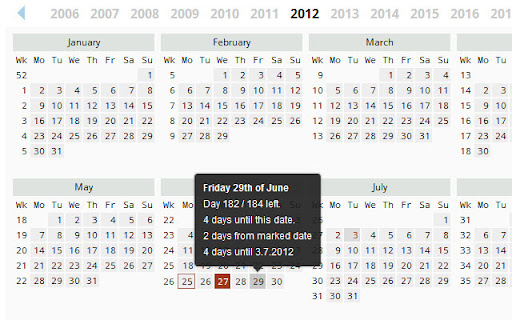 Show an entire year's calendar and count down to any number of dates you select. Add notes and colors to specific days and check the distance between selected dates.
This extension is rated 4.2 out of 5 with 557 reviews and 50,000+ users.
There are plenty of calendar customizations. Some users complain that after 77 events, the calendar prevents you from adding anything else.
Excellent app, one of my favorites! I use it to countdown to retirement. Removal of all ads is a huge deal!
– Ricky Jones
13. Event Merge for Google Calendar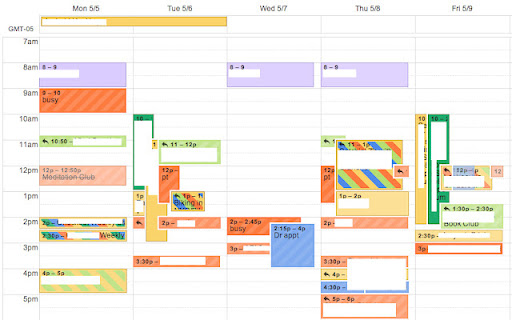 This extension visually merges the same event on multiple Google Calendars into one event. For example, if your work and personal calendar contain the same event, you can merge it into one event to clean up your calendars. Event Merge merges all those separate events into one event, and gives it strips with all the individual calendars' colors.
This extension is rated 4.4 out of 5 with 199 reviews and 40,000+ users.
14. ReminderCall Chrome Extension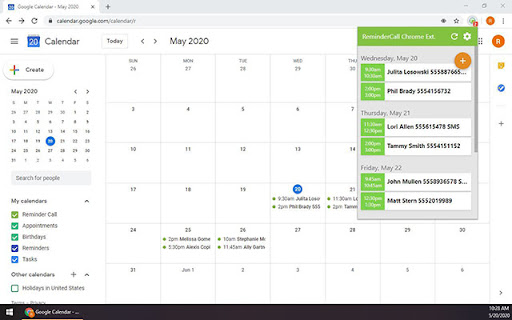 With the ReminderCall for Chrome Extension you can send automatic ReminderCall.com appointment reminders from your Google Calendar in two simple steps. Now you can enter Google Calendar events and trigger ReminderCall.com appointment reminders, add contacts, and send automated appointment reminders from anywhere on the web. Choose from text message, call or email reminders. This extension requires a ReminderCall account.
This extension is rated 5 out of 5 with 1 rating and 174 users.
You can quickly enter a Google Calendar event from Chrome, preview your schedule in the extension, and search and add Google Contacts from Chrome.
15. More Colors for Calendar!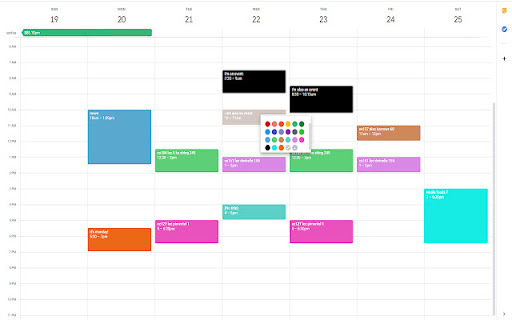 This extension adds more colors to Google Calendar's color selection menu.
This extension is rated 4 out of 5 with 68 reviews and 9,000+ users.
The colors are only available on the web version of Google Calendar and will only stay consistent on one browser on a computer unless Google Chrome sync is enabled, then the colors will be attached to your Google Chrome profile. Some users complain the colors do not stay once selected and that color changes can't be applied to all-day events or events that you didn't create.
Was looking for a feature like this for a long time. Thank you so much! Works like a dream.
– Theo de Waal
16. G-calize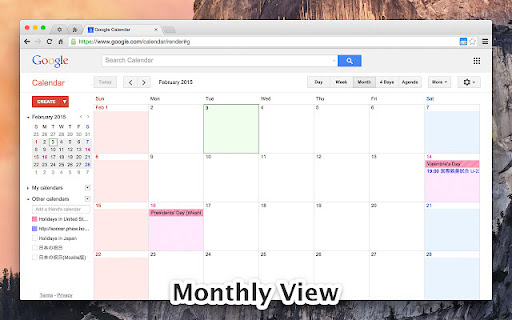 This extension lets you color-code days of the week to improve your productivity.
This extension is rated 4.3 out of 5 with 165 reviews and 100,000+ users.
Useful. Does what Google Calendar should do.
– Bob Nemec
17. Custom Calendar Background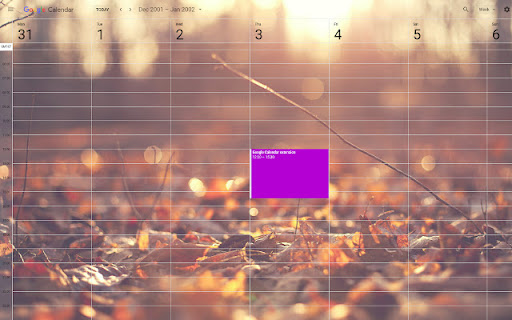 This extension adds background images to Google Calendar. It allows you to modify the new Google Calendar UI to include full-page background images.
This extension is rated 4.4 out of 5 with 29 reviews and 7,000+ users.
Some users complain this extension doesn't work on Mac OS Chrome.
Fantastic extension. Really brightens up the bland white background with any picture that you feel is typical of the current month. Thank you for allowing me to adjust my calendar backgrounds to suit the seasons of the year.
– Michael Smith
18. Appointment Reminder | Google Calendar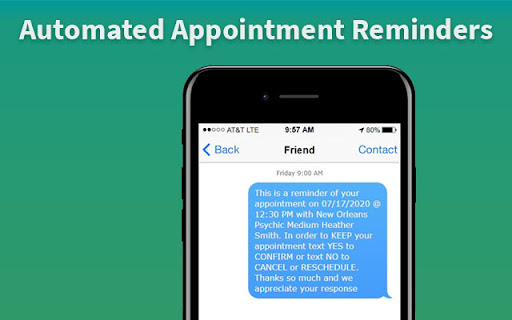 Automatically send SMS reminders to reduce no-shows for your appointments. In addition to appointment reminders, you can also let your clients book online using your own personalized booking page that only displays times you're available for bookings.
This extension is rated 4.9 out of 5 with 44 reviews and 2,000+ users.
100% Support Guaranteed. Pricing starts at $19 per month.
Appointment Reminder is amazing! We have been maintaining a Google calendar for quite some time and manually texting people. This has saved us so much time and has improved our "SHOW" rate and therefore our income. A larger than normal portion of our customers need reminders since their appointments are set so far in advance. This is sooo worth the money! It was very easy to set up and online support is very helpful if you have any questions.
– Lawrence Sloan
19. Google Calendar Timesheets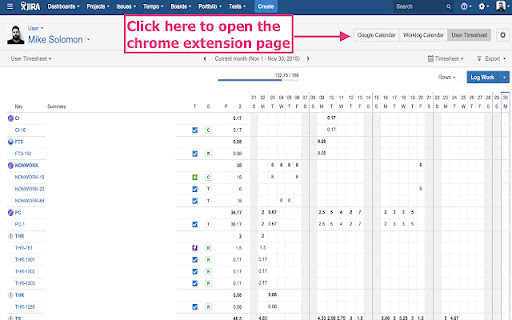 This extension allows you to log time in JIRA based on your Google calendar. It adds a GCal button on the JIRA tempo timesheet page you can click to read your Google Calendar and suggest worklogs for each meeting you attended.
This extension is rated 4.5 out of 5 with 6 reviews and 1,000+ users.
Best thing since sliced bread.
– Ragnar Fjölnisson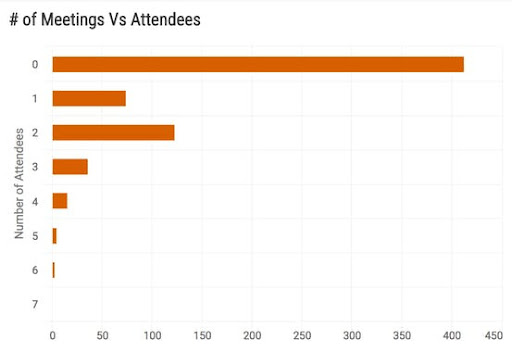 This extension was built specifically to let you analyze meeting to work-time ratio in minutes. Easily see how much time you spend in meetings vs. working.
This only connects to Google Calendars. This tool does on-demand analysis and does not store any data on the server or the device.
The developer built this tool to analyze how he spent his time and who he met and how often.
Takeaways
Google Calendar is a great online calendar because you can access it from any computer and phone. You can use it for personal appointments and meetings, as well as to organize events in your business.
As you've seen, there are many Chrome extensions for Google Calendar that will make your calendar even more manageable. If your job requires a lot of scheduling, these Chrome Calendar Extensions will help you manage your time so that you can focus on the things that really matter.