These days, you'd be hard-pressed to find someone who doesn't use online calendars to manage their events, meetings, and weekly schedule.
The vast majority are using the top two largest calendar platforms — Apple Calendar or Google Calendar. One of these two default calendar apps come standard on all smartphones these days and are much more convenient than analog alternatives like day planners and wall-mounted calendars. All Apple products come pre-installed with iCal and all Android products come pre-installed with Google Calendar, giving them both a massive user base that continues to grow.
That's also incredible to think about since Google Calendar has only been around since 2006. And iCal has been around since 2002.
In this post, we're taking a closer look at the two digital calendar market leaders to find out whether Google Calendar or Apple Calendar is better.
Google Calendar vs. Apple Calendar: Which is better?
In an effort to compare apples to apples, here are the criteria we used to compare each calendar app.
Ease of use
Adding new events to the calendar
Notifications
Calendar sharing
Data privacy
Security
Storage
Third-party integrations
Ease of use
Both calendar apps are designed to be easy to use with a minimal learning curve.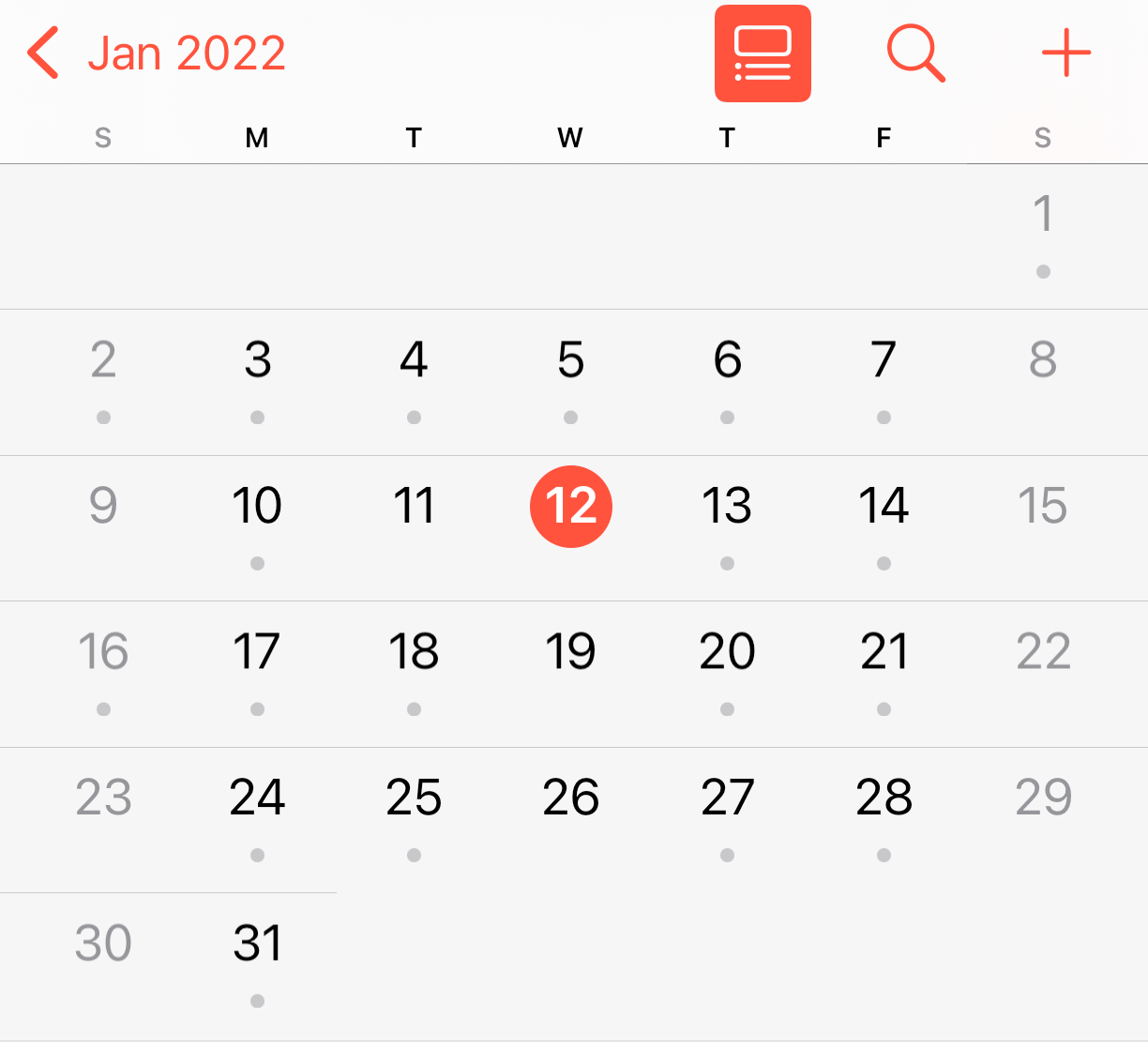 Apple Calendar is straightforward. No matter what view you're using, you can access all functions from the main screen. So, you can search, add events, change the view, and select Inbox.
When you open Apple Calendar, it will default to the last view you selected.
For instance, Apple Calendar also allows you to view either the month or day view. If you view the month, you'll see a grey dot on the days you have something scheduled. An orange circle will highlight the current day.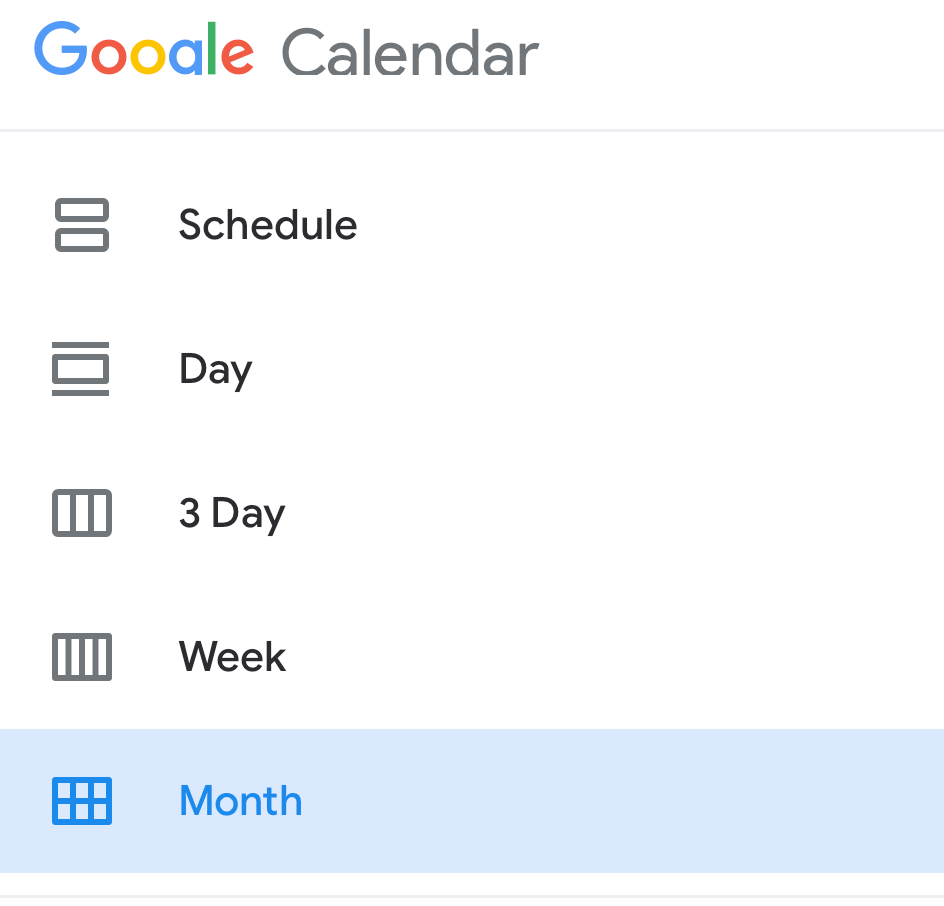 Like Apple Calendar, you can search and add events from the main screen you're on without using the menu in Google Calendar.
However, you do have to select the menu located in the upper left of the screen for some other functions.
In addition, Google Calendar has more viewing options than Apple Calendar. It offers a month, week, three day, one day, and schedule layout. To select the option you want, click the three-line menu option on the upper left of your screen.

Like Apple Calendar, it will default to the last view you used when you open it again.
There are also a lot more productivity hacks that you can do in Google Calendar.

While both apps are easy to use, Apple Calendar's options are slightly easier to access quickly from one screen.
The Edge: Apple Calendar
Adding and editing new events to your calendar
The most important functionality of any calendar app is the ability to easily add or edit new events.
Fortunately, both apps make adding events from the main screen easy by clicking a plus (+) sign. Apple Calendar has an orange plus sign in the upper right corner of your screen, and Google Calendar has a multi-colored plus sign in the lower left.
In Apple Calendar, you can write in a title, location, add a video call link, or alert. It's simple to select the time, day, and calendar you want to use. There's also a place for notes.
While Google Calendar offers significantly more options and functionality for adding events, first, you have the option to add either an Event, Task, Reminder, or Goal, which may be essential to your workflow or process. You can also easily add people, change the event's color if you use color coding, add an attachment, and indicate whether you're Busy or Available.
So while both apps make it quick and easy to add events, Google Calendar provides more options and functionality with the same level of ease.
The Edge: Google Calendar
Notifications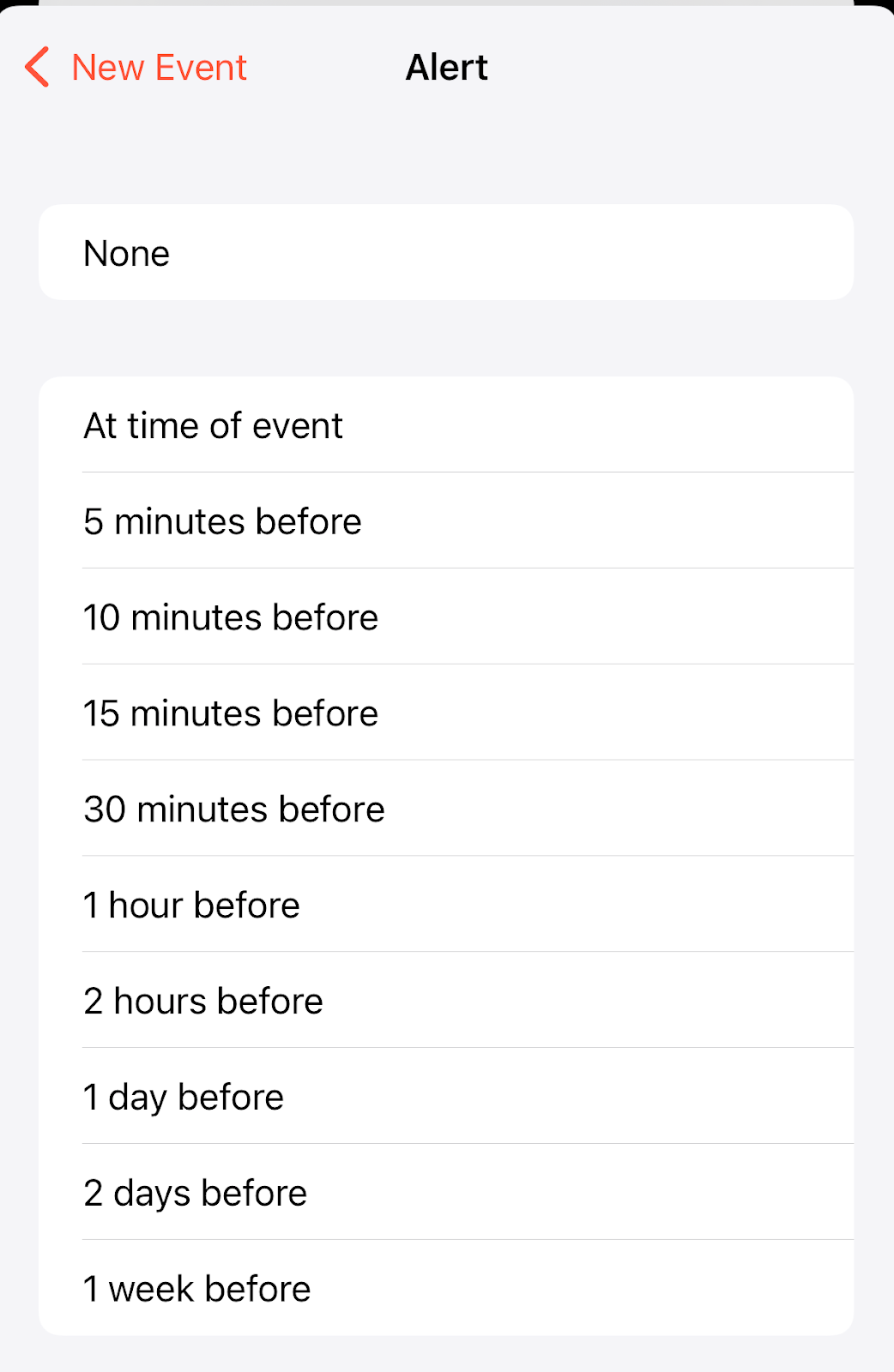 When creating an event, both calendar apps allow you to add notifications or alerts that fit your needs.
When you create an event in Apple Calendar, there's an option called 'Alert.' You have 11 options to choose from, ranging from 1 Week Before to At the Time of the Event. You can also choose not to receive a notification.
Additionally, you can go into your iPhone's Settings section to further customize the Calendar app. For example, you can set Default Alert Times for birthdays, events, and all-day events, so you don't have to set the notifications individually. The Settings section also lets you make other changes, such as what accounts are shown on your calendar, time zone override, and more.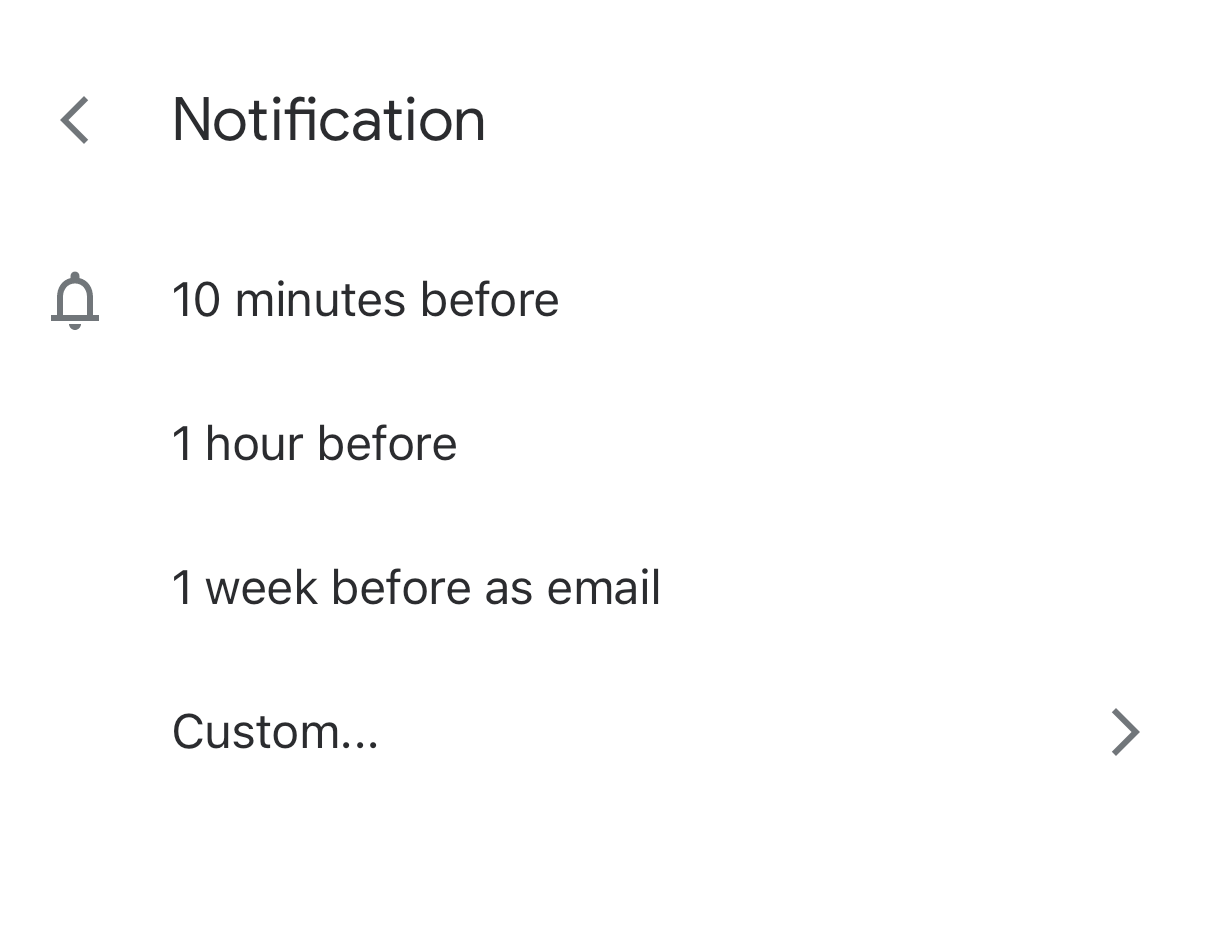 The Google Calendar app also allows you to set an alert for each event you create using the Add a Notification option. For example, you can select from 1 Week Before as an Email to 10 minutes Before the event or a custom option.
You also can go to the Settings option in the app found in the menu on the upper left of your screen to set default notifications for events, tasks, and reminders, so you don't have to set alerts individually.
Both apps make it easy to set and customize notifications. However, you do have to leave the Apple Calendar app to create default notifications, which is less intuitive than the Google Calendar app.
The Edge: Google Calendar
Calendar sharing
The Apple Calendar app lets you share an iCloud calendar with others using the Delegate Calendars option. To access this feature, click Calendars at the bottom of your main screen. This opens a new page. At the bottom of this page is the Delegate Calendars option. Click that, and you can add people.
You can't share your Google calendar from the app. However, you can share your Google calendar from your computer. Additionally, you can share events with others directly from the Google Calendar app.
The Edge: Apple Calendar
Data privacy
When you're using a calendar app, the last thing you want is the app using your data and information, especially for advertising purposes. Fortunately, both Apple Calendar and Google Calendar claim to take your data privacy seriously.
Apple provides encryption of your data when it is in transit and stored in the iCloud. Plus, they don't share your calendar information for advertising purposes.
Google also encrypts your calendar data when in transit and stored. Google does not share your data for advertising purposes, and you have control over what information you share from your calendars with other people.
The Edge: Toss up
Security
Unfortunately, there's been an increase in the amount of spam invitations to both Apple and Google Calendars. Both companies have added measures to help block spam.
Apple allows you to unsubscribe from calendars, which lets you quickly unsubscribe from any calendars you didn't mean to join or those you no longer need.
You can hide the events from a calendar on the Google Calendar app, but you can only remove a calendar by accessing your Google calendar on your computer in the settings section.
The Edge: Apple Calendar
App storage
Neither calendar app should be taking up too much space on your phone. However, how much data is being used will depend on the amount of information in your calendar.
You can see how much storage space the calendar apps are using by going to your Settings on your smartphone.
The Edge: Tossup
Third-party integrations
Being able to easily integrate your calendar with other apps, like SavvyCal, Slack, your email service, Google Drive, Google Maps, and Zapier can save a boatload of time.  
No surprise, Apple Calendar integrates well with other Apple products. Additionally, you can sync your Apple Calendar with other calendars, including Google Calendar. However, this app doesn't add events automatically from your email.
Google Calendar offers a lot more direct third-party integrations in addition to all of the integrations within the Google ecosystem, which can save you time. Additionally, events in your Gmail can be automatically entered into your Google calendar.
The Edge: Google Calendar
The verdict
In sum, both calendar apps are easy to use and have comparable features and functionality. The app you choose really boils down to personal preference and which ecosystem (Google vs. Apple) you prefer.
Not to mention both calendar apps integrate seamlessly with SavvyCal, so you can sync all of your calendars, take back control over your time, and provide a delightful scheduling experience for both you and your recipients. Give us a try here.