How often do you check your personal calendar during the day? If you're like us, probably countless times. With work meetings, family commitments, and meetups with friends, our calendars are working overtime for us. And if you happen to have an iPhone, there is a good chance you are using either Google Calendar or Apple Calendar.
Since Apple calendar, or iCal, comes preinstalled on iPhones, iPads, MacBooks, and Apple watches, learning how to master all of your calendar features can help you better manage your work and personal schedule.

So if you're ready to get your calendar organized, this guide will go over how to set up, best use, and troubleshoot Apple calendar.
Set up your Apple calendar
If you have a desktop computer or laptop, you may want to start there — setup and customization are simpler. To find the Apple calendar app, navigate to the bottom of your computer screen to find the miniature calendar. (If you're on your phone or tablet, the app should pop up on the first screen, but if not, swipe over.)
Log in with your Apple ID to access your calendar on iCloud. Using that same Apple ID, you'll be able to easily sync and access your Apple calendar across devices.
Select a default calendar
Since iCal comes already installed, setup is a breeze. You can create multiple separate calendars using iCal, toggle between them, and set a default. You probably want to choose the Apple calendar you use most often for your default.
To set the default calendar using your Apple computer:
Open the calendar app.
Click Calendar in the menu bar.
Choose Preferences.
In the General tab, look for the Default Calendar menu, and select the calendar that you want to use from the list.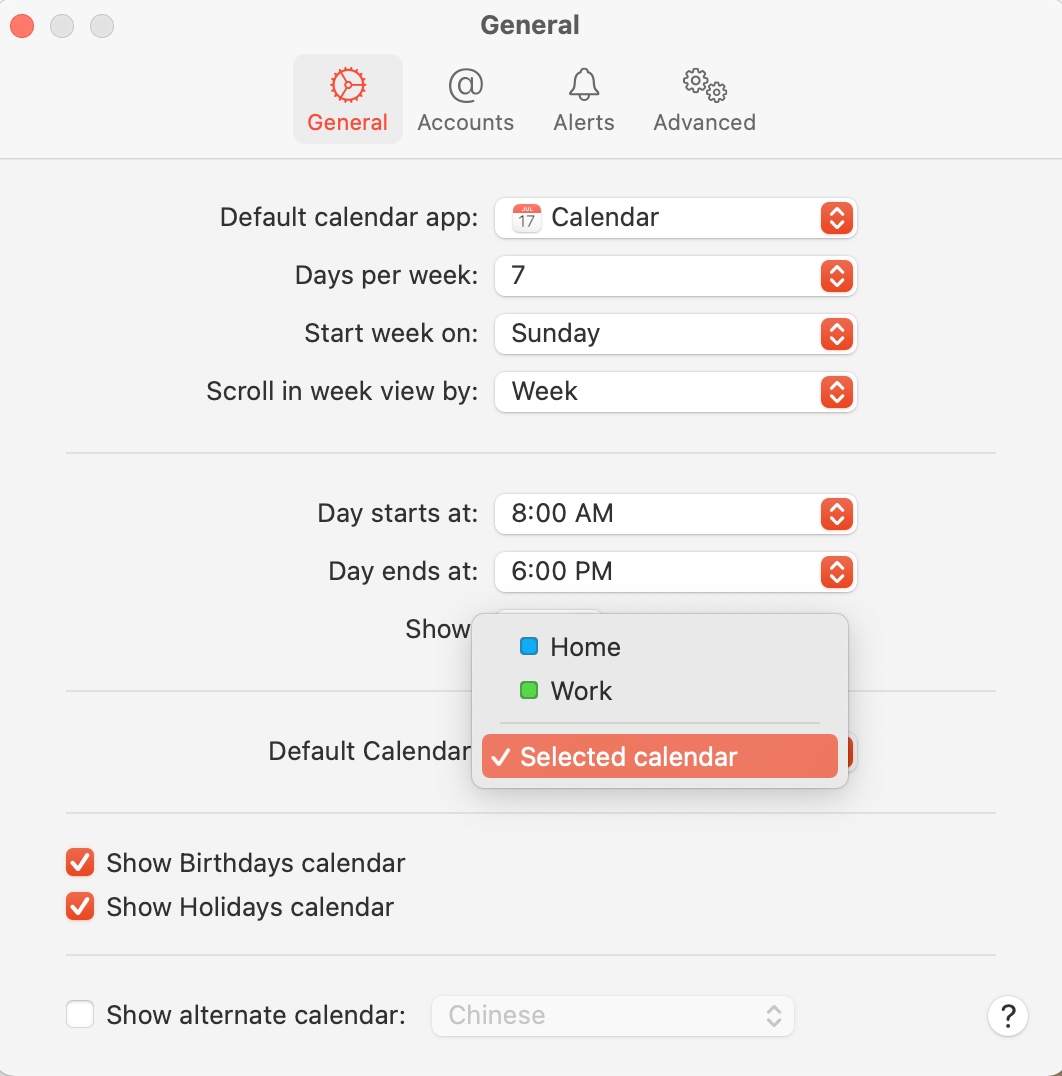 Customize your Apple calendar
Your Apple calendar comes with an assortment of customization options, making it more enjoyable and more effective to use. Here are a few ideas to make your Apple calendar work for you:
Choose the view
The default view on Apple calendar is a seven-day week, beginning on Sunday, but the start of the week is different for many people. For instance, most people consider Monday the week's beginning, while others may not start their workweek until Tuesday or even Saturday.
You can change how many days of the week you see and the day your week starts on by making selections under the general tab.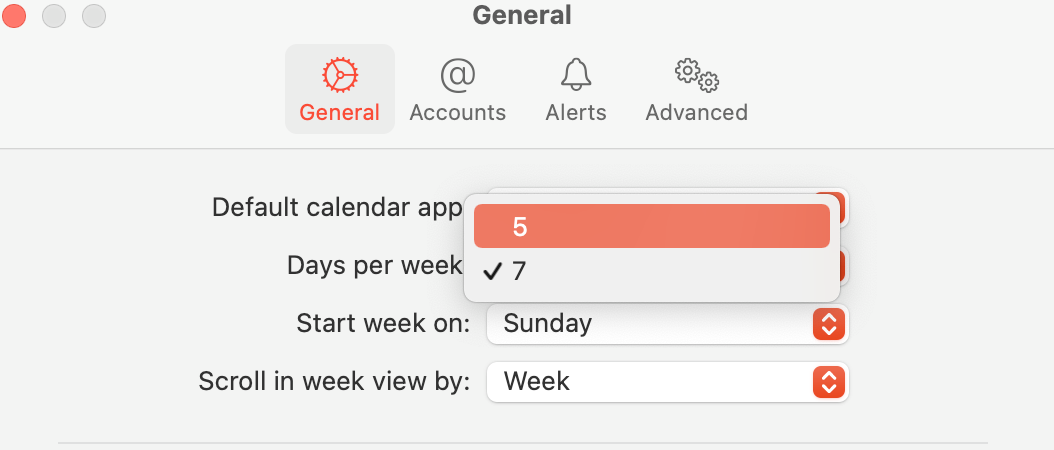 Select active hours
Let's say you're customizing your Apple calendar for work. You can set the hours that you'll be active and available for meetings (again, by navigating through preferences to the general tab).

Subscribe to other calendars
Apple calendar makes it simple to subscribe to other calendars. You're able to view the calendars that you're subscribed to, but you can't edit them.
1/ In the Calendar app on your Mac, choose File.
2/ Select New Calendar Subscription.
3/ Enter the calendar's web address.

4/ Click Subscribe.
5/ Enter a name for the calendar in the Name field.
6/ Click the adjacent pop-up menu and choose a color.
Tip: If you're looking for fun or educational Apple calendars to subscribe to, check out CalendarLabs.com.
Set alerts
Alerts are a lot like notifications, as they remind you of upcoming events. Intervals for alerts include:
5 minutes
10 minutes
15 minutes
30 minutes
1 hour
2 hours
1 day
2 days
1 week
You can select one, some, or all nine intervals. In addition to reminders, you can also set travel times. If you do set a travel time, you can set alerts to notify you of when you need to leave. Bear in mind, however, that the type of alerts you can use vary depending on the calendar you set as your default.
Setting alerts is fairly straightforward. When you create an event through iCal (which you can do by tapping the + icon in the top right corner), you'll be brought to a screen of prompts. At the bottom of the screen you'll see the various types of notifications you can use.
Share your Apple calendar
Subscribers can't edit calendars they're viewing, but sharing your calendar allows you to give other people permission to view and edit the calendar. Sharing is simple:
All you have to do is find the share icon next to your calendar of choice, type in the names of the people you want to share the calendar with, adjust access options, and click done.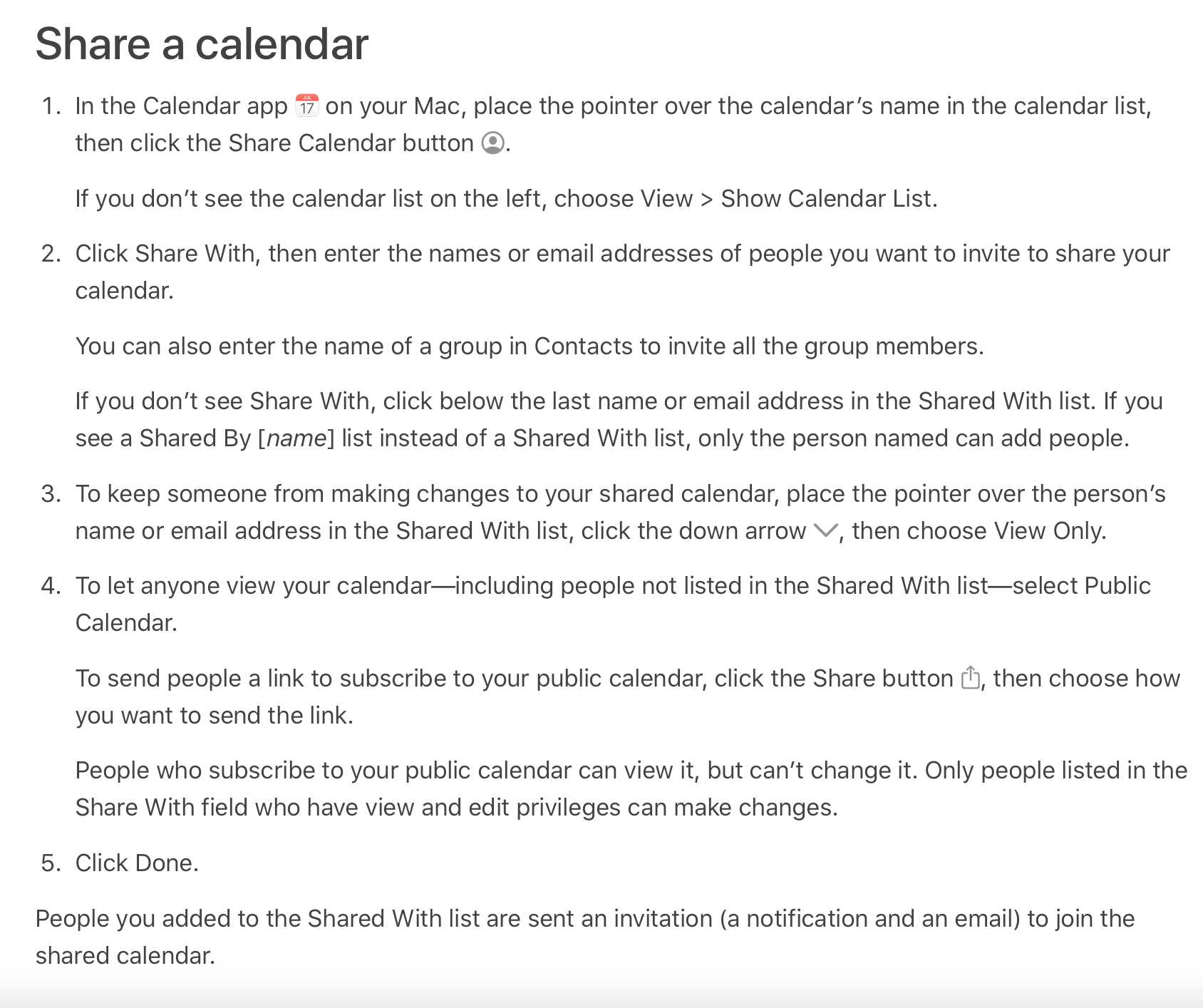 And here's a great video explaining how to share an iCloud calendar on mobile devices: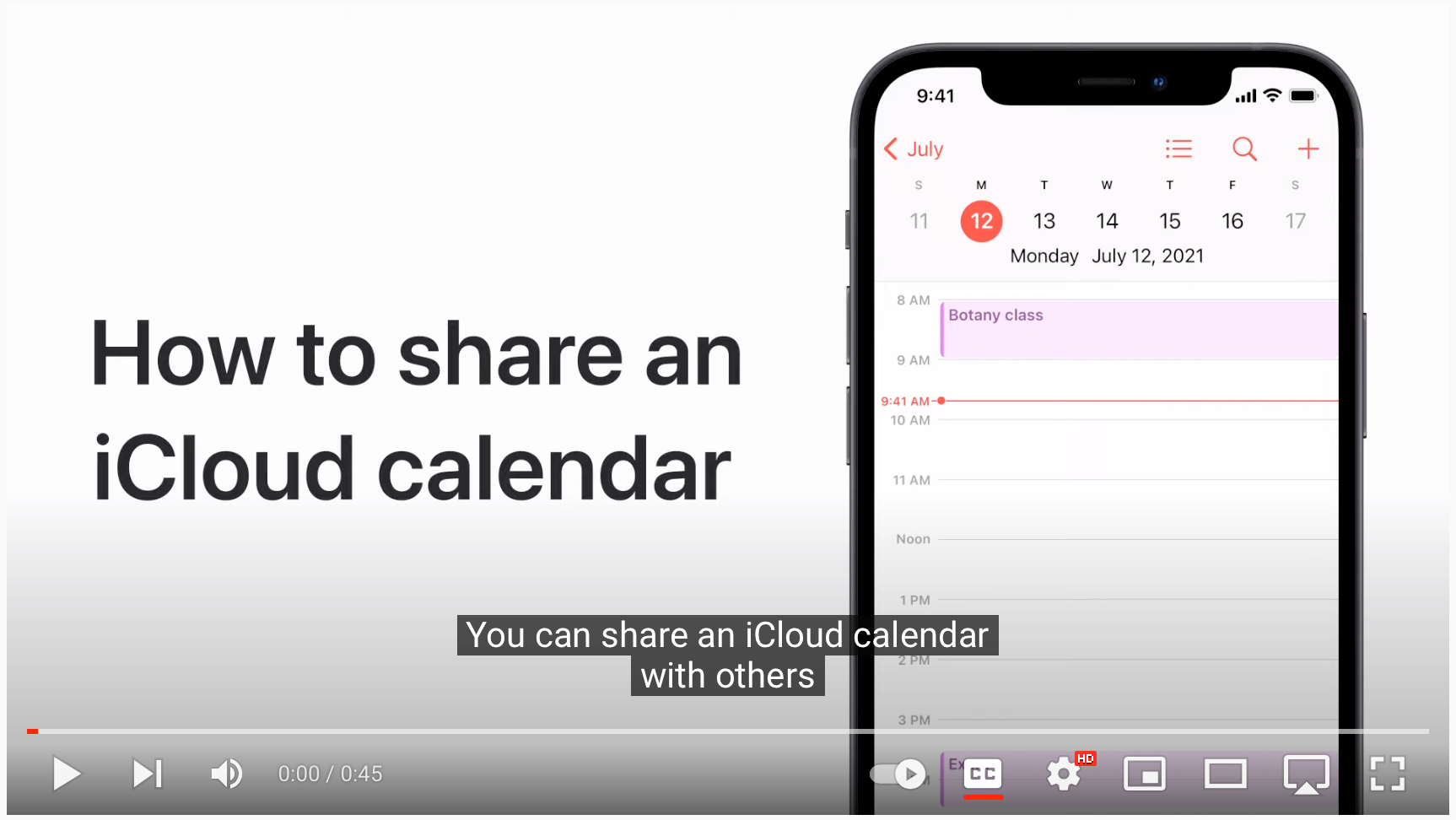 Create events with Apple calendar
You can add invitees to an Apple calendar event either when you create the event or at any time leading up to the event.
Creating events with the Apple calendar app is simple thanks to the "Quick Event" feature. To create a new event:
1/ Click the + symbol on the top left corner of your calendar.

2/ Add the event name and the time.

3/ In the pop-up window, type in the details for your event.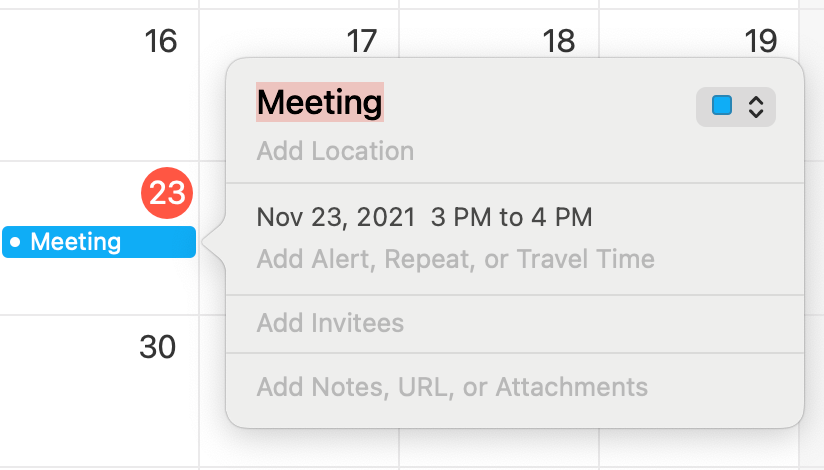 You can also add a location, change the time, and invite other people via the pop-up window.
Add a note, links, or attachments to your event invite
The pop-up window that allows you to change event details also gives you the option to add supporting information to the invite. You can add agenda notes, a helpful link, or attach a document.
Everything necessary to put the meeting into context will be at the invitee's fingertips.
Check the availability of invitees
If the calendar is shared with the people you're inviting, Apple calendar lets you check availability.
Once you've invited someone, you'll be able to click on a button that says Check Availability. You can click and drag to adjust the event time or click Next Available Time.
Check the status of invitees
This feature is super simple and super helpful. It lets you see who has responded to your event invite.
Next to the list of your invitees will be one of three icons:
A green checkmark: They are coming.
A red "X": They can't make it.
A question mark "?": They have not RSVP'd.
The Apple calendar app has so many features, it would be hard to cover everything in one sitting. But here are a few other important things to know about using iCal:
Add reminders or tasks to Apple calendar
You can't add specific to-dos to your Apple calendar (unless, of course, you create an event), but the reminders app does sync with your Apple calendar. As long as you have sync enabled in your settings, reminders will sync to your calendar across all devices that use both iCal and iCloud.
How to add an Apple calendar to Outlook
Outlook for Mac doesn't currently support CardDAV or CalDAV internet standards, which means your Apple calendar will not automatically sync with your Outlook calendar simply because you enter your iCloud email address. However, you can manually sync the two through the web:
Open a new window and sign in to your iCloud account.
Click on Calendar.
Find the calendar you want to sync with Outlook and click the Share Calendar icon. (Make sure Public Calendar is enabled.)
Once you make the calendar public, a URL should pop up. This URL is the link for your Apple calendar. Copy this link.
Open a second browser window. Go to Outlook.com and sign in.
Once you're logged into your account, find the calendar icon at the bottom of the navigation pane. Select it.
Click Add Calendar > From Internet.
Outlook will show you a calendar subscription dialogue box. Paste the link you copied in step 4 into the box. If you want to be able to easily locate it, give it a unique name. Click Save.
Once you complete step eight, you should see your iCloud calendar listed along with the other synced calendars in your Outlook account. Give it a few minutes to pop up in Outlook for Mac, however. If it does not pop up, you may have to restart your computer.
If you're using an iPhone, you can also use iTunes to sync with your Outlook calendar. This video walks you through the process: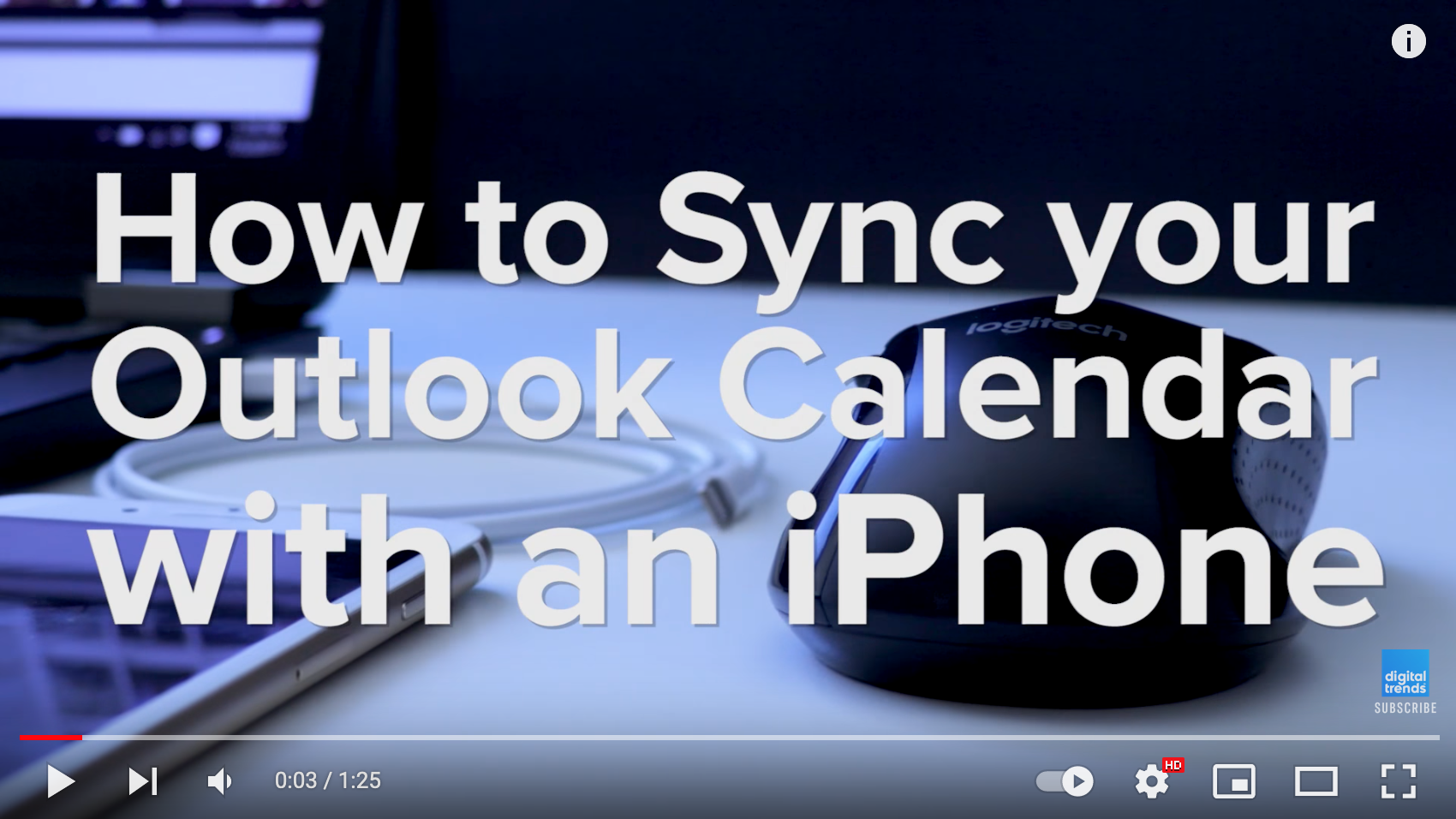 Delete an Apple calendar
To delete an Apple calendar, go to Calendar, select the calendar you want to get rid of, and click on Edit. From there, you will have the option to delete.
Or, select a calendar and right-click on it. From there, you will have the option to delete.
Use Apple calendar and Apple maps together
If you have location services turned on and you add an address to a calendar event, Apple calendar can tell you when it's time to leave by using Apple maps and current traffic data.
Troubleshoot Apple calendar issues
Apple calendar has so many features, you're bound to have an issue or two. Here are some of the more common problems that people encounter:
You can't see an event.
If you can't see an event, it could be because you declined the invitation, the time zone is wrong, or the calendar the event is on is hidden.
You can't edit an event.
You wouldn't be able to edit an event if you logged in with the wrong email or you didn't originally create the event.
Event invitees are getting their invitations.
Occasionally there's a little blip when you're adding invitees to an event. Try refreshing the app. If that doesn't help, double-check the email addresses that you're using. It's possible there's a typo.
SavvyCal + Apple calendar: A simple scheduling solution for iCloud
Ready for an easier way to schedule meetings? SavvyCal integrates with iCloud Apple calendar so you can check for conflicts and create events when you're scheduling meetings.
Using SavvyCal with your Apple calendar allows you to create and send personalized invite links, overlay calendars to find mutual availability, and gives recipients the ability to book as little or as much time as they need.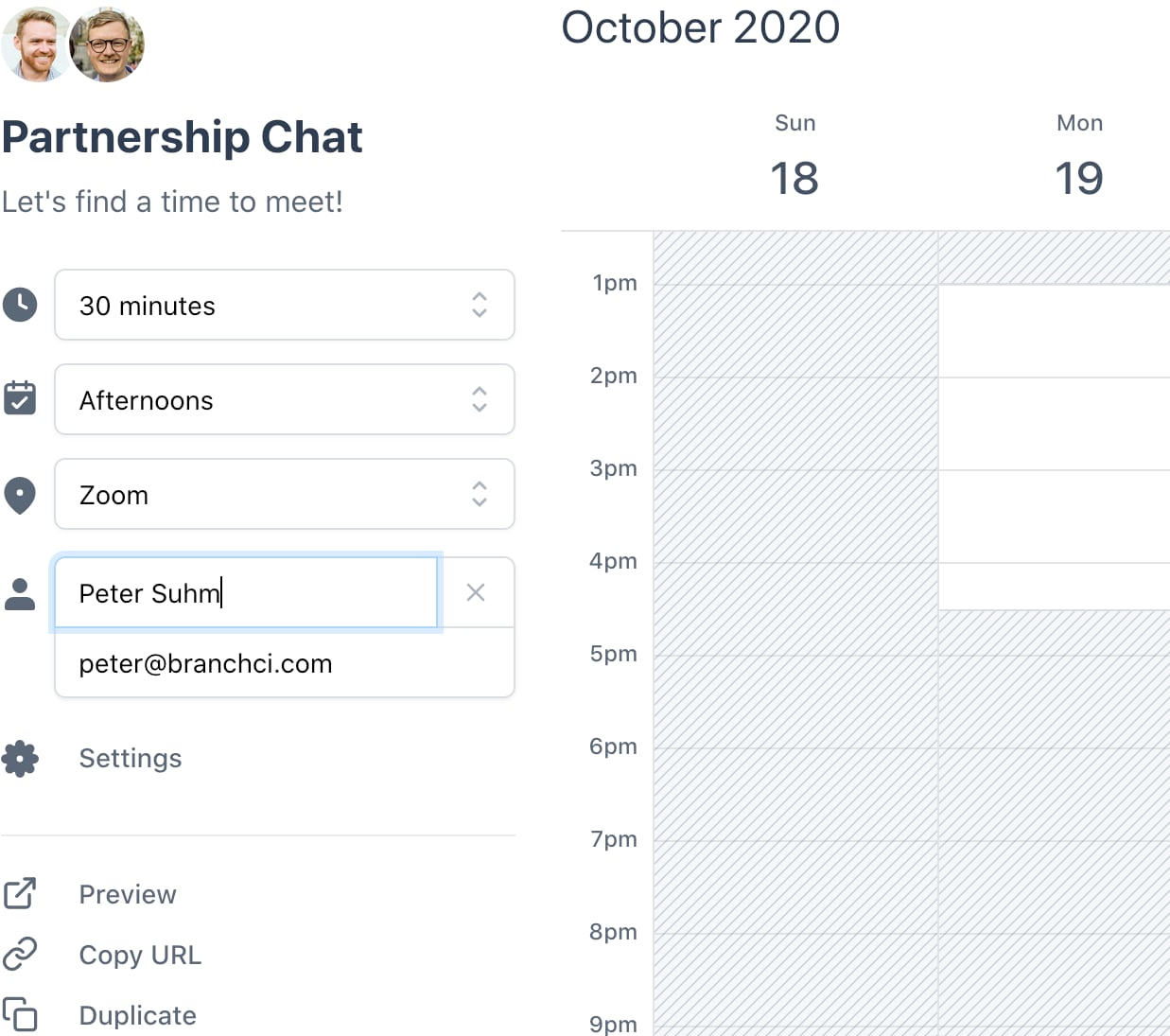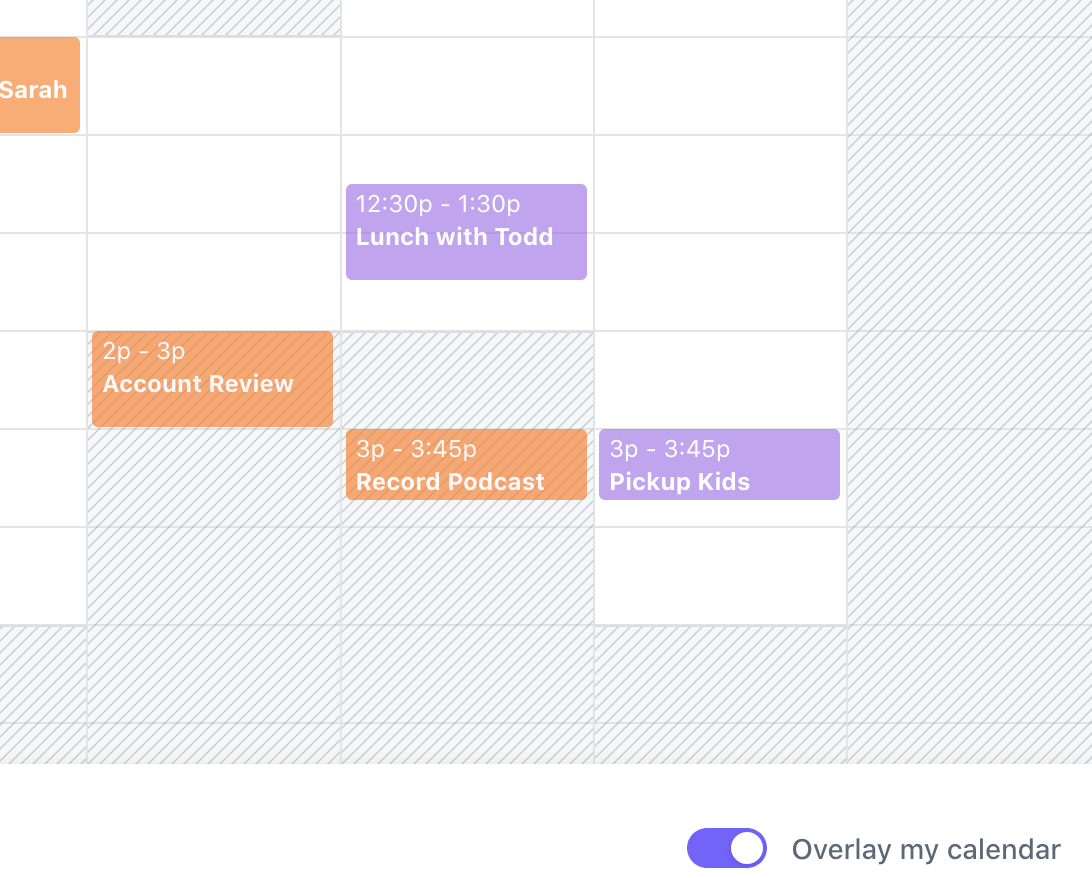 And even better: SavvyCal can integrate with iCloud in under 15 minutes. That means that during your coffee break, you can streamline your scheduling system.
Try SavvyCal for free for 14 days.