Next to Zoom, Skype is probably one of the most well-known video call and conferencing apps. Skype was actually the pioneer in the video conferencing tool category, despite Zoom and Google Meet being the most well-known and adopted today.
You can send chat messages, links, and files via Skype. But the company is better known for its voice and video call capabilities.
Although Microsoft, the parent company that owns Skype, shut down Skype for Business, the consumer version of Skype is still available. (Companies using Skype for Business were encouraged to switch to Teams — Microsoft's alternative solution to Slack and Zoom.)
But, Skype is still a viable option for many, so let's take a look at how you can use Skype for your meetings.
How to download Skype
First: Make sure you have the latest version of Skype on your device. If you don't, you'll have to download Skype.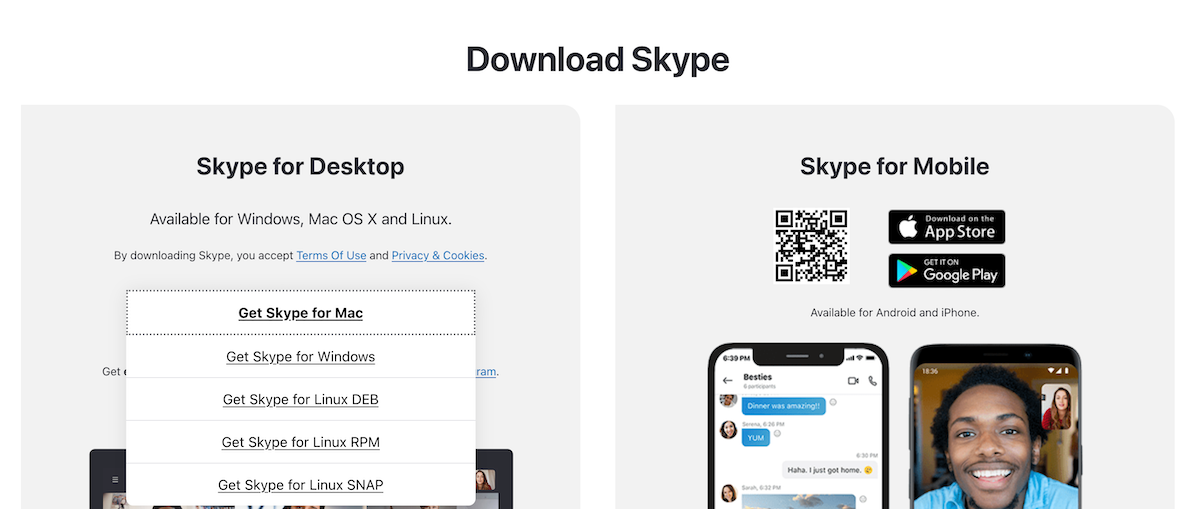 Select your device: PC, Mac, iPad, iPhone or Android phone.
Install Skype.
Optional: Tick the box to start up Skype as soon as the computer logs on.
Add contacts.
Test that the call, video and microphone settings work.
Check your privacy settings, too. Make sure that no one other than known contacts can call, video call, or message you.
Can you use Skype without a Microsoft account?

Yes. You no longer need a Microsoft account to use Skype. However, you'll only have access to a limited number of features.
Is Skype secure?
Skype is relatively safe. All Skype-to-Skype voice, video, file transfers, and instant messages are encrypted. But if you're not diligent about updating your privacy settings, spam can become a nuisance.
To keep your account as secure as possible, stick to using Skype to communicate with people you know and trust. Here are a few digital security tips for Skype users:

Opt out of public search.

Keep your Skype application up-to-date.
Don't open, download, or click things from people you don't know.
Make your profile photo private.
How much does Skype cost?
For most people, using Skype will be free. But there will be some instances where you'll have to buy Skype credits (aka pay to use a feature). International calls via Skype, for instance, are a paid feature.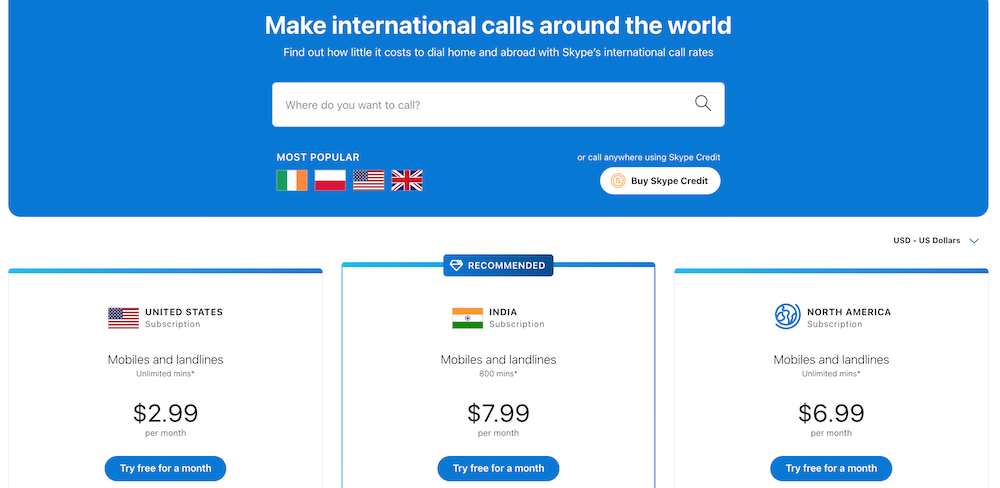 For $2.99, you get unlimited calls within the United States, Puerto Rico, and Guam. If you'd like to add places like Canada, the U.S. Virgin Islands, American Samoa, Mexico, and the Northern Mariana Islands, Skype's North America subscription is only $6.99 for unlimited minutes. Skype also offers an India subscription, 800 minutes for $7.99 a month.
How to make a video or voice call on Skype
Ready to start a call?

If you know the Skype name of the person you're hoping to connect with, type their name in the search bar (upper left-hand corner). Once you've found the right contact, click on their name. Another window will pop up.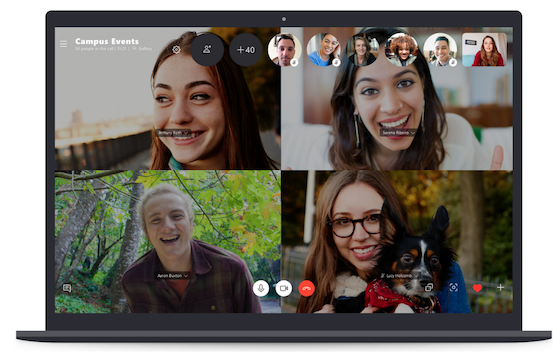 In the new window, you should see three buttons:
To make a video call, click the camera icon.
To make a voice call, click the phone icon.
To add someone to the call, click the plus sign icon.
Once you've clicked a button, Skype will ring the person you selected in the previous step.
How to schedule a Skype meeting in Outlook
Skype meetings can be scheduled using Microsoft Outlook if you have the Skype for Outlook plugin and an Outlook email address.
Open Outlook and go to your calendar.
Select New Meeting.
Add your meeting information (you can select from a Teams Meeting or a Skype Meeting).
Skype call-in info should be added to the meeting invite automatically.
Add meeting attendees.
Select Send.
Keep in mind, many organizations that use Microsoft Outlook will probably be using Teams for video calls and conferences now.
And if you needed another reason to try SavvyCal: It can be used to schedule Skype meetings. All you have to do is include the meeting URL for any scheduling link you send out.
Tip: Send a more effective meeting invite with these templates.
How to use Skype Meet Now for meetings
Skype has a fun feature called "Meet Now" that allows people to use Skype without an account. Invite others to meetings using a unique URL that never expires. Or use Meet Now to chat with friends, family, or colleagues.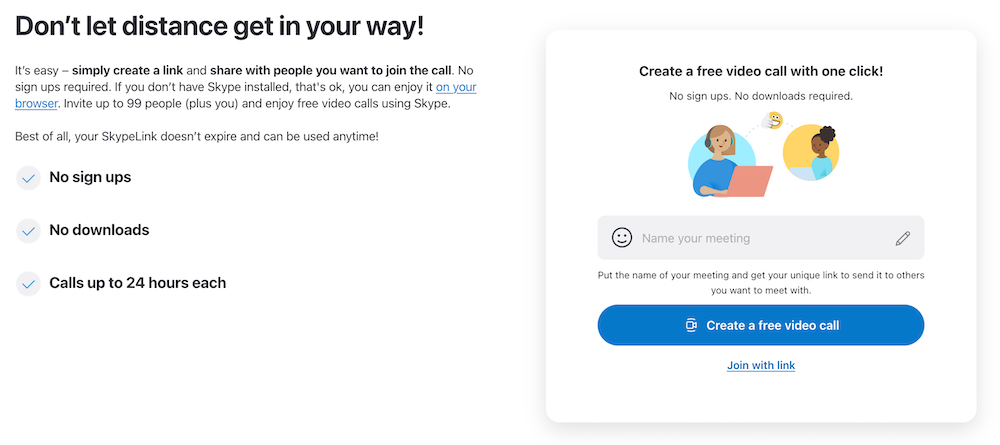 Name your meeting (either create your own name or pick from a premade selection).
Click "Create a free video call" to generate a meeting link.
Click "Share invite" to invite participants.
Share it via Outlook or Gmail, or copy the link to send it another way.
Once the link is generated, you'll have the option to start the call immediately if wanted.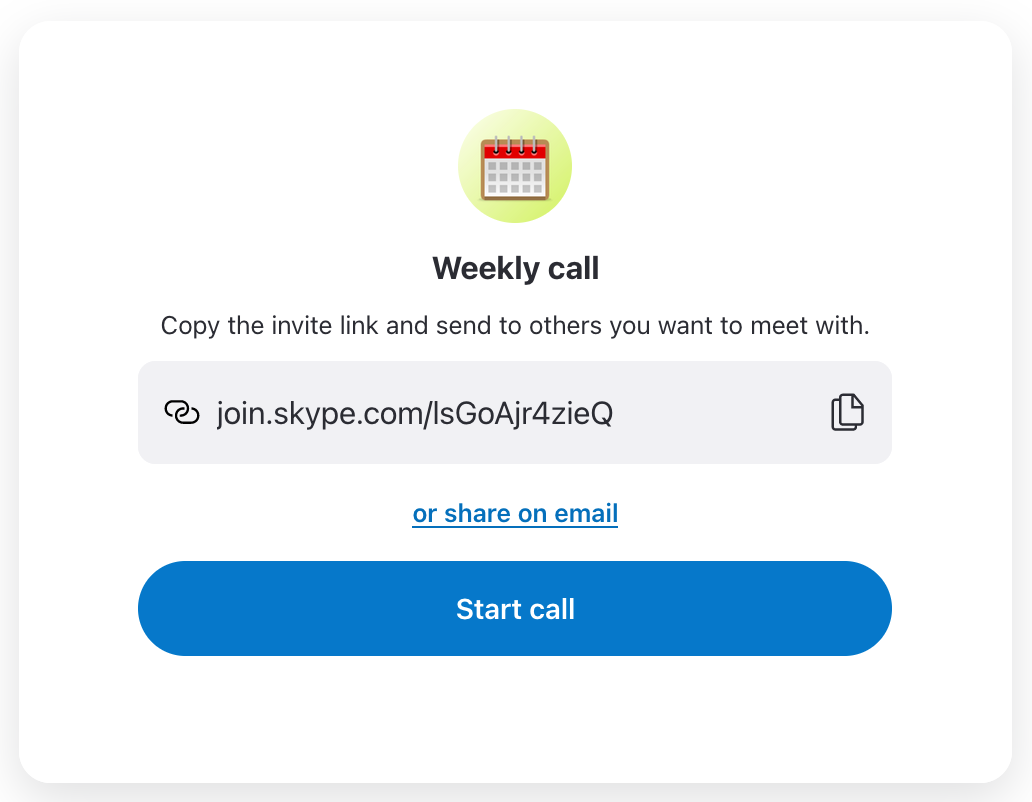 Summary of Skype's features
Skype is still one of the more popular communication tools for voice and video calls. Here's a quick summary of its features:
Audio and HD video calling.
Smart messaging.
Screen sharing.
Call recording and Live subtitles.
Private conversations.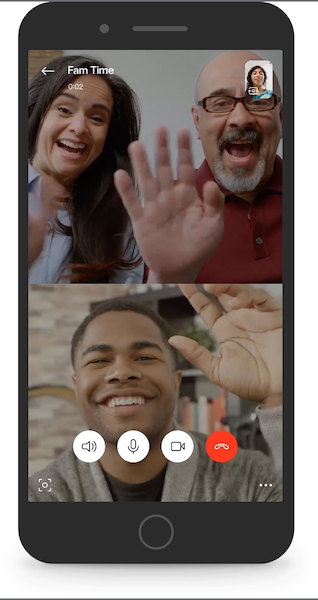 Pros and cons of using Skype for meetings
Even though Skype got rid of "Skype for Business," it's still a powerful tool. Skype doesn't offer premium plans for business use, but you can still invite up to 100 people to calls. And the "Meet Now" feature is great — especially if you're not sure that all participants will have accounts.
Since Microsoft is putting its resources into Teams for business use, Skype is probably best suited for contractors, small teams, one-on-one meetings, educational classes, and personal use. Larger corporations will likely need a different solution for meetings.